Far Cry 4 PC is the fourth installment in the Far Cry Series that uses an old yet familiar staple of thrusting the player in a unique tropical country that teaming with wild life and breathtaking scenery that's adds to the fun factor.  Far cry 4 is the first Game that I have played since building my new Gaming PC 2015 which is able to handle this Game at Ultra high settings quite easily. Overall I am really liking the graphics and the tactical elements of this Game and the main villain in this story is quite charming, so much so that he will have you laughing all the way through the Game.
Far Cry 4 PC Requirements
These are the minimum requirements to run this Game:
Operating system: Windows 7 SP1, Windows 8/8.1 (64bit versions only)
Processor: Intel Core i5-750 @ 2.6 GHz or AMD Phenom II X4 955 @ 3.2 GHz.
Memory: 4GB.
Video card: NVIDIA GeForce GTX 460 or AMD Radeon HD5850 (1GB VRAM)
Direct X: Version 11.
Hard Drive: 30 GB available space
Now these specs are more than reasonable and your current Gaming PC should be able to handle this Game, if you want to max everything else out then that's a different ball game all together.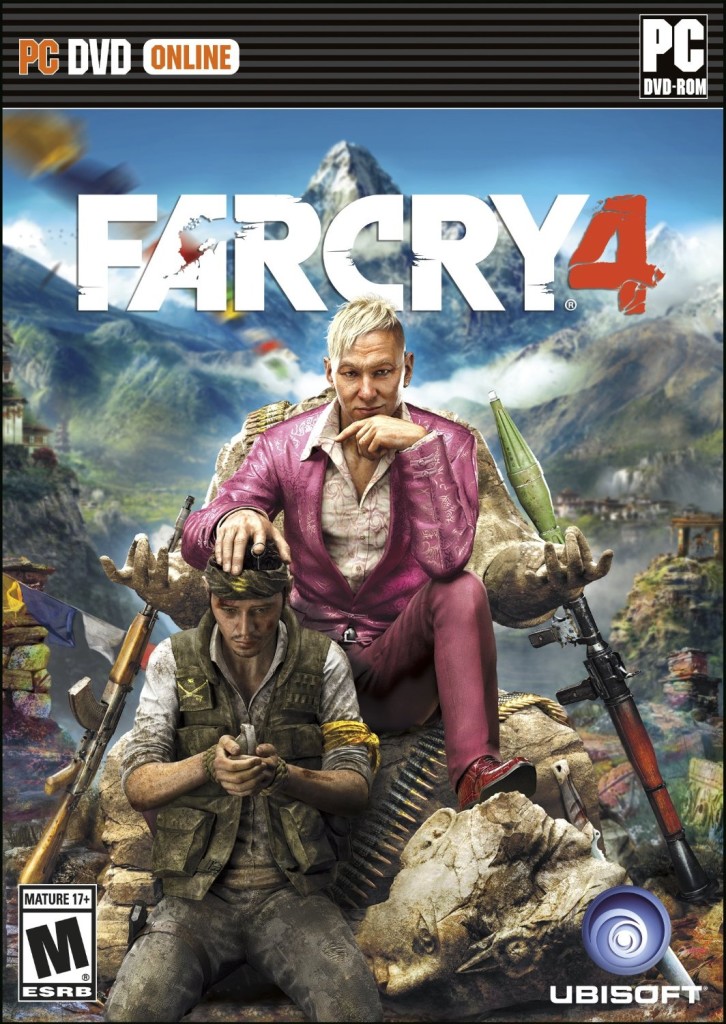 The Story
In Far Cry 4 you play the role of Ajay Ghale who is on a mission to fulfill your mothers last wishes but get caught up in a conflict that exists in the country of  Kyrat located in the Himalayas, the country itself is wild and untamed and thorn apart by warning factions lead by Pagan Min a charming psychopath that you can't resist liking in a twisted way although you are not supposed to.On the other hand you have the Good guys and even there there is another conflict as to the best path to peace and freedom.
The Environment
Kyrat is a beautiful Himalayan country that wild and filled with all sorts of wild beasts that you can use in combat, but watch out as they can easily turn on you if you do not factor in all possibilities in your combat strategy, after all they are wild. This includes: Hyenas, Mountain Bears, Leopards, Hawks, Elephants and all sorts of beasts that you can lure out with a bit of meat and watch them tear through your enemies when placed strategically.
Review
Overall the story is OK and while I have not played Far Cry in a while if you are new to the series its worth checking out, but while I enjoyed playing there was nothing pulling me back each time that made me very over excited about playing and after a while the missions can get a bit repetitive and boring. Whats really exiting is sneaking around and using the many animals to your aid and have them run wild on the enemies.
Another issue with the Game is the sound issue that you can find the solution to here that seems to pop up each year for some users but is not much of an issue as it can be easily fixed with a little tweaking. The graphics look great and a lot of attention was placed into details such as the trees, grass or a rock face that you may come across if you take the time to look you will see that a lot of work went into this game.
So if you are coming into this series hoping to find something very new you will be disappointed, but what returning fans will find is an old staple that's been tweaked a bit and why change it if it works right. If you are new to the series or havent played in a long while than those players will gain the most enjoyment from the experience. Minus the few more boring missions this is a well made nice Game that worth playing.
If you enjoyed our review of Far Cry 4 PC, please take the time to share or leave a comment sharing your experience with the Far cry series we would love to hear from you.