For today's article we will be looking at the YouTube fullscreen problem with Firefox where you are unable or cannot go full screen at all no matter what you try. In these cases the Full screen button is usually greyed out and at best you can only enter the theater mode that only makes the window a little wider but you cannot enter the fullscreen where the entire screen is covered with whatever you are watching. This is a really annoying problem and lucky for you its relatively easy to fix.
How to fix the YouTube fullscreen problem on Firefox?
To fix the YouTube Fullscreen problem :
1. Once you are on the video look in the address bar and you should see a locked padlock:
2. This lock indicates that the connection to the website is secure, now click on the lock to see the following window: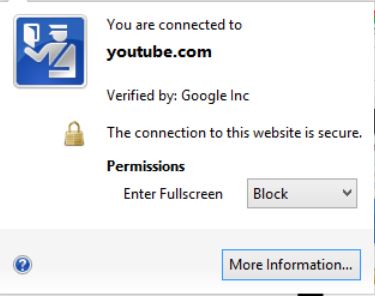 3. You will notice that the permission to enter Full screen is blocked, all you will have to do is change it from blocked to Allow or Always ask and that's it you will now be able to go fullscreen.
The default is "always ask" which will show the message as below and will simply cause the display to go fullscreen when the button is pressed. Allow will result in YouTube going fullscreen but to exit a message will show that you will need to press escape to exit full screen and then disappear, you can always repeat the above if you need and change it to always ask or another setting.
How did this Happen?
The problem occurs when you or someone else went fullscreen in most cases and saw the above message and choose deny and checked the Remember decision for YouTube.com box as seen in the permission screen above. After this whenever you try going fullscreen again nothing will happen and the only easy way to undo what you did is to follow the procedure above to fix it.
I hope you were not only able to fix the issue but also figure out how it happened so as to prevent it from happening again, please share this article with your friends and consider subscribing to the blog we have plenty of helpful articles and tutorials just for you.