One of the coolest thing I like doing is surfing the web and while that may not seem very cool to you as you have grown accustomed to internet and the freedom that it provides some people do not have such freedoms due to censorship of their web-based content weather on a country based level or as part of a network through which they receive their internet connection. Thats where a web based proxy comes into play as it allows you to browse websites that would be otherwise inaccessible to you by going to another website which services allows it to act as a proxy on your behalf and open up the internet for you and that includes websites that are blocked and more.
kproxy
Now I would like to introduce you to kproxy which is a free web proxy server that allows its users to browse just about any website through their website and they do not kill you with ads either as the interface is clean with no ads and they promise that 100% of all website will work a bold claim but in my use of the service they do work great and have a very high rate of success in getting past blocked region specific content and so on. Best of all this service can work with any browser that you choose and you can use it on your desktop or mobile without any technical setup simply visit the website and punch in the blocked website and you are on your way.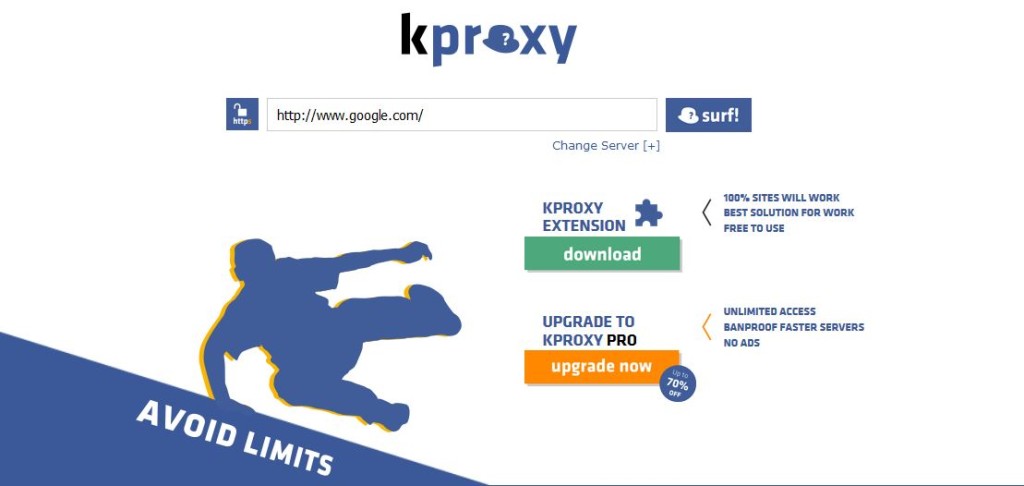 VPN vs Proxy
Kproxy is not a VPN and as such it does not have any of the inherent flaws that are associated with VPN services that can be slow and in most cases are easily blocked by most networks as they are easy to spot. When using the website it's so easy all you have to do is know which site you want to browse and simply type it in and you are good to go.
Private or Anonymous Surfing
One of the best features of the Kproxy web based proxy is that you can browse anonymously or privately which makes it harder for your online activities to be tracked by a third-party that includes hackers, your ISP and so on. Best of all even your real IP address is kept secret as the service Hide your IP address for you easily.
Conclusion
Overall this is one of the best proxy server you will be able to find with the free version working great and should you need it or a faster service they offer a pro version that you can pay for if you so choose but the free version does work well and that will be totally up to you as they don't force you as far as I have seen into anything. The service will work great if you are at work, a university or even a Library. The reason why it's so effective is because it does so much and makes it simple guaranteeing you a trouble-free experience at the end of the day.Finally they even have a specially configured browser that you can use that will route your web activities through their service that's easy to get started with if you want to take things a step further.
Benefits of Kproxy the web based proxy
1. Allows you to access Blocked websites or Bypass region Based blocks.
2. Hides your IP address.
3. Allows you to browse anonymously and hides your activity only.
4. Works with 100% of all websites.
4. Can be used for free with No Ads and offers a optional Pro version.
I do hope you found this cool web based proxy useful, you never know when you might be traveling abroad or have your favorite website blocked on a network for some stupid reason and you will need to access it and you will need such a cool service at your fingertips. Do share your thoughts on this website below, it's always great to refer a great service I find or use personally online to you guys.