The last thing any website owner or publisher wants to wake up to is a Adsense warning email or almost any email from Adsense as it can really get you on edge. I have always tried to read and keep up to date with the latest policy set in place by Adsense but recently I saw an email titled: Action required to comply with AdSense program policies. This was the first time receiving such an email in 2 plus years I have been with adsense.
I was surprise even more considering it was regarding a policy violation that I had breached. Now note I had no idea, plus I heard that Adsense usually ban users and have their Google Adsense account disabled so imagine my surprise I even got a E-Mail. The Email reads as follows and I have highlighted the important parts in red:
Hello,This is a warning message to alert you that there is action required to bring your AdSense account into compliance with our AdSense program policies. We've provided additional details below, along with the actions to be taken on your part.

Affected website: ?????

Example page where violation occurred: ???

Action required: Please make changes immediately to your site to follow AdSense program policies.

Current account status: Active

Violation explanation

Publishers may not implement Google ads in a manner that disguises the ads in any way. In order to maintain a good user experience, it is important for publishers to clearly distinguish Google ads from site content. This includes, but is not limited to: site layouts in which the ads push content below the fold on mobile devices; placing 300×250 or larger ad units above the fold on a mobile optimized site.

In order to remain fully compliant please ensure that your site and ad layout remain compliant across all devices. More information about this policy can be found in our help center and on this short video.

How to resolve:If you received a notification in regard to page content, we request that you immediately remove Google ads from the violating pages. If you are unable to, or unsure of how to remove the ads from these pages, or would like to continue monetizing the page with Google ads, please modify or remove the violating content to meet our AdSense policies.
If you received a notification in regards to the way ads are implemented on your site, please make the necessary changes to your implementation.
You do not need to contact us if you make changes. Please be aware that if additional violations are accrued, ad serving may be disabled to the website listed above. You should immediately take time to review your pages with Google ads to ensure that they comply with our policies.

Additionally, please be aware that the URL above is just an example and that the same violations may exist on other pages of this website or other sites that you own. To reduce the likelihood of future warnings from us, we suggest that you review all your sites for compliance. Here are some useful resources you might be interested in.
At first I had no clue due to the terror what the problem was but after reading it a few times I saw the part I highlighted in red. Now again I am surprise as I did not think Google would place exact details as to the problem I though I would have to shoot in the dark but it was spelt out for me. So I want to first thank Google for the warning and second for the detailed account of what I was unknowingly doing wrong, really thank you guys weather or not you ever see this.
So this article is to mainly guide anyone who may have gotten a similar email and have no clue what to do.So first of all as mentioned the problem was on mobile mainly so I viewed the website on my phone to my surprise seeing I normally work mainly from my desktop I saw the problem as seen here: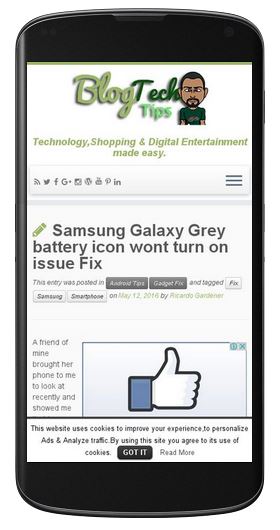 The above screen shot was taken using an online app and the problem was worse than seen above the Ad unit was pushing the content down page and there was only a single line of words down the page beside the ad. So the ad was pushing my content below the fold and in Adsense content must come first, also the ad was larger than 300×250.
How to Fix this Adsense TOS Violation on Ad placement?
I was using a plugin for easy management of the ads so clearly all my pages were in violation so I went in and instead of right aligning the Ad and placing it at the top of the page with the content wrapping around it which was fine on desktop but messed up on mobile. I moved it to after the first paragraph and still kept it right aligned.
I then checked how the website would look across devices in mobile and various devices online using Google Pagespeed insight that shows a mobile preview and this website that shows your device across several sized gadgets, please note that these websites only give you an idea and is not 100% accurate on the look so do view on mobile eventually. Finally when I was finished and satisfied I tested it again on my smartphone and a friend's phone and it looked more like this now: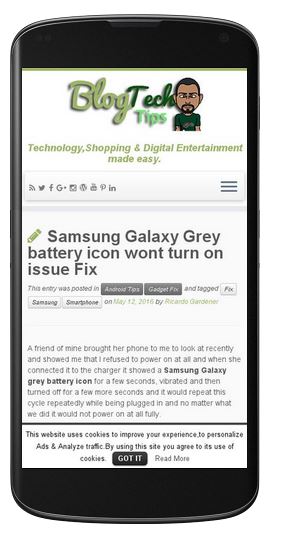 As you can see now the content has priority and the Ad no longer is visible on mobile above the fold, you would have to scroll down to see it and of course its almost in the same place on desktop just slightly down the page but above the fold.
The lesson here is to make sure when you are checking for policy violation that you do not leave any devices out and view your website on all possible gadgets your users may use. After fixing the problem you will need to go to Adsense dashboard and click on the button on the red banner at the top of your screen that's warning you, you can't miss it, next click action. Now under policy violations first tab you will see account level violations that's blank or no violations you will need to go to : site level violation and you will see the violation. Click on it or the most current one and you will see the offense, now simply choose the option that says resolved and indicate what you have done to fix the problem and submit, now simply wait for google to check up on what you have done in about 3 days or less.
I do not know if this fixed it for me just wanted to warn others to be careful, I will have to wait about 3 days to see if my actions were enough, I will also update you guys on what happened in a while. Also what do you guys think and are you in violation of this without know as I was. Please share your thoughts and as always please leave a comment below and share this article with a friend.