With everything getting a smart remake for the 21st century I though when is the last time the Kitchen got some love and was given its smart set of appliances. After all the fastest way to get or keep a Tech Geek in the Kitchen is to fill it with some smart kitchen gadgets you can find, right? Well the most underdeveloped piece of Tech in the Kitchen in my opinion is the refrigerator and Samsung is about to change that with the Samsung Family Hub Refrigerator.
Heck its exciting once again to go refrigerator shopping I bet you never though it would have been possible. The specific model we are dealing with here is the Samsung Family Hub Refrigerator RF22K9581SG, as seen below and is the most advanced refrigerator to date on the planet and you will see why in just a minute.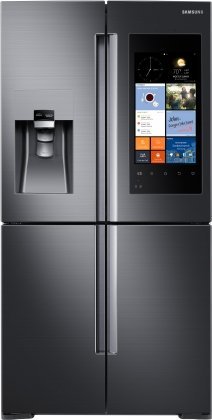 This is one of the newest Refrigerators on the market that was featured at CES 2016 this year featuring a sleek stainless steel black metallic design while featuring a four (4) door flex design that's fresh and not commonly seen. But wait how is this smart? well glad you asked, on the front of this smart fridge is the Family Hub which is a 21.5 High definition LCD thats built into the door of the fridge that allows for communication between family, view media,stream music, and best of all managing the food in your fridge.
The Flex 4 door design
You will have a total of  28 cubic feet of space to hold food for those who need maximum space for storing food or for those that simply like to open up their fridge and take it all in at once.
Whats Family Hub?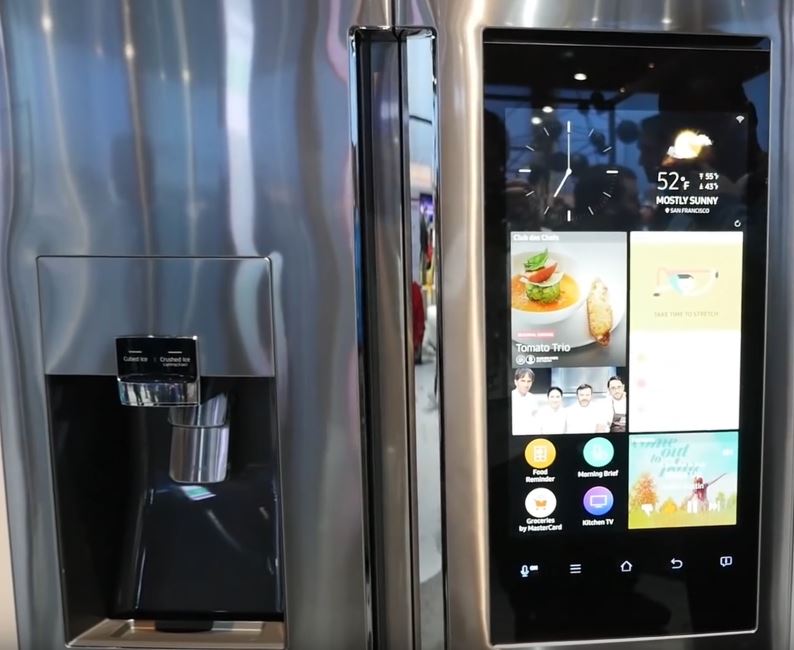 The Family hub offers smart connectivity for the refrigerator in a gorgeous High definition 21.5 inch display that's the crown jewel or center piece of this refrigerator and sets it apart from all other fridges you have seen before.
Family Hub can act as the ultimate family bulletin board that will bring family members together around the fridge as they no longer have to use magnets to hold notes or stickies as you can leave it all on Family hub clear for all to see in a vibrant manner.
You can do things such as:
Connect and communicate with Family.
Check the weather and date.
Enjoy your favorite media such as Music, pictures and video.
Connect with your TV and stream content.
Manage outgoing and in going food in the fridge.
You can share calendars and schedule with the entire house.
Leave sticky notes, pictures and much more.
Also you will be able to see whats in your fridge without opening it as built-in cameras take pictures of whats inside the last time it was opened. You can also use this when you go shopping as it can remind you of what you have in stock in the fridge and you can check this remotely using your phone.
Morning Brief
This feature gives you quick updates for the day such as news, weather, schedule and traffic. Quite handy and beats starting into your phone in the morning as you make breakfast or a cup of  coffee.
Where can I buy the Samsung Family Hub Refrigerator RF22K9581SG?
If you are interested in purchasing the Newest Samsung Hub Refrigerator you can check out the price or purchase yours here.
Features of this Smart Fridge?
1. Innovative 4 door flex design.
2. Smart Family Hub with 21 inch HD screen build into the door.
3. Stainless steel black build material.
4. Build in cameras to monitor Fridge contents.
5. Large capacity to hold lots of stuff for the entire family.
I hope you enjoyed this look at the worlds most advanced refrigerator that money can buy that would be right at home in a modern smart home to breath new life into the kitchen for the Tech enthusiast like myself that love these gadgets that improves on old technology we have grown accustomed to over the years.
Continue Reading we have even more Tips for you: