The FlashForge 3d Printer Creator Pro is a really capable 3D printer that will allow you to print a variety of 3D objects of various shapes and complexity. On the front of the printer is the LCD that has a basic control scheme that's easy to use and control. From here you can navigate the on-board menu and have full control of your printer. The side panel can be easily lifted for easy access to the inside of the printer.
The Inside of the 3D printer
The SD Card can be found just above the control panel on the inside of the printer. Simply press to eject. The build plate is the platform on which all the 3D objects are printed. During operation it gets very hot and for a better print this surface must be kept level. The print head can move left or right while printing and two fans above them allows for cooling. The base plate can also be adjusted up or down during printing. The operation is very simple and with that you are able to print just about anything you want once you have understand the device.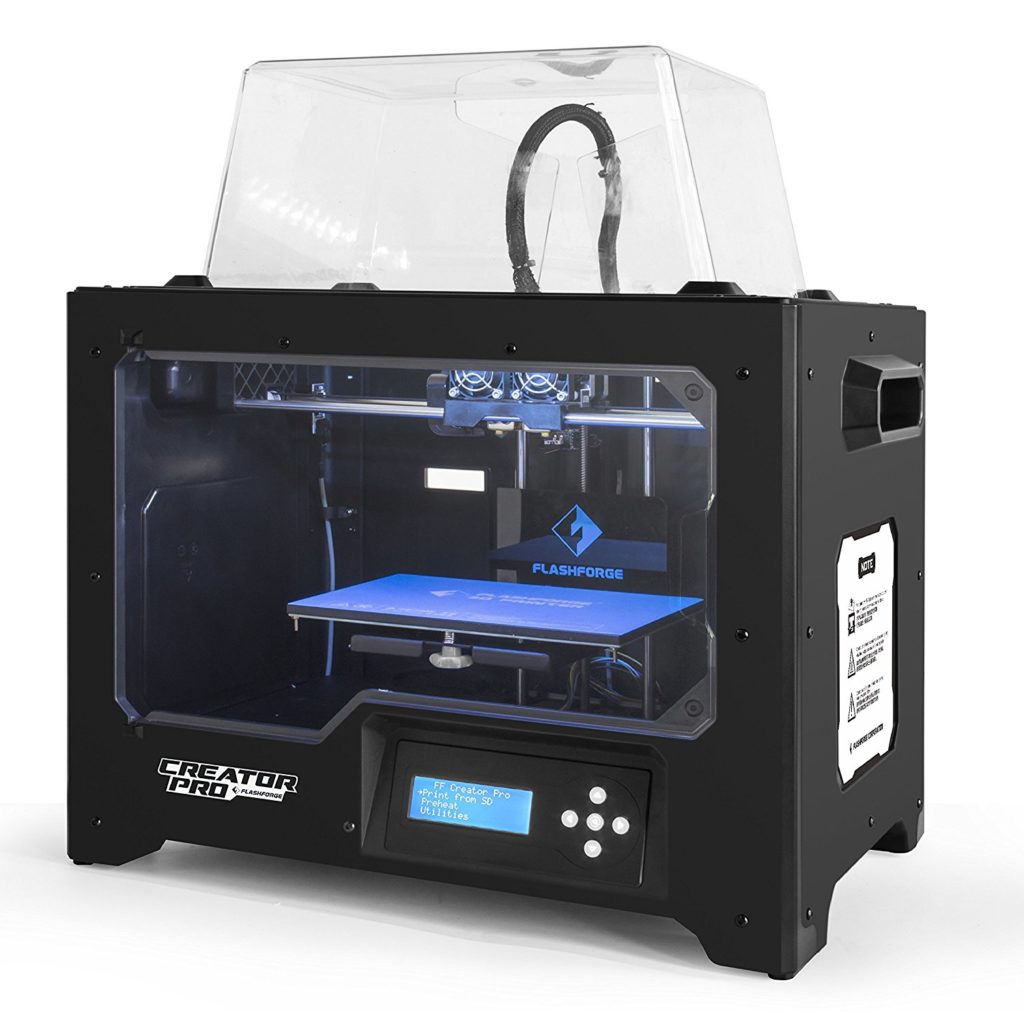 On the Back of the Printer
On the back of the 3D printer you will find the filaments that make printing possible. Each filament comes on rolls and each roll is about a few kilograms in weight. These look just like plastic strings that are colored. These are made of ABS plastic and is between 300-400 meters in length.
How Objects are printed?
This is fed into the 3D printer which heats up the ABS plastic material which then melts and builds the 3D objects inside the printer layer by layer on the build plate. When the printer is finished you will end up with a completed 3D printed object that fully formed. You can find blueprints of various models online that you can 3D print using this printer.
Objects that are printed can be from very simple plastic Animals to much more complicated intricate moving parts on complicated objects. The printed models can also be as simple as toys with moving parts that require no assembly that can be printed in one go to more complicated objects that don't need assembly either.
Thoughts on this 3D Printer
The FlashForge 3d Printer Creator Pro is a really nice 3D printer that's very affordable when compared to others on the market. It's really nice as a starter unit for those going into 3D printing for the first time and need a reliable and dependable machine. Using 3D printers also comes with a learning curve as like any appliance they have their share of quirks and hangups that can be easily solved once you get to know your device.
This unit prints well from the first day you remove it from the box and its recommended for both beginners as well as seasoned printers.The setup and usage out the box is really easy and you should have no issues. It's very heavy but once you place this on a solid surface you should be more than good to go. You can go ahead and buy this one with confidence.
Why get the FlashForge 3d Printer Creator Pro?
1. Very good price.
2. Capable 3D printer with a solid rating.
3. Produces very Good 3D print of objects.
4.Great software and documentation.
Why you may skip this?
1.Its very heavy.
I do hope you enjoyed the review of the FlashForge 3d Printer Creator Pro. It's really a very nice 3D printer and the one you should be spending your money on. Please leave a comment below and share your thoughts on this great product.