This article is about a situation that I encountered recently with uploading a video on YouTube and I got the YouTube Duplicate Upload error. It was the first I was seeing the error and I was not sure how to fix the issue. I eventually found the solution and this article is intended to show you as well how to get rid of the duplicate video that seems as if there is no way to delete it.
The Issue:
So I was uploading a video and after uploading I notice it was taking a very long time to process. I gave it a very long time and it did not complete processing so I decided to upload the video again. I uploaded the file again, so I notice I had two of the same files so I deleted the older video that was not processing.
The new video uploaded fine and finished processing in record time. I though everything was OK until after the video was published I saw that the other video was shown with the message:- Upload Failed: Duplicate Upload and they proceeded to give the Duplicate video ID. When I looked for the options on the video to delete the duplicate it was not there like the video above it. So there was no option for editing or the drop-down menu to choose delete.

How to fix the Duplicate Video Upload?
In order to fix the Duplicate video Upload error you need to:
1.While logged into YouTube go to Video Manger.
2.Fine the Video with the Duplicate Upload message and check the check box beside the video.
3.Next look at the top of the Videos screen for the Actions option and click it.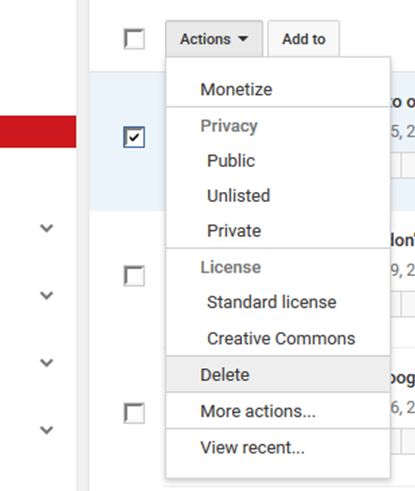 4.A new menu will appear Go ahead and choose delete and that's it the Video with the Duplicate ID will now disappear and the problems fixed.
Final Thoughts
I see where this error in YouTube can be really distracting. There is now solution as the information from YouTube does not offer a real solution for the YouTube Duplicate Upload error. So did this solve your problem? leave a comment below and do share this article with a friend.
Save