Almost every one in the online blogging or marketing space must have by now heard of adblock. This tool allows users that browse the internet to block or filter out all ads on websites. The problem with this though is that adblock does no discriminate and blocks ads universally whether its a website that has annoying pop up ads that auto play videos in the background,use in your face flashing neon colored annoyances or modest websites that add just a few ads to keep the content you are reading free by paying for server costs. Well such websites that has basic ads and do not annoy users are loosing revenue and wish to fight back against adblock and other such blocking software may want to learn How to Block adBlock Users on your Website?
So just for today I will be showing my readers how they can Block any user using ad block or similar tool until they disable the blocking software. This will work well as if users who have adblock installed want to view your content they will need to white list your site or disable the ad block tool altogether on your website.
How to Block adBlock Users on your Website?
In order to block adblock users you will need to install and configure the plugin AD Block Notify Lite. Once its installed you will need to configure the tool for either a passive notice to notify users to disable adblock or you can use a more persistent option to actually have the message remain until they disable the ad blocking software.
How to configure AdBlock Notify Lite: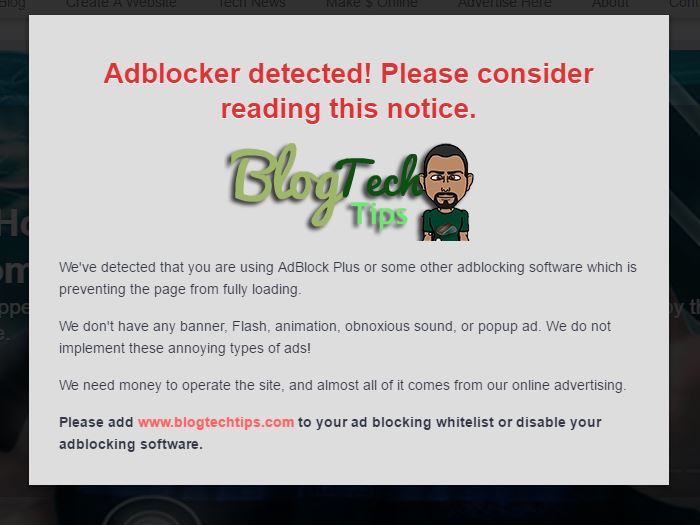 The block screen that will appear to users will look as shown above when configured.
How prevent users from dismissing the message when ad block is detected until they disable it?
1.After Install activate the Ad block notify and go into settings on the Ad blocker notify options and select Modal Box under :Modal Box or Redirection ? first tab. This will enable and allow the boxed notification to start appearing to users. Remember to save changes as the plugin will not start to work until you do this.
2.Next go to the second tab: Modal Visual options and under Modal text you can add or edit the default text. I suggest you add your logo just after the heading as I did to add some style, do it as you would with a regular blog post.
3. Under the same option Tab go to : Modal Box settings and for: Hide modal box close button set it to Yes and for :Close the modal box on background click set that to No. What this will do is prevent the ad block user from closing the notice or view your content until they white list your site or disable adblock for your content.
For a less aggressive approach leave the options under Modal Box settings at their default which will mean users will only be notified that they should consider disabling the adblock and they can dismiss the notice whether or not they dismiss it.
Ad block Notify Stats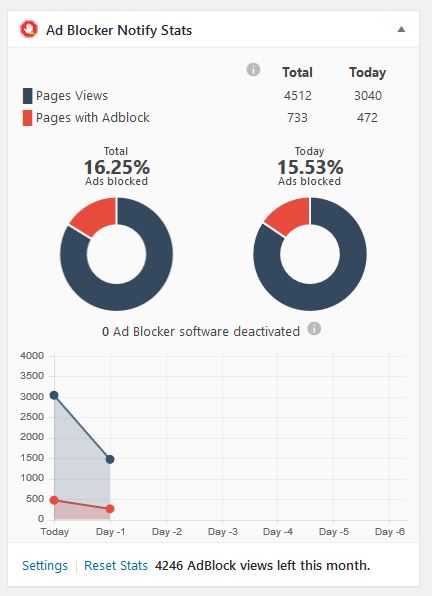 The best part about ad block notify is that you can monitor your stats to see how many users are using ad block that visit your pages in real-time. To see the widget which is added by default go to: Dashboard and then select home and you will see your stats as shown above. The data shown was after a little over a day worth of usage for me.
It's important to note that you only get 5000 Blocked views after which the tool will stop showing the notice to users. This is way more than most bloggers will need but if you have a high traffic website then you will finish that total in a day or in a few days so bear that in mind. The Plugin has a paid offering that paid yearly that does not have the same limitation but that's up to you if you want to get that. The normal version however should be more than enough for the average user though.
My Review of Ad Block notify Lite:
In case you were wondering I do not have it installed on this website and only ran it as a test.I concluded that roughly 15-16% of my traffic was using Ad block, I had no need to keep it enabled as that's not a bad percentage, a better idea though would have been to run it for a longer period to get the full picture across multiple days but I was satisfied after a full day and a few hours with the data gathered. Another thing I noticed though is that the tool could not identify how many users that disabled ad block after seeing the notice as the number would not change from 0 as you can see. That feature is not working which would be great for testing the efficiency of the tool.
Otherwise it works fine and I can't speak much on how this affected revenue as over the day on which it was active I saw no noticeable increase in earnings. This is not to say that the tool does not work but on the contrary it seems not a whole lot of my users are using adblock which is not the same across all websites. With that being said using this tool will give variable results with different users so it's a great idea to test it out for yourself as it works really well and is worth the time as one of the best tools out there on the market that you can get right now for dealing with ad blockers.
Final Thoughts:
So guys are you interested in Blocking AdBlock users as they are affecting your bottom line? I would love to hear your thoughts on this tool and whether or not you think its justified to use this on your blog. Personally I think it depends, I suggest that you first take the soft approach and notify your readers and appeal to them to disable the tool by educating them. Also its up to you to make sure that you don't have super intrusive ads and maintain a balance. You also need to maintain the quality of what is being presented to your readers as ads.
If you do that then I am sure users will disable adblock with the notice that they can dismiss. If not then you can take more aggressive approaches as shown above so they can't view your content until the ad block is disabled. So please leave a comment below and share your thoughts on the situation now.
Save
Save
Save
Save
Save