Ever wished you could block this one annoying person or persons from calling you and also stop is SMS or text messaging you too? well thankfully Samsung has integrated this features into the Galaxy S8, S8 Plus and Note 8 right out of the box. Best part is that you do not need to download any additional Apps to make the functionality work. So let's get right into How to Block SMS and Block Numbers on the Galaxy S8.
What can I do with this method?
With this method you will be able to Block Numbers, Block Unknown callers,Block SMS messages from specific numbers, Block text by Keywords or phrases and so on easily and conveniently.You do not need to download anything to your phone as the functionality is built in by default.
How to Block Numbers Galaxy S8?
1.Go to the Phone on your Samsung Galaxy and go to the dial pad.
2.Click on the three dots in the upper right and select settings.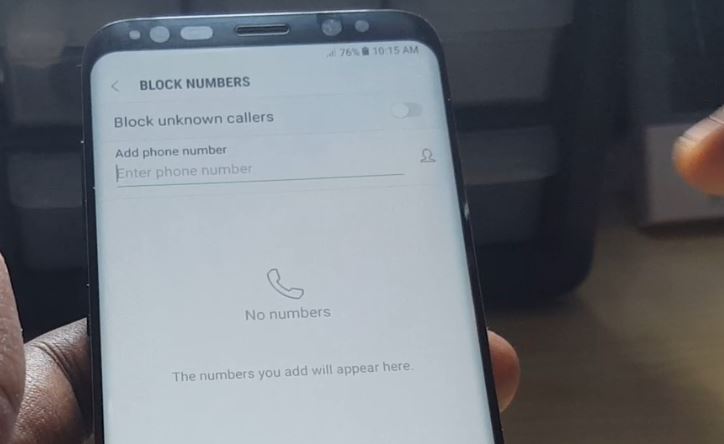 3.Now choose:Block numbers.
4.Activate the option :Block unknown numbers to stop receiving Calls from Unknown numbers.
5.Where it says add phone number add the number you want to block manually or click on the face icon to choose it from your phone book. Remember to also add the area code to the number.
Note: To remove a number hit the minus to remove the person from the list. If you do not check unknown number and the person that is being blocked hides their number and calls the call will go through so activate that option.
How to Block SMS Galaxy S8?
1.Open Messages.
2.Click on the three dots upper right and select settings.
3.Now select:Block messages.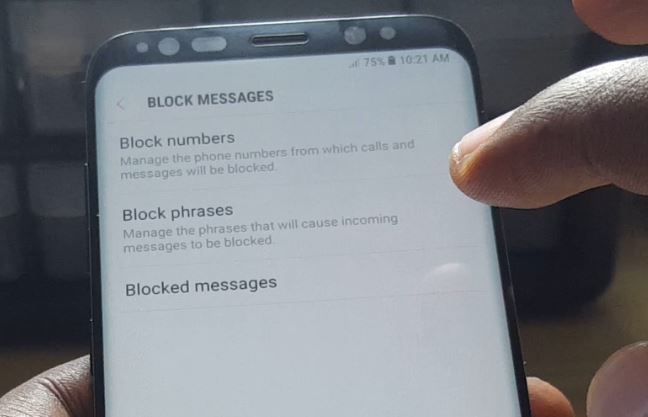 4.Choose Block Numbers and either enter the number you want to block manually where it says Phone number or add from contacts or your inbox.
5.From Block messages you can choose block phrases and you can add words you want blocked. If any of these words appear in a text you will not see them. Use the plus after typing in the word to add them.
Note: Messages that are blocked will not appear in your inbox, they are stored in a hidden folder called Blocked Messages in the same location as shown above. Messages appear here but you never have to check them and you can just delete them or ignore them. You can also go back and review them later or after a while to see if anything was blocked.
Final Thoughts
This is one of my Favorite features that's build into the Galaxy S8,S8 Plus and Note 8. This was also in older or past Android devices but was removed and I am glad to see it make a return. Please tell me your thoughts below about this feature and please share this article online with a friend or two.