I love Gaming and to start a really Nice Gaming rig its all about the case. In today's article I would like to list some of the best Gaming PC case that you can get. These are all personal choices and are backed by sale numbers, user rating, design and a number of other factors that I will be sure to highlight. So if you are thinking of doing your first build or doing an upgrade build you should definitely consider one of these cases right now.
I have also placed this list in random order so simply go through and choose the one you like as any of these will be great options for your money right now.Once you make your choice you only need to get the correct components and Cooling system,preferably water cooling and you can build the Ultimate Gaming Rig.
Best Gaming PC cases
So lets start of our list with some of my top picks among Gaming Cases that are highly rated and well built: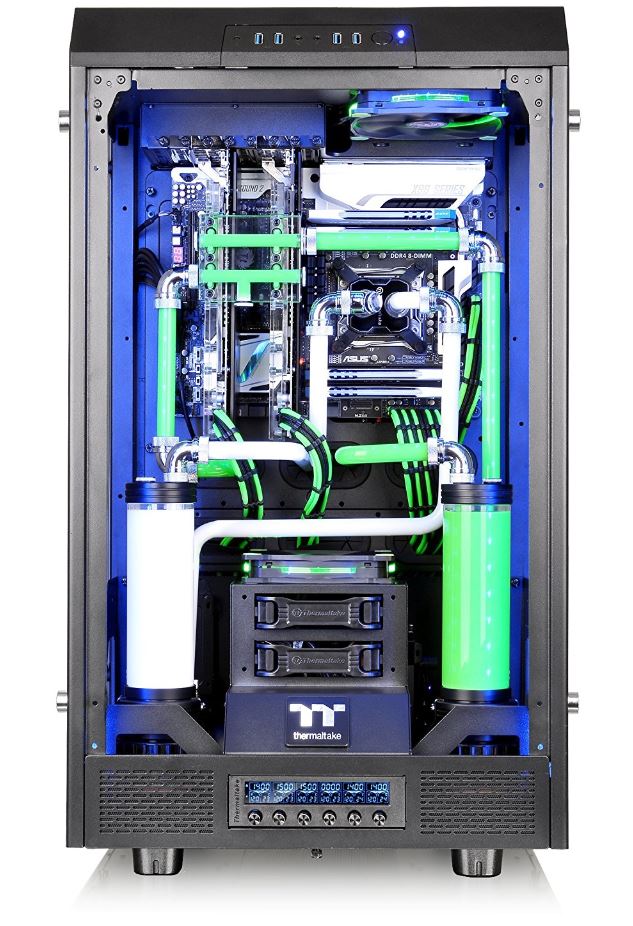 1.Thermaltake Tower 900 Black Edition
Its simply love at first sight with the Thermaltake Tower 900 Black Edition. Talk about unique looking cases this one cannot be beat. The case is fully modular and features a see through Tempered glass exterior which is great for showing off your components. Go with either Black or white version with this full ATX full tower unit. A case like this is perfect for a Water cooling setup and you should think of installing nothing less than a custom loop. This case can virtually hold anything that you can throw at it hands down one of your best choices on this list.
2.Corsair Crystal Series 570X RGB – Tempered Glass, Premium ATX Mid-Tower Case
Another great ATX Mid-Tower Case that will make your build look out of this world. What I really like about the design is that it has tempered Glass at four (4) sides at the front, top, and sides of the case. You can fit a 360mm, 280mm, 240mm, and 120mm radiators. You can also do a marvelous job with cable management quite easily. When you add lights this case will show off all your components in all their glory.
3.Lian-Li Case PC-D600WB Full Tower

Price Disclaimer
This is a Full Tower Aluminum case that's double wide, inside is enough room for proper air circulation to the point that your components will have maximum air flow. Show your main components on one side while hiding away others out of sight on the other side easy. In the end you will have a clean and tidy build that will make you seem like a king of cable management.
4.CaseLabs MAGNUM SMA8 Case
This is another Aluminum Construction case for great material design that's durable and light weight. Has a very nice preview side window at the side. Its expensive I wont lie but you do get what you pay for with this case. If you can get over the cost. everything comes disassembled and as a result when you get it you will need to put everything together. All the build material is high quality and the designer did not skip on a thing.
5.NZXT S340VR Elite Computer Case
I am a big fan of NZXT cases as they always look so good and the price is always great. Meet the NZXT S340VR Elite, you can go with several interior color highlight depending on your build theme. You get a very big side preview window that look just dreamy. Make sure you are getting the elite version when you buy as it's the one with all the best features you will want.
So Guys which of these cases is your favorite? please indicate in the comments below as usually. I really love these cases and if you agree please take the time to share with your friends too as you can build several awesome Gaming rigs from these cases.