Today I will be looking at How to Install SIM cards or MicroSD card on the Galaxy S8 DUOS. To put simply this tutorial will be showing you how to Install either two (2) SIM cards or a SIM card and a MicroSD card on almost any DUOS or Dual SIM branded devices such as the Galaxy S8 DUOS,S8 Plus DUOS or Note 8 DUOS and so on. So if you don't understand how the SIM tray Works on these devices as you are accustomed to normal phones with a Simple SIM tray that holds one SIM you have come to the correct place.
Also this tutorial also works just as well for the normal version of the Galaxy S8 if you want to know how to install the SIM card and Sd card as well.
What Will You be able to do with your device?
You can do the following with your DUAL SIM or DUOS device:
1.Have two (2) SIM cards in the device at Once that Work. You wont be able to use the MicroSD card though.
2.Have 1 SIM card and 1 MicroSD card.
3.Have 1 SIM and the other Slot blank or so on.
So the reason for this as you might have realized is that on dual SIM devices the Secondary slot serves as both a second SIM card tray and a MicroSD card slot which can only hold one device at a time being an extra SIM or the SD card.
How to Install SIM Cards and MicroSD card in the Galaxy S8 DUOS?
My device for this demonstration will be the Galaxy S8 SM-G950FD but do remember this applies to any Galaxy S8 or similar device.
1.You can watch the Video above to see exactly what to do or follow along here. First get the SIM ejector tool from your phones box.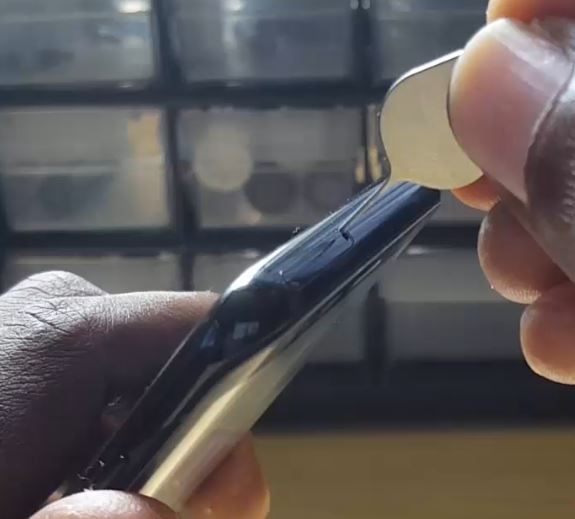 2.The SIM card tray is at the top of the device left hand side. There should be a hole, place the thin end of the ejector tool into that hole.
3. Keeping the ejector tool as vertical as possible without tilting apply a firm downward force. The SIM tray Should eject or pop-up and you can remove it.
4. I suggest that you then Place a Nano SIM into the Firs slot and either another SIM or SD card in the second or leave it blank. Also note that for new devices the SIM card will go in easy but the SD card when its been installed for the first time might not go in smoothly and become stuck on the notch that holds it in place and stick out which will make it become impossible to fit into the SIM tray of the phone.
I suggest you find some leverage like the side of a table place it down and snap it into place by pressing it in. After the First time it will be easier to install in the future.
5.When finished place the SIM tray Back into the phone and take notice of the hole on the device and install it back into place. Do this by pressing firmly to make sure it all he way in.
Final Thoughts
I find that it can be a bit tricky finding out how a Dual SIM Galaxy S8 tray works but once you get the hang of it it's quite easy. If you have any questions please ask below and do remember to share this article. Also remember to watch the video above as it shows exactly what you should do.