So my SD card was working fine and I recently removed the SD card/SIM tray on the Galaxy S8 after which I placed it back. Everything was working fine until I powered up and saw the following error: Unsupported SD card. I know that this is not true as I was using the SD card fine before without issues.Further more if you go to file explorer and look at the SD card it will say no SD card is inserted. For today's article I will be looking at how to perform an Unsupported SD card Fix Galaxy S8 or other Android device.
The Error
The error in its entirety reads: Unsupported SD card this device doesn't support this SD card. Tap to set up in a supported format. Then there was the option to clear all.
Also the error cannot be dismissed or cleared like some other errors that you may encounter by swiping the notification away.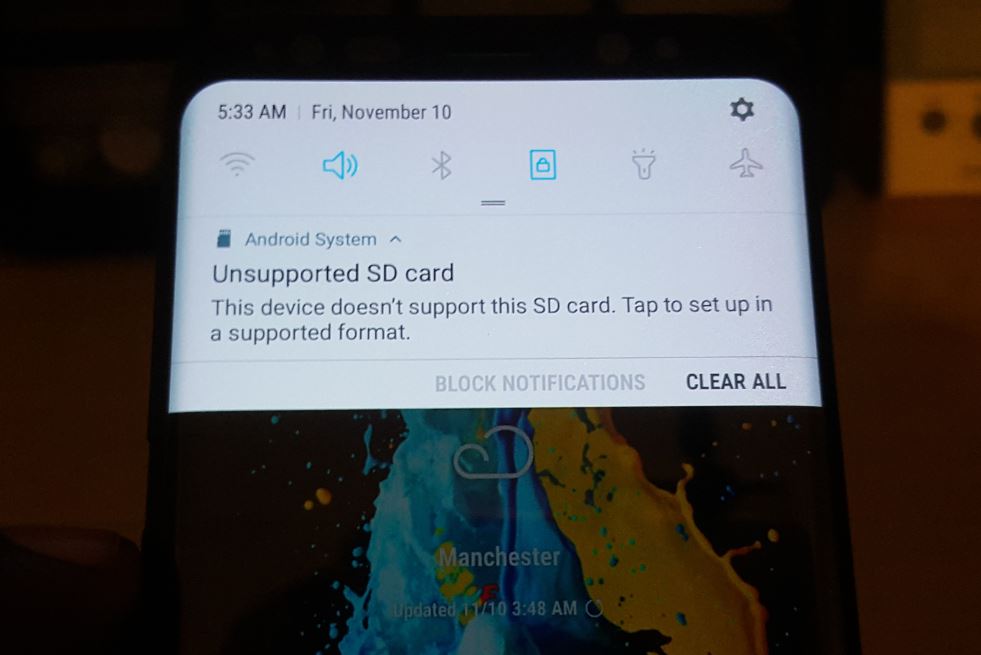 Video Demonstration:
See the video demonstration
How to Fix Unsupported SD card
1.Power off the phone and remove the SD card tray.
2.Clean the SD card metal contacts on the back of the SD card, Place the SD card back into its tray and make sure it's sitting flush. Re-inert the SD card and make sure it's properly seated.
3.Power on the phone and see if the issue is fixed. You may want to do this at least twice in case it did not work the first time.
4.The error may be correct if it's a new SD card and its unsupported so either try a new SD card such as this oneor find one that is supported.
5.Also if you have files on your SD card from a computer or different phone back them up and format the SD card and try re-inserting it and see if the device accepts it then.
Final Thoughts:
If you are facing the Unsupported SD card issue I hope I was able to help you out. If you have a tip that you have discovered then please share below and please check out our other articles below we have plenty to share.