This tutorial will show you How to enable or Disable Voice assistant feature on your phone. This was done with the Galaxy S6 and S7 in mind but it should work in a similar way on other phones as well. The voice assistant feature is also known as talk back and you might have somehow enabled it and find it annoying and don't know how to disable it and its reading everything that on screen out aloud and navigating the screen options has changed as you have to tap several times.
What is Voice Assistant?
Voice assistant is a feature that when enabled will allow your device to give voice feedback. For example it can tell you what you can interact with on screen such as items to select and so on.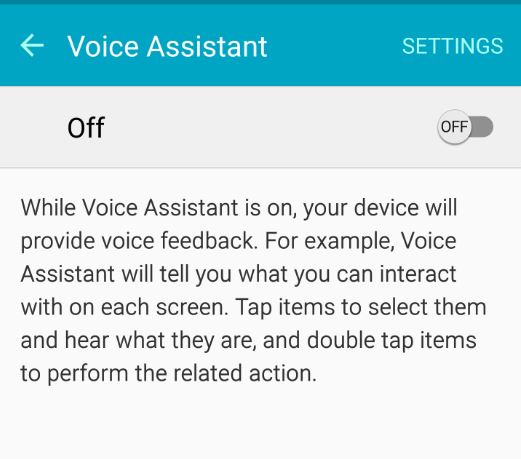 How to enable/disable voice assistant?
From the home screen:
1. Go to settings .
2.Accessibility and then go to vision.
3.From this menu click on voice assistant and turn the feature on, you may get a pop up you only need to click OK.(If you are disabling the feature read the section below)
Once the feature is on the phone will start reading everything out . If you go to the home screen it will announce its on the home screen, which app you select and so on.
How to Navigate screen while Voice assistant is on to Disable the feature?
You will know the feature is on as it will vocally tell you everything that on screen such as which page of the home screen you are on and so on.The navigation will also change from normal
1.To select anything in this mode simply click on an App or option in menu once to highlight it and then double tap to open it.
2.To scroll through the menu such as settings use both fingers or two fingers on the screen.
3.To disable go back to: settings-acessability-vision-Voice assistant as above.
Final Thoughts
I do hope you guys found this useful as I did. Please take the time to leave a comment below and do remember to share this article with a friend as it would be greatly appreciated my friend.