So lets look at how to Turn Notification Edge Lighting On and Off Galaxy S8,Note 8 and other similar devices. The feature is known simply as Edge lighting and its used to indicate when you have a notification of a message and can only be seen when the phone is face down on the table. If you were to get a call it will flash Green, a message it will flash blue and various other color codes to indicate you have a notification. It's quite cool and today we will be showing you how to turn the feature on and off.
How to Turn Notification Edge Lighting On and Off Galaxy S8?
To turn the feature on or off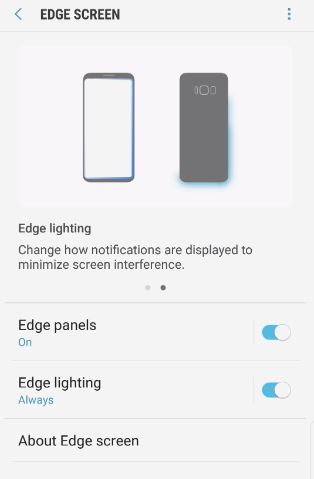 1.Go to settings.
2.Then go to display.
3.Next look for Edge screen and select it.
4.Then toggle Edge lighting on or off depending on your preference.
5.To customize the setting simply click the text for Edge lighting, you can decide when it comes on whether when screen is on or off or always. You can also choose which apps to show notifications for. You can even mess with advance settings to customize the colors and the look to your liking.
Video Demonstration:
See the video demonstration below
Please Note
By default edge lighting will only show up when the smartphone is Face down and you revive a message, phone call or so on. It will be very noticeable from the edge of the device as it will light up and flash in a very nice color.
Edge Lighting Not working when Screen is off or for Whatsapp:
If Edge lighting is not working when the display or screen is off and the phone is face down then go to the edge lighting option as shown above, this time instead of toggling the option on or off then click on the text to see the additional options.Then set Show Edge lighting option to :When screen is off or Always.Remember keep the phone on its face to best see the effects or the screen face down on the table.
For Whatsapp as above again go to the Edge lighting option and click on the text to see the options and this time click on Manage Notifications and make sure that the toggle beside Whatsapp is set to on. You can also go to advanced settings and customize the color scheme and look of edge lighting to your liking.
So that's it guys for how to Turn Notification Edge Lighting On and Off Galaxy S8, Note and other devices. Please take the time to leave a message below in the comments and as always do share this article with a friend. We have plenty of other articles so do check those out as well.