Yep you are not going crazy, it's actually happening so you can put your mind at ease. Windows 10 Starts previously opened apps after powering up and its a newly implemented feature.I must say while Windows has added cool features in the past this one is controversially a major change that modifies the traditional boot up process of Windows and I can tell you a lot of users do not care for it.
When I startup my PC I want only Windows alone to start and I Would like only to launch a app when I feel like it and not before. The last thing you want is two to five apps to launch making your already OK PC even slower.   Those with faster PC's will not mind but it would have been great if Microsoft simply gave us the option to turn the feature off. Well lucky you have this article to help you out.
Whats Happening to my PC:
The problem that you are experiencing here  is actually a new Windows 10 feature as mentioned earlier.Usually you stat up your PC and launch what you want but the new feature launches any previously opened app or programs you had launched before shutdown. Don't ask me why anyone though this would be best for all Windows users but it was implemented for all users by default.  In most cases you will find that its your Browsers such as Chrome or Firefox that launches on boot but there are many other apps too that you use on your PC that may be launched automatically because of this feature.
Windows 10 Starts previously opened apps after powering up Fix
So if Windows 10 automatically launches previously opened apps after reboot or powering up which is the new features that was added in the latest update of Windows 10 then do the following to fix the issue.
Workaround Solution:
1.The easiest way to deal with the problem of Windows 10 Starts previously opened apps after powering up is to close all apps that are opened before powering down your PC. I know its annoying but its the only workaround. Otherwise you can use the fix below which will disable the feature totally. I only included this workaround as its always great to have options.
100% Fix for Windows 10 Starts previously opened apps after powering up:
To fix the problem totally and disable the feature that causes previously opened apps to launch on startup in Windows 10 is to.
1.Click the start button and select the gear icon for settings.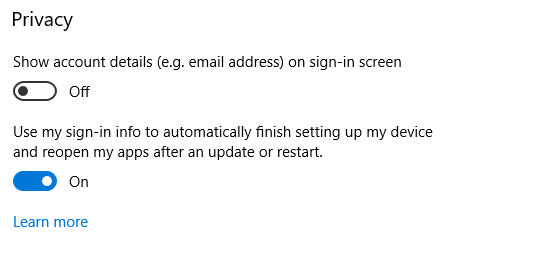 2.Next select Accounts.
3.Next select Sign-in options in the left panel.
4.Now go down to privacy and under: Use my sign-in to automatically finish settings up my device and reopen my apps after an update or restart.
Go ahead and turn this option to off.
5.You can now use your PC as normal and never again on reboot will you have your previously used apps being launched automatically.
Video Demonstration:
See how its done for yourself step by step in this video tutorial.
Who would have guessed?
Who would have guessed that Microsoft would have implemented such a radical feature and thrust it on users. The Windows 10 Starts previously opened apps after powering up feature is not a bad idea but at least allow users to try the feature out and know how to turn it off if they don't like it. Last thing you want is to be a Guinea pig for a new feature that's will frustrate users.
As for me I will be turning the feature off. I may have use for it in the future-may… But for now I want to hear your views on this feature so sound off in the comments below and do remember to check out the blog and see our other articles as well on various tech issues and solutions. I wonder what new feature they will spring on us next.