Every now and again Windows will send out updates.While its important to keep windows up to date, it can be a serious issue when these updates causes Windows to stop working.
I had one such issue recently when a Prompt all but Forced me to update as it indicated:
"Restart and update to stay in support
Support for the Windows 10 April 2018 update ends in November 2019. Restart to install a supported version of Windows. "
After updating I noticed that my Logitech wireless Keyboard stropped working. On Further inspection I noticed that my phone would only charge and would not pop up so I could remove my files.
This indicating that the USB ports stopped working after the update. USB keyboard and mouses would also not work at all. When I checked device manager it showed all drivers were installed and working.
What did all this mean?
Based on what I found out it seems that the update caused the drivers for the USB to stop working. There might have been other stuff that was not working too.
Seeing I could not use my computer without fully working USB port I had to do something to fix the problem as shown below.
Before you Try the Fix below:
Before you attempt the fix below try to see if there is a Windows 10 driver update for your device such as USB drivers or something related to the issue you are having.
Even if not update all your drivers and use Windows update and check for additional updates that might fix the issue.
How to Fix the USB Port Not Working after Windows 10 Update Problem?
Here is what I did in order to get my Laptop back to working condition.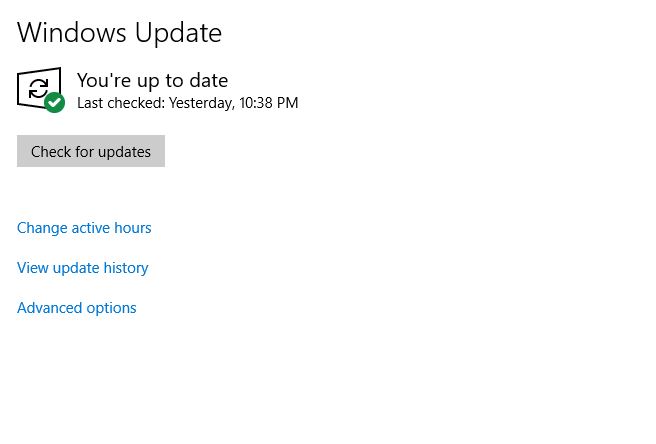 1.Go to search from the Windows 10 desktop and search: Windows update settings
2.Now select: View Update History.
3.Choose : Recovery options.
4.Now choose to restore to a Previous version of Windows 10 that was working. It will ask why simply choose the one that says a app or device is not working and hit next.
5.After some time Windows will restore and Your USB port or other issue will disappear and windows will start working again.
Do Note:
Its always recommended to update to the latest version of Windows as its more stable and secure. So you may want to try updating later on and hope that a newer version of Windows will fix that bug and everything will work fine.
In the mean while make sure your Antivirus suite is up to date and working as it should as a additional line of defense.
Before you Go
Please as always please share this article on USB Port Not Working after Windows 10 Update Fix. Also comment below and check out more articles here on the website.