This guide will show you on Windows 10 or other Windows PC to deal with the repeating error:
"The device has either stopped responding or has been disconnected"
I personally encountered this error on connecting my Samsung Galaxy Smartphone to my PC. I transferred a file and disconnected the phone only to get the error.
After trying repeatedly to hit OK the error would only appear over and over again without the message going away.
Devices this Happens with?
Seems this can happen on any Windows PC especially Windows 10. This can happen after disconnecting any phone or device, such as Samsung Galaxy Smartphones, Android or other device.
The error itself can keep reappearing until the underling problem is solved which may not be apparent.
Video Tutorial:
Watch the video tutorial to see how this is done step by step.
How to Fix the Error?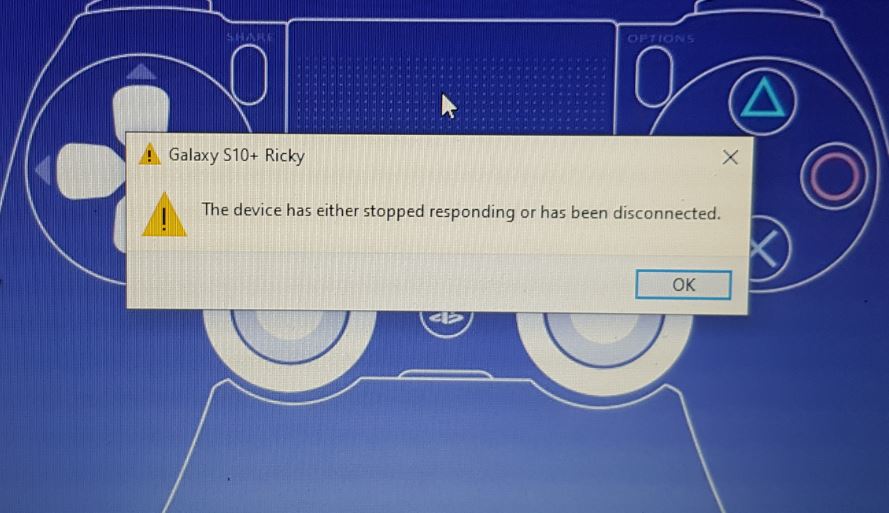 1.First thing go ahead and reconnect your smartphone to your computer.
2.Hit OK on the error and should stop.
3.Now to get rid of the error totally close any Apps or windows associated with your smartphone.
This includes open folders, Pictures, Videos, Apps on your PC that connect to the phone and more. Give a minute.
4.Disconnect the phone again. The error should now not reappear.
5.Alternatively you can also try rebooting or restarting the PC as it may help.
So how well did I do?
Did the tips solve the problem? Let me know in the comments. Thanks for everything and please share this and check out some more of my content here on the website.