In today's article we will be looking at How To Fix WhatsApp SMS not Sending Problem. With this issue when you try to send a message to a contact you will release that none of your messages will show that they have been sent which is marked with Single tick indicating that the message was sent. So if you are faced with such a problem go ahead and try the following fix to solve the problem once and for all.
The Issue:
As mentioned when you are having this issue none of your messages or SMS will be sent no matter how many times you try to send them or to whatever contact you may try to send it to. There will be no single tick to indicate that the message was sent and the other party would not have received it.
Before you begin!
Before you follow the instructions below be sure to :
1.Go to settings in Whatsapp.
2.Now select chats and then select Chat Backup.
3.On the next screen select: Back up Chat.
Now all your Chats will be backed up after the process reaches 100% and then you can proceed to the steps below.
How To Fix WhatsApp SMS not Sending Problem?
In case you missed it be sure to do the backup step as shown above as this step is very important to ensure you don't lose any of your data or messages.
1.Go to Settings,Apps and look for Whatsapp.
2.Now select Storage and clear Data to erase all the stored data.
3.Launch the app and enter your number again to setup your account from scratch by verifying your number.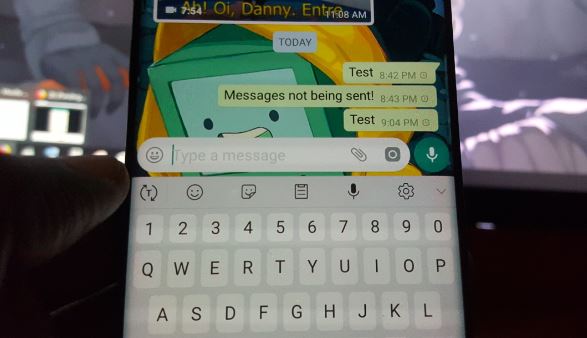 4.Be sure to restore from backup next to ensure your data will not be lost.
5.After regaining access again go ahead send a message to any of your contacts and you will see that you now see the send check mark or tick.
Additional Tips to Try:
1.The problem may be with your Internet so change or switch to another Internet connection.
2.Go to Settings, General Management ,Reset and choose the option Reset Network settings and then reconnect to the WiFi or network you were on for Internet, don't worry your data will be OK with this method.
Video Demonstration:
Watch the following video demonstration to see how its done
Before You go
That's it for How To Fix WhatsApp SMS not Sending Problem, please be sure to take the time right now and share this article and if you have any questions leave them in the comments below and I will definitely reply soon. I would also love if you could check out another article here on the blog.