So this holiday i decided to pickup another laptop, what can i say I just cant help myself. I wanted something that would not break the bank in price and offered great performance. I decided on the Acer Aspire E15 Laptop which I will be reviewing today.
I purchase mine on Amazon and everything was delivered in a timely manner and I got it at a very good price too.
Packaging and Presentation
Packaging and Presentation was OK. Everything came in a unassuming brown box, but if you took the time to look you would realize that the packaging was made of recycled material.
This is great for the environment and leaving a smaller carbon footprint and saving our forests, so big thumbs up to Acer on that one.
Inside the Package was the Adapter, User Manual, The Laptop and a bunch of other pamphlets and booklets that document the product. Nothing new you have never seen from a new product or Laptop.

Acer Aspire E15
The exact model in question of the Acer Aspire E15 Laptop that I got was the E5-576-392H which is the model with 15.6″ Full HD display, 8th Gen Intel Core i3-8130U processor that goes up to 3.4 GHz, 6GB DDR3 RAM Memory, 1TB HDD, 8X DVD drive and a battery that claims 12 hours battery life.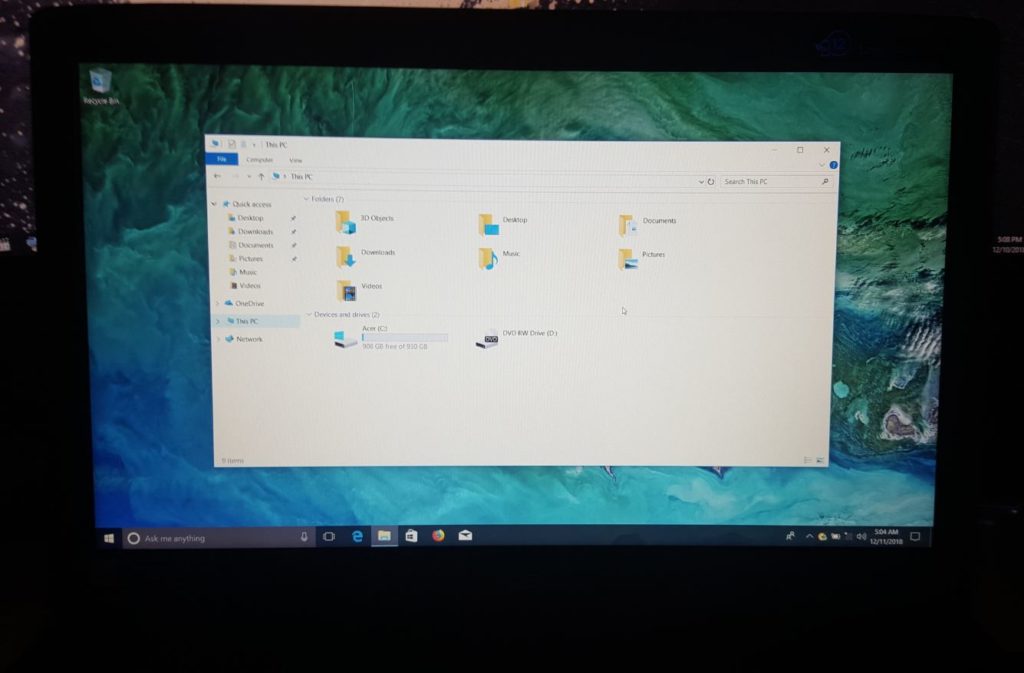 The Laptop comes with Windows 10 home 64 Bit edition. Setup was easy and the Laptop is quite snappy and responsive. I love the brush black finish that's featured throughout the  exterior. The USB ports are 3.0, you do get VGA, HDMI, Ethernet, USB Type C connection and everything that usually comes standard such as the 802.11 AC Wifi, HDR Webcam, Intel UHD Graphics and the processor is a 8th generation i3 Processor in case I forgot to mention.
On the base of the Laptop you cant seem to remove the battery as with older Laptops easily as its most likely built in. You can however access Memory and what seems to be a Hard drive from the back easily for repair.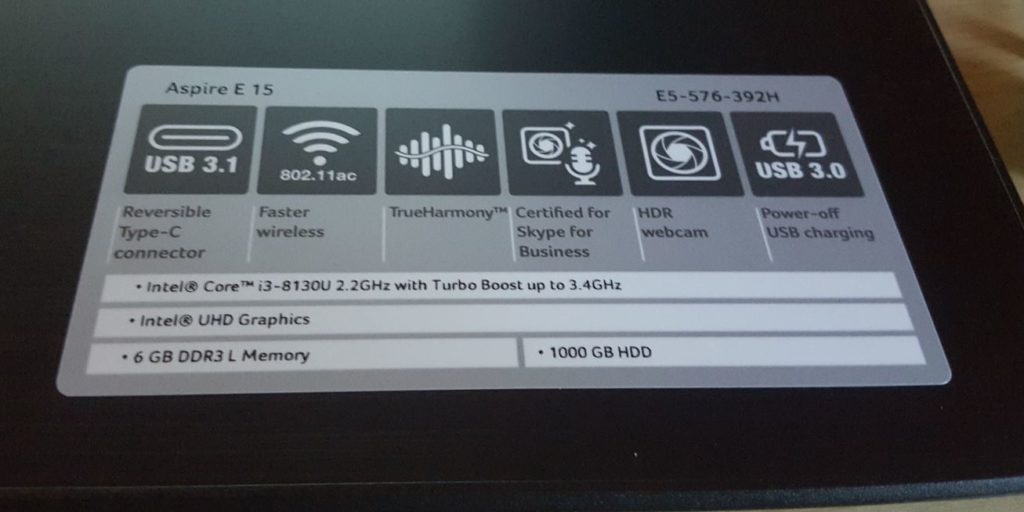 Video Unboxing and Review:
Watch the Video below to see the Unboxing and review.

Performance and Multimedia Tests
My main tests were with Audio and Video. I was able to easily perform multimedia or Video Playback tests in 1080p. Video quality was really good and playback was smooth. I love that everything looks crisp on the display.The audio is good for a Laptop and clear.

Word processing was also easy and browsing the internet was also good. You can do basic Video editing no issue on this Laptop and Picture processing.This makes this a nice Laptop that's affordable for work, School or Play. Overall it has a very nice balance of performance.
Battery life was OK but don't expect to get the claimed battery life under heavy processing tasks. When doing demanding work be sure to Plug the Laptop in to save on battery until its needed or you are away from a outlet.
Conclusion
Overall Acer is becoming one of my favorite Laptop brands as a affordable option that strong on giving you good bang for your buck. So far I am loving this Laptop and can easily recommend it.
You will have plenty of Memory, storage and performance power at your fingertips no matter the everyday tasks you may throw at it whether at work or play. If you are in the market for a Laptop don't rule this Laptop out.

Where to Buy:

You can purchase this Laptop below.

Why you should Buy This Laptop:
1.Great and Affordable Price.

2.Solid performance and Latest processor.
3.Solid Battery Life.
4.USB Type C Port built in with other great accessories and Ports.