So today's we will be looking at the Tecnugiz External USB 3.0 DVD Drive Review. I have had the pleasure to look at a variety of Tech Gadgets over the years and I have seen my fair share of DVD drives as well. So today product while it is a simple Technology the thought behind finding a reliable one is not so easy as you will come to release as you read on. The last thing you want is to Purchase a product that has not been properly tough out.
The Tecnugiz External USB 3.0 DVD Drive ticks all the correct boxes and does all it claims and much more.I want to thank Tecnugiz for sending this review unit so we could do a proper breakdown of the device and see weather it worth buying or not.
Whats Inside the Box?
Inside the Box you will find the Tecnugiz External USB 3.0 DVD Drive and User manual and that's about it. Everything is well packaged and the External DVD drive itself is quite nicely nestled inside a plastic stand-off that allows the drive to be suspended in the middle of the box which protects it from shock from either side. Too often manufacturers overlook packaging and your device gets broken even before arrival. Rest assure the packing is more than adequate.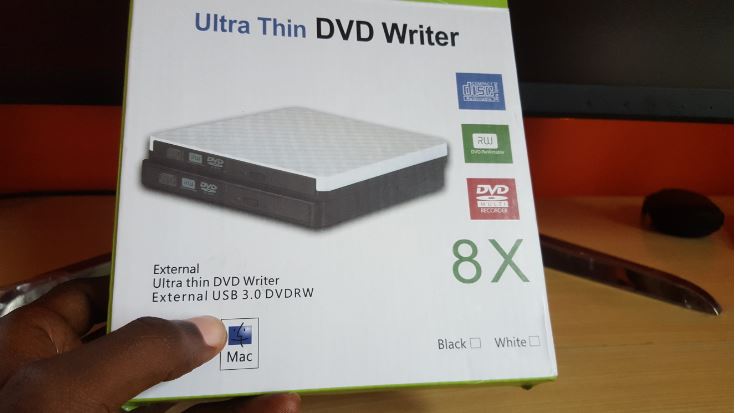 Packaging in my opinion is usually a sign of a good product as the manufacturer took the extra time to package things right for you.
Unboxing and Review Video:
You can watch the following Video to see whats inside the box along with my impressions of this product.
The Tecnugiz External USB 3.0 DVD Drive Review
I could Instantly tell right away after opening up the Tecnugiz External USB 3.0 DVD Drive that the manufacturers knew exactly what they were doing. The top  drive is made out of what seems to be hard plastic. It also has a very nice horizontal and vertical line mesh patterns that when the lights hit it on the black version that I have it looks really good.It also has an overall thin profile which makes it easy to pack and carry. You can get this in white as well if you don't like the black (In whispering Voice: Choose black trust me it blends well).
Great material and build Quality
I have had External DVD drives in the past that would look nice for a while but were made out of strange rubber covering that would start to look moldy and gunky after a while. This product has no such flaw as the drive itself shows signs of hard plastic construction all the way around.
The housing is sturdy and solid and once you place the cable away properly it sits flat on a surface as a Table. Its a Ultra Thin DVD writer which makes it easy to use and store away in places such as a Laptop bag.
Convenient Cable Management

The USB cable that is USB 3.0 by the way is attached to the DVD drive and that was a great idea as in this way it will never get lost. They also created a convenient groove on the bottom of the device that allows for the cable to be tucked away for storage as I mentioned before.
A tip for those trying to pace the cable away and find that it wont go all the way down, simply don't try to place the USB end into the groove as it is shaped go ahead and slid the head from one side up and it will slide over the tab that will hold it in place and fit flush.
Testing and Performance
The coolest thing is that this drive is plug and play in the truest sense of the word as I connected it to my Windows 10 Laptop that does not have a built-in DVD drive and it was instantly recognized and ready to work.
I was able to read a DVD I had and test the Transfer speed which were very fast as the USB 3.0 speeds really delivered. This also including when writing or burning a DVD which allowed up to 8x speeds saving a lot of time as most modern USB ports are now 3.0. I also love that it also backward compatible with older versions of Windows, Linux and even Mac.Did I also mention that this is a USB CD-ROM as well as it reads both CD"s and DVD"s, if you ever need to read or write to a CD  or DVD you are covered.
Why you should buy the Tecnugiz External USB 3.0 DVD Drive:
1.Very Fast Performance with 8x speed and USB 3.0 support.
2.Great Build Quality and choice of material.
3.Convenient Cable storage and attached design to prevent loss or you leaving it behind.
4.Nice and thin design.
Where to Buy
You can buy yours below
Conclusion
I can confidently say that the Tecnugiz External USB 3.0 DVD Drive was made with a lot of thought put into it. You would know this if you ever used one of these External DVD drives before. They are not all made equal and you can spend a lot of time going through many models with a bunch of flaws to find one gem. Well this one is a gem of a product and I can safely advise that you go ahead and purchase yours right now.
Continue Reading we have even more Tips for you: