Its a really exciting day as Christmas is just around the corner. Recently the guys at CHOETECH contact me and asked that I send them my website Logo. They did not say for what and told me that they would be sending me something nice.
Fast forward a few weeks later and a package arrived in the mail from them. Inside was the item seen below.Its really exciting whenever I get a new gift especially when I have no clue what it is, I have also included the unboxing and review video were I show my honest reaction on seeing this product for the first time.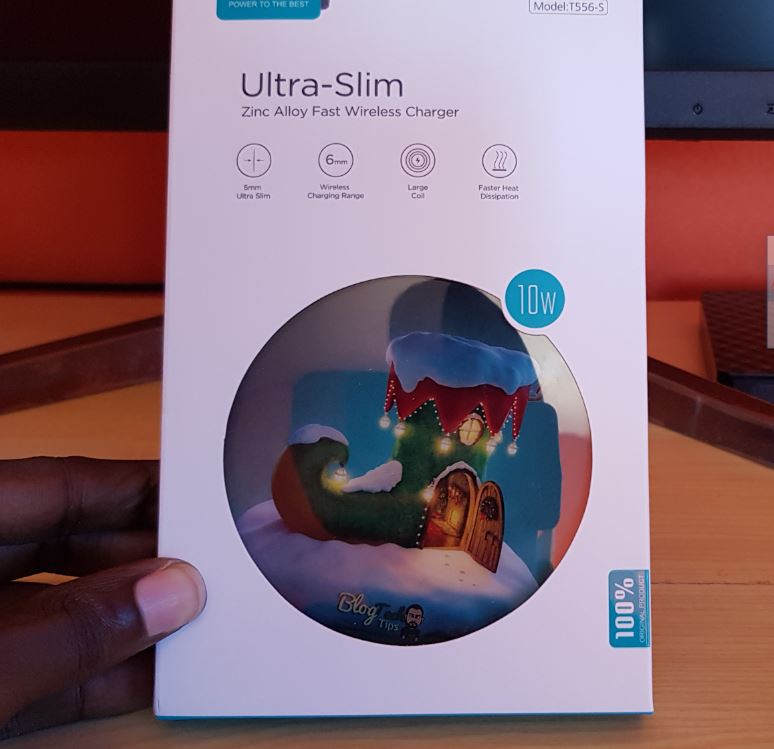 The item inside the package was a CHOETECH T556-S Zinc Alloy Fast Wireless Charger. Best of all it was customized for the holiday season with a BlogTechTips logo and Christmas holiday theme. 
Thanks to CHOETECH for such a great gift. I will be sure to cherish it and use it on the YouTube channel as often as possible.
Whats Inside the Box?

Inside the Box was a User manual,Bookmark looking warranty card and the CHOTECH T556-S Zinc Alloy Fast Wireless Charger itself with custom design and BlogTechTips logo.
I must commend the overall presentation of the product, they did really well.

CHOETECH T556-S Zinc Alloy Fast Wireless Charger Review

Do note that my CHOETECH T556-S Zinc Alloy Fast Wireless Charger is a customized version in looks and yours may look a little bit different compared to the retail version. The performance should however be the same.
The most obvious feature of this Fast Wireless charger is the Ultra Slim profile coming in at just 5mm. It will look great on your desk and add a futuristic appeal. Also there is a large coil included which makes it easy to detect any phone placed on the charge pad.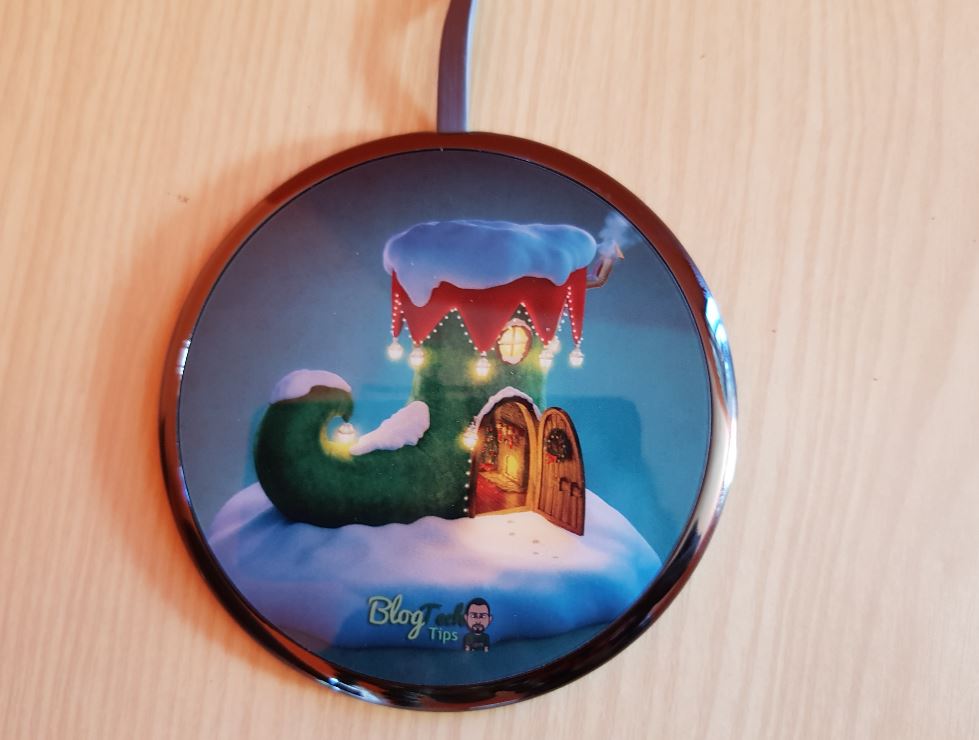 I also had no issues charging my phone with a relatively thick case covering it. This saves on the hassle of having to remove the case each time I tried to charge my device.
The coolest feature though is the fast heat dissipation. If you ever used a wireless charge you know things can get hot in some models and uncomfortably so. Well this model vents excess heat fast so less issues with overheating.

Video Review:
Watch the Video review and unboxing below
Specifications
1.Fast Wireless Charging with 10W Max Output and is 1.4 times faster than normal charging.
2.Toughened Glass panel with customized 3D pattern. (Mines really Customized!)
3.Built in large coil and smart chip provide large charging area and high efficiency.
4.Zinc-ally and premium glass panel with Advanced circuitry enables fast cooling.
5.Case-friendly design allows you to simply place and charge without removing the case.
6.Comes with built in 1m USB cord and organizing strap for your convenience.

What devices does this work on?
This devices will work with Both iPhone's and Samsung devices. Other smartphones should not be an issue as this uses Qi wireless charging.
Where to buy?

You can purchase yours in the link below
Why Purchase this Product?
1.Really slim and sleek design.
2.Does not produce excessive heat like some models.
3.Great brand with solid products.
4.Well made product that looks great.
5.Long USb cable.
6.You can charge your smartphone with case on and supports Fast Wireless Charging.

Conclusion
In concluding you are getting a very solid product for the price you pay. Its also backed by a reliable company that shows great pride in he products that they offer. The CHOETECH T556-S Zinc Alloy Fast Wireless Charger is a well made product with Zinc-alloy and premium glass construction and will be worth the money you spend on it.
You simply cant go wrong with this product so so check out the listing as shown above as it would be greatly appreciated. Check out other products from this company.