Today's review will be of the X-Dragon Solar Charger. Thank the X-Dragon team for sending this one in for review. Its really refreshing to see innovative new Gadgets that outside the realm of what we are accustomed to in gadgets.
The X-Dragon Solar Charger tick all the right boxes and is one of the most versatile gadget anyone who is into technology can have in their artisanal. Its not only for the technologist but also for the camper or person who is in a situation where electricity is not readily available. This can be easily anyone in these uncertain times.
So check this review out right now as I break down what makes this device truly special in my eyes.
Why Wait checkout or buy the product right now by clicking here.
What is the X-Dragon Solar Charger?
The X-Dragon Solar Charger is as the name suggests a solar charger that can charge allot of your Gadgets using only the sun.
It uses highly efficient solar panels and harnesses the power of the Sun to charge your Smartphones, Tablets and even Laptops.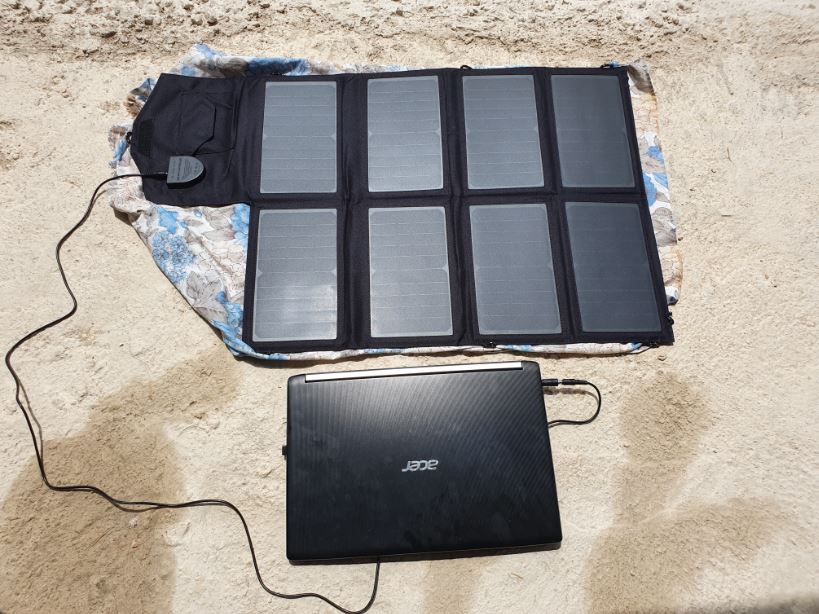 Other Gadgets are also supported as long as it uses USB or in case of the Laptops there are all possible power connection types provided with a special removable heads for those. You can even charge Power banks and store the energy for use later if you think about it.
Video Unboxing and Review:
Click play to watch the video and see the unboxing and the product live and how it works with your various gadgets you have.
If you have any views on the video or article share them below I would love your feedback.
Feature of this Solar Charger
This X-Dragon Solar Charger features SolarIQ with a built-in smart IC chip,which automatically adjust the current and voltage to achieve maximum power delivering ideal current up to 2.8A under direct sunlight.
Features Ultra-High Efficiency: Built with US SUNPOWER solar cells which have a 22%-25% efficiency.This is 50%higher when compared to common panels, which are 15%.
The product has Dual-Port Output:The USB port (5V/2A) for charging your 5V powered gadgets and 18V DC output (18V/2A) for charging your laptop or other 18V powered devices.
Its also Water-Resistant and has Safety Protection : PET solar panels with rugged high-wear Oxford fabric offer weather-resistant durability for any outdoor environments and activities. Surge protection, short circuit protection and more advanced safety protections keep you and your devices safe.
Whats inside the Box?
Inside the Box you do get the 40W foldable Solar Charger in its portable and case form, 10 laptop connectors, DC cable, USB cables, carabiners, instruction, 18 months no worry warranty and brilliant customer service.
These are basically all you need out the Box to start charging most devices. You get everything you need to generate power and charge most devices you will find including clippers which seems can be used to jump start a car (unconfirmed).
My Experience with this Product
I personally us The X-Dragon Solar Charger now. For the testing period I was easily able to charge my smartphone. This was a Android phone, iPhone's work as well.
I love that it folds up and stores as a nice bag. The exterior is made of a very rigid and durable looking black canvas like material. Always impressed with size of this thing when its fully unfolded. It get really big so make sure you have a descent space with maximum sun exposure to set it.
It get hot during operations and you can see from the red LED that's its working. Simply connect your USB and the other end to your phone and notice how fast it charges. Not fast charging but it does a very good job.
I was able to easily connect my Laptop find the appropriate head that matches the charge port on the Laptop. With that you can charge the Laptop over time. I found that it works best while the Laptop is off for building a charge.
I did not have a tablet on hand for the test but I am sure it would work just fine. I could also charge stuff such as my Power bank and then later use the power when the sun was not out which is something you may want to bear in mind.
How Do I use this Product?
In case you are asking yourself how do you use this product? don't worry this is the best part. I am sure you have had cases where the power went out for some reason only to have your phone die. Well no more with this as long as you have sunlight you are good to go.
Long camping trips or you spend time in places without power you an bring this along and charge up. You an even store the power as I mentioned earlier in a power bank. You can be in the middle of nowhere and still have all you need to function fully.
I mean you can charge a Laptop, Jump start a car, charge smartphones, Tablet, Battery bank charge, charge various gadgets and so much more. You are only limited by your imagination as it relates to figuring out creative ways to use this product.
Buy Yours right now
Go ahead and purchase yours right now and I am sure you will not be disappointed in case of power outage, while camping or while on the Go without a outlet around.
Also bear in mind that this product will pay for itself over time. After all its saving on that electricity bill over time.
Conclusion and recommendation
Personally I highly recommend this product as you cant go wrong at all purchasing the X-Dragon Solar charger. The company makes solid product as I have personally bought and used items from them before and they still work. So you know they are good on quality.
I use the solar charger to charge my Power bank and smartphones as saves on Electricity and helps in its own way to reduce my carbon footprint. After all you can complain for a device that can be easily carried with you and deliver power to your gadgets.
I love the durability, the efficiency of the panels as they deliver a lot of power and do so very fast. I also love that's all laptops will work as you can find one of the port that fits your charge port and switch between them until you find the correct one.
Personally I recommend that you buy this product as it check all the correct boxes. This recommendation is doubled if you go camping or have situations where power goes on on the regular.