Today we will be looking at Apple Airpods VS Fake. By the end of this article you should be better able to identify a Fake Airpod VS the real deal.
It goes without saying that due to the popularity of the Apple Airpods that they will eventually be copied by other companies in hopes of cashing in on the prestige and draw brought on by Apple products.
How to identify Fake Airpods?
In my experience you can avoid Fake Airpods, Clones or cheap lookalikes by doing the following: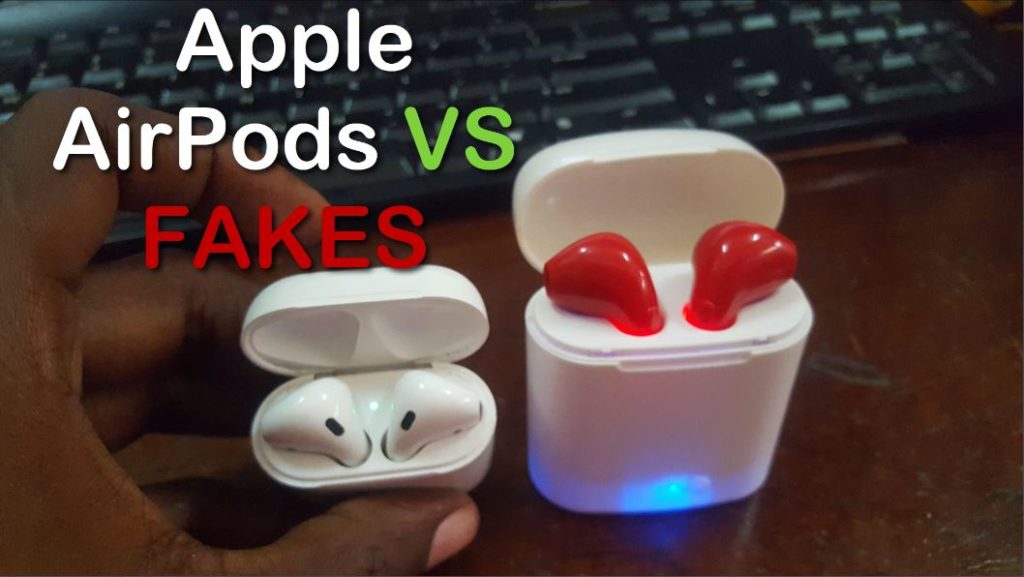 1. Purchase your Airpods directly from Apple. An alternative would be to purchase from a reputable third party seller or website.
2.If the Price is way cheaper than the known retail price new then thats most likely a fake.
3.Size Discrepancy: Fakes are often larger and looks nothing like the real deal side to side with the real one. Not every one has the real deal to compare though or a extra from a friend.
4. Connects to iPhone easily: The original should connect to the iPhone with ease once the cover is opened. If it does not and causes problems with connecting and working you probably have a fake.
5.The Price: If the price is lower than the retail price or is too good to be true then you definitely have a Fake.
6.Odd Colors:The Airpods only come in white out the box. If you have any other color then thats definitely a fake.
7.Extra buttons and Physical Features:If your Airpods have any extra cutouts or buttons to the original then you definitely have a fake device.
8.The Packaging: Watch a official Unboxing on YouTube if the Box contents does not match then you have a fake or lookalike device.
9.Sound Quality:The Quality of Sound from the original Airpods is really good, if you are getting flat or lackluster sound then you have a fake.
10.Use common Sense: Do your due diligence and research the product and seller to avoid scams online and in real life situations.
Where to buy?
You can purchase yours below from reputable sellers on Amazon.
Before you Go
Before you go if you have any questions please ask them below in the comments. It would also be great if you could share and check out our other articles as well.