So today i though I would do a tutorial on all you need to get started on your very own smart Home setup.
Now most people are scared on getting started with a Smart Home as they think its very expensive. Well I am here to tell you that you can convert your Home to a smart Home for less than $100 USD.
Sounds too good to be true? well it gets better as you can extend it and add more gadgets as you see fit later on. So you can start with your main room and expand from there.
What You need to get started with your Smart Home Setup?
In order to setup your smart Home you will need.
1.A Echo Dot from Amazon.
2.A Etekcity Smart LED Light Bulb.
3.Gosund Smart Socket

Price Disclaimer
So once you get all the items above you will be able to get started in setting up your own Smart Home.
Getting Started with Smart Home Setup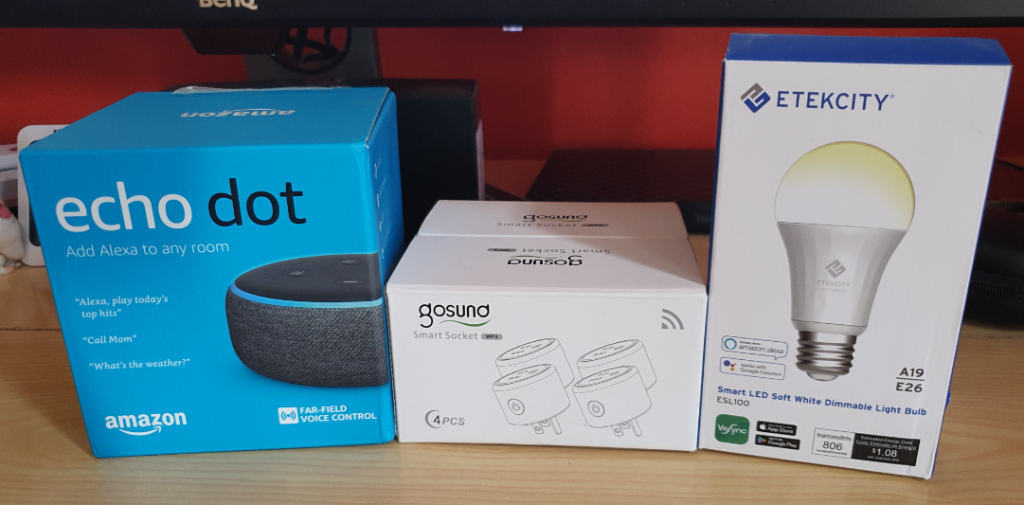 In order to to get started you will need to get all the items as seen above. The main item that will tie it all together is the Echo Dot as it is the smart digital assistant to which you will give the voice commands.
The Lights which are the Etekcity Smart LED Light Bulb can be controlled through the Amazon Echo Dot.
You can also control none smart appliances with the Gosund Smart switch which also can be controlled by the Echo Dot. Each Gadget has its own app and you can link them all together in app so that the Echo Dot can control them by voice command.
Smart Home Video Tutorial
Check out What you will be able to do with this Smart Home setup.The video below shows you how its all done and whats possible with these smart Home Gadgets.
The Echo Dot
The Echo Dot forms the center of your Smart Home. The Amazon Echo Dot has the Alexa Assistant. You can ask it just about any question you would Google.
It will answer your question by speaking to you. You can also control smart devices with the assistant. This includes some appliances that you may have already and of course the recommended ones above.
You will be able to turn on Appliances, lights and so on simply by voice command. This will make your Home truly smart. The best part though is that this setup can be done in any Home regardless of size.
This is so as the setup can be scaled up. All you have to do is add some extra Echo Dots and Smart lights and Plugs as you go along.
The smart Plug
The Gosund Smart Plugs allows you to control them from anywhere in the world using the App.You can control on off times and set the plus to a a Schedule if you want.
The best part is that you can add a TV, Cable Box, Desk Lamp and more and make regular devices that are not Smart into Smart Home devices.
For example I was able to turn on my TV and the cable using a Single Plug and a extension socket. Now all I have to do is ask Alexa to turn on the TV.
Smart Lights
One of my favorite in my setup is the Etekcity Smart LED light bulb. It allows you not only to turn the lights on and off. But also to set schedules and control the lights when you are not Home.
I also love that you can use Amazon Alexa or Other smart Assistant to adjust the brightness of the lights. So if you want you can have the lights at 100% when reading at night or 5% when you are going to bed.
Make the Right Choice
While the options above are only that options. You can choose your Own Smart Assistant even from other companies such as Google.
They offer various Smart Speakers and of course you can also choose different brand smart bulbs and sockets but these are some of the most affordable and feature rich ones I have found as seen here.
So if you are not sure I suggest you go with my suggestions as they are more than worth the money and they are the ones I have in my setup.