Just recently I had a funny video I wanted to send to a friend but when I tried to send it through Whatsapp I got the error: Can't send this Video.Choose a different Video and try again . Naturally I hit retry but the error kept on appearing again and again.
The second time I tried to send a security camera footage file to my friend and I got the same error again. I thought it might have been Whatsapp but as soon as I tried to send another file it would send easily and it was not the format of the video either.
This article will look at how to Fix the Whatsapp Can't send this Video.Choose a different Video and try again error.
What devices does this apply to?
This applies to any smartphone running Whatsapp. The error seems only to happen with video files. It seems whatsapp simply refuses to send some video files for some reason.
How to Fix this Whatsapp error?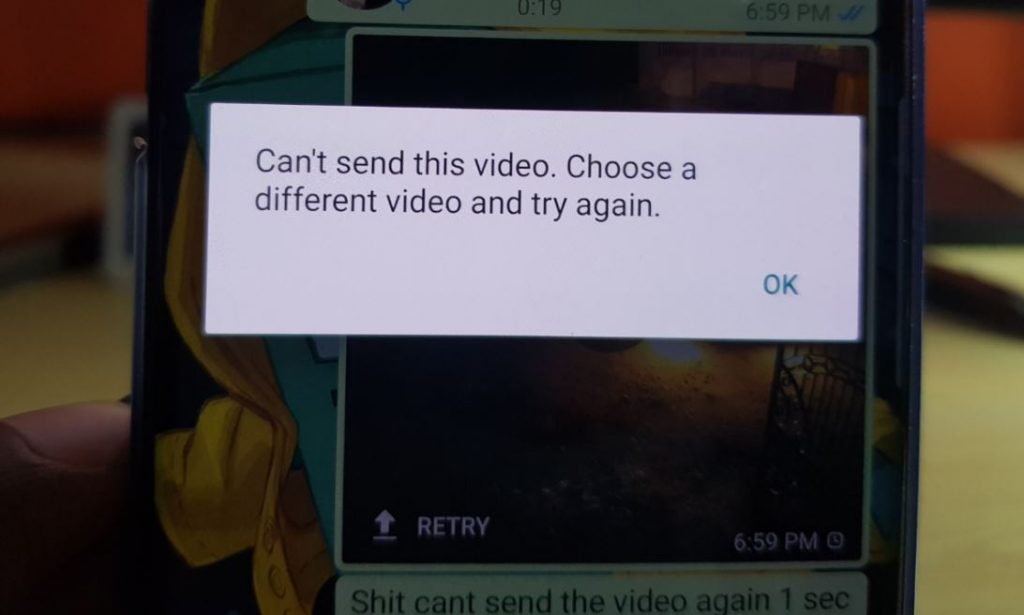 In order to fix the Whatsapp error I had to:
1.Go to Google play and find a Video converter. You can use the one I used which can be found here. Other Video converts should also work fine.
2.Once installed Choose the option to Convert file formats such as AVI,MP4….
3.Choose the video that will not send, select next or the arrow.
4.Choose a device or format to convert the file to based on the playback device. I suggest a Android format and hit next.Review the formatting particulars and hit next and next one last time.
5.The file will convert and be in your gallery there will be two files the first one is the new one.
6.Go back to Whatsapp and send the file it will fully upload without error and that it problem fixed.
The thing is even if the file is converted to the same format its currently in it will work as the encoding has been changed.
Video Demonstration:
Watch the video to see how this fix is done.
Why did this work?
It seems that Whatsapp has issues with the encoding of some files and not necessarily with the file format. So re-encoding the file seems to do the trick as it will end up sending once you convert the video file over.
Before you Go:
Did this article on Whatsapp Can't send this Video.Choose a different Video and try again fix help you in any way? please let me know I would love to hear about it in comments.
You can take it a step further by also sharing and checking out our other articles here on the website. This would be greatly appreciated.