So I just got My Amazon Fire TV Stick and so far I am loving it. Its a really flexibly device and a great way to cut the cord and have all your content in a convenient package.
So while setting up my Amazon Fire TV stick I created a Amazon Account and associated my Account. All I wanted to do though was download some apps that I use allot.
On Finding the app through search I hit get and instead of downloading I got the error:Purchase Failure. I was confused regarding this error as I am sure you are too and that's why you are here,read on for the solution.

The Error:
The error reads: Purchase Failure
For your convenience,all purchase are completed with your Amazon 1-click settings.We could not complete your order because you do not have a valid payment billing address set up in your Amazon account. Please update your billing address by going to www.amazon.com/mykps in a web browser and try again.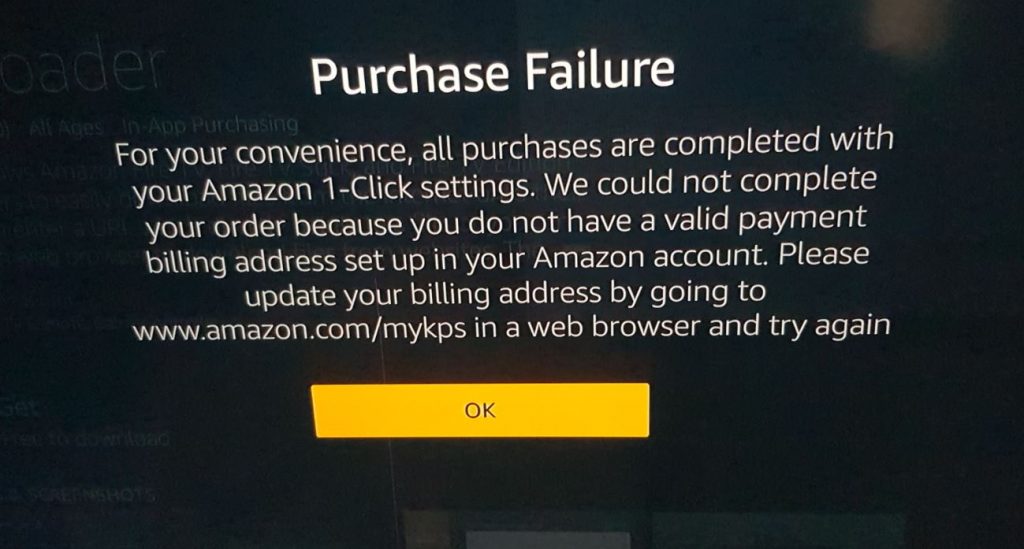 Whats doe this Mean?
Most people would only read the first part of the warning. Also in most cases you have no clue as to why you are getting the error.
The error as indicated is caused because your Amazon account does not have a Credit Card or Address on file. This is needed even if the app is a free app that you want to download.
You may have gotten the error because your account is newly created or created for some time but you did not add any billing,shipping and credit card info.
Video solution:
Watch the video as I show you exactly what to do.
How to Fix this Error?
In order to fix this error you will need to:
1.Go to this link on your computer: www.amazon.com/mykps
2.Once there on the page on Amazon make sure you are logged in. Be sure to enter your Address for shipping.
3.Next enter your Credit Card info and add it all to your account. You can also turn on 1 Click ordering if you like as well.
4.Once you associate the Credit information you can go back to your Amazon Fire stick and try to download the app you wanted once again.
This time the app should download fully. You will find it on the Home screen.
Before you Go:
Before you go let me know what you think of the Purchase Failure Amazon Fire TV Solution in the comments. I would also love if you could share this article and check out our other content.