So I decided recently to ditch my Cable. You see My cable package comes bundled with my Internet so why not use it? well that has been the case for some time now.
In the quest for variety I decided to get my hands on a Amazon Fire Stick. I must say that I am not disappointed. This is my experience with the Amazon Fire Stick.
What Inside the Package:
Inside the Box of the box of the Amazon Fire TV you will get the usual documentation, The Amazon Fire Stick, Remote,A USB charge Cable and Adapter brick and finally a HDMI extension or breakout cable to give more flexibility while connecting to your TV set.
Instillation and Initial setup:
Initial setup and Install of the Amazon Fire TV was very easy. All is required is that you attach the breakout cable to the fire Stick for more reach especially on those modern small TV sets that mounted on the wall.
Another thing is that most HDMI ports don't deliver enough power through the port and you will need to connect the Adapter to the Amazon Fire Stick to give it additional power. The Stick actually notifies you if its not getting enough power.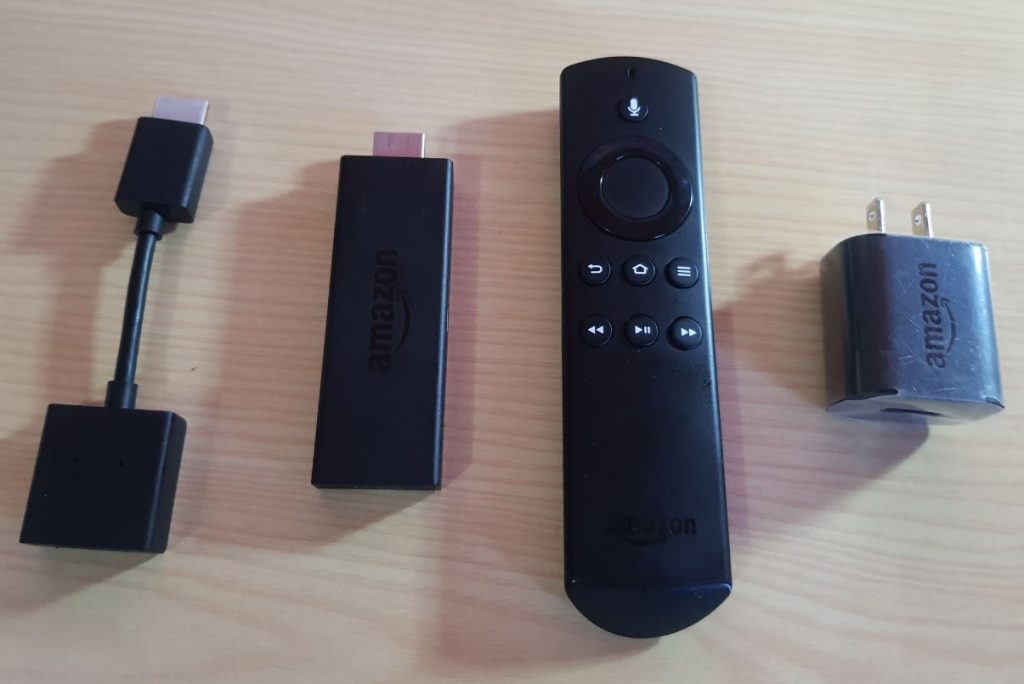 On setup you will need to connect to WiFi as most services are delivered over the internet. Next you will need to associate your Amazon account with this device. Seeing that this is a Amazon service and they deliver the primary device you cant skip this step.
Video Review:
Click play to see the video below.
My Experience with the Amazon Fire Stick:
So setup was a breeze and one of the main choices of content out the Box is Amazons Prime Video which delivers Amazon original series at the click of a button if you are subscribed.
You also have access to a variety of Android like Apps which you can download as desired. These apps includes Netflix,Hulu and so on. This basically means you can aggregate all your streaming services into one small handy package. If you have issues installing any apps you may want to read my article on that issue.
What really surprises me about the Amazon Fire stick is the small size. How can something this small be so versatile and flexible.You have about 5 to 6 Gigs of storage on the Fire stick and this allows you to store apps and for usage by the Fire stick operating system.
The User interface is easy to Navigate as the included remote makes it super easy. Typing is a bit slow but you do get use to it over time. You can easy with the press of a button summon Amazon Alexa and ask anything such as the weather or something you may want to know. Another cool thing is that you can have access to your regular cable stations subscriptions all from the Fire stick.
Amazon makes it easy to know the latest and coolest Movies and TV shows as they are always introduced on the Home screen. You also have total control as you can uninstall and control your device with parental controls,settings to adjust a variety of features with your device.
Conclusion:
If you want a cool way to make a TV set that much more exciting add a Amazon Fire Stick and see a world of streaming Possibilities open up in the form of a affordable TV stick. You will have a variety of choices of Streaming services that includes Amazon offerings and more.
The Amazon Fire stick is a powerhouse of a device that very flexible.You might think Amazon would lock there device down and allow only their services but its actually quite open offering choices from Amazon and other service providers which is always nice to see in the market.
I would recommend this if you are getting into streaming and cutting the cable cord. The Fire stick is well thought out and has plenty to offer from apps to game that all members of the family can enjoy from Grandma all the way to the kids. This is by far one of your best options for streaming on the market right now.
Where to Purchase?
You can purchase yours right here.
Why Buy this?
1.Great Price at under fifty bucks.
2.Offers a Variety of streaming programs such as Amazon Prime Video,Netflix.
3.Very portable and convenient product.
4.Offers lots of Variety at the touch of a button.
5.Has Amazons smart digital assistant integrated.
6.Integrates traditional cable subscription and lots of apps for variety.
7.Parental controls makes it easy to control what kids and others have access to.
8.Support Games and much more.
Why Skip this ?
1.The text input aspect of using this device is a bit slow and cumbersome.
So that's it friends if you have any input on this Amazon Fire Stick review please let me know below in the comments.

Continue Reading we have even more Tips for you: