This is a review of the ChoeTech USB-C Desktop Charger With Power Delivery. This device is a cool desktop option that allows you to charge several mobile devices such as various smartphones, Tablets and so on from one simple charger all at the same time.
Its a great way to get rid of clutter and having several chargers all at once. Its a innovative product and can easily solve your problems if you have several devices that all need separate chargers and charging all the time.
What you get out of the Box?
The box is white with blue Highlights and shows off the product. Inside the box is a user manual, AC power chord, Adapter unit with several USB outlets.
Typical packaging but less than typical device to take care of all your charging needs.
Video Review
Watch the video review below to see what you get with this product. You can also see what the device is like and how it performs.
My Experience with this product: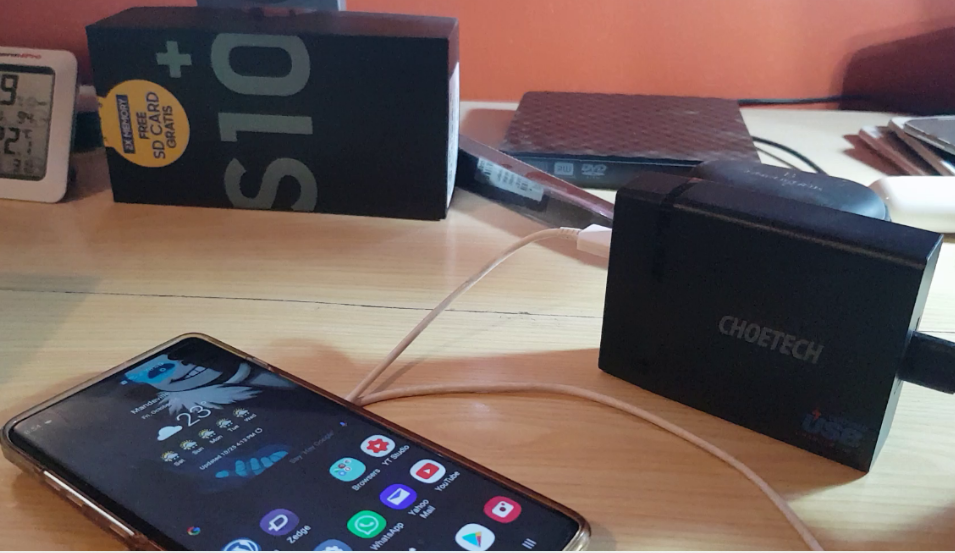 I love that this adapter is not overly big for what it does. Considering you are getting all of 3 x USB 12 Watt charge ports and 1 60W USB-c Port you would think this thing would be super bulky. On the contrary its big but not too big or too heavy which is nice.
The cable that delivers the power of the adapter is long enough to reliably deliver power without issue and place it at a solid place on your desk or table.
I was able to charge my Samsung Galaxy Smartphone with ease but the only issue though was that I was unable to get fast charging on the model that I have which is the Model: PD72-1C3U. The charger can also charge Samsung, Apple and other Model Android or Apple deices. As long as your gadget uses a USB based charger it should good to go in using this to charge it.
The best part is the ability to charge multiple Gadgets simultaneously. So no need to keep several chargers cluttering your desk. Overall this is a handy gadget that you can depend on to deliver high quality performance.
Why buy this Product?
1.Great Price.
2.Four (4) Adapters in one.
3.Delivers an impressive 72 Watts.
4. Well made and not overly bulky or heavy.
5.Long power cable to deliver power to charger.
Why Skip this Product?
1.I was unable to get fast charging while using this adapter.
Where to buy?
You can purchase this great product below.
Do check out this product in the links above or right here if you are interested in buying for yourself.