The fun thing with modern technology is that we can fit so much more into smaller packages. The Tranmix Solar Power Bank with Wireless Charger fits that description perfectly.
This battery bank houses a high capacity battery that a whopping 24000mAh capacity. Its also filled with innovative features such as Wireless charging, 2 X USB Charge ports featuring regular and fast charging port, USB-c port and Micro USB port.
Why Wait get yours now! Click Here
You also get a flash light with SOS and strobe feature for security. It can be charge using the sun with the built in solar panel.Using the USB-C port you can easily charge up the Power bank at the wall very fast.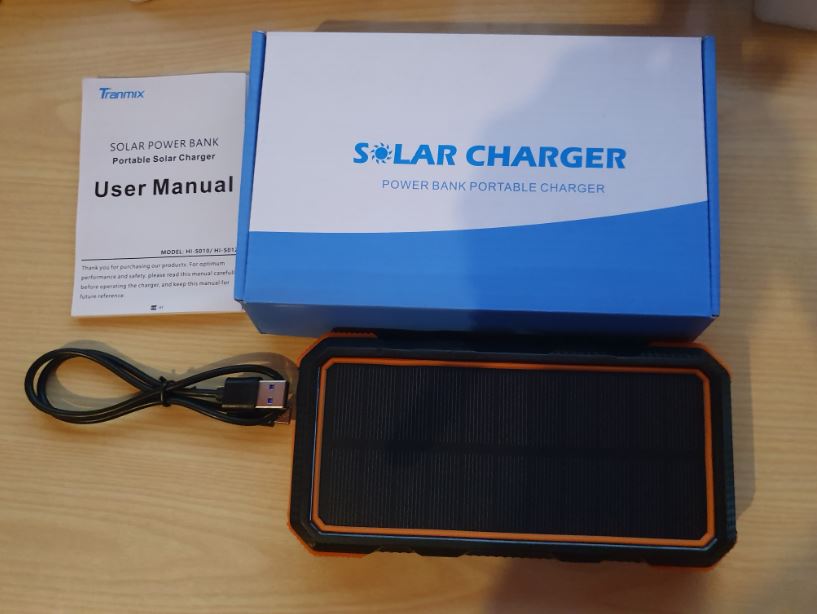 You can Charge devices such as any iPhone and Android devices such as the Samsung Galaxy either wired or wireless.
The possibilities are endless with this product in hand.
What You Get with this Product?
Inside the packaging you will find the power bank, USB-C charge capable.There is also a user manual that runs you through the device and also offers troubleshooting tips.
My Views on this Product:
I personally love the Tranmix Solar Power Bank with Wireless Charger as it merges all the features you could ever want into a solar charger. My favorite features in order is the:
Wireless Charging: This feature allows users to charge there smartphones from either Apple or Android (Samsung Galaxy) without needing cables.This is very convenient and a God send of a feature.
Fast Charging Port (Blue): There is a regular port that charges most devices at normal speed and then there is a Quick Charge high Amp port that can easily replace a fast charger from Apple or Samsung. It charges your phone in a fraction of the time of another charger.
Solar Charger: The solar Charger is always a nice addition. I love that it there and can be used in a very tight situation were there is no power to get enough charge to make a emergency call. The large surface area of the charger also makes charging very efficient for the size.
High Capacity 24000mAh: The battery in this power bank is a whopping 24000mAh in capacity. You can charge Smartphones several times, Tablets and Laptops. Also charging this large battery is done in a descent time with the USB-C port.
The Flash Light: The Built in Flashlight has a very nice strobe feature and SOS function like high end flashlights. Works very well in the dark and can be a essential part of a survival or camping kit. Heck having it around the house is a blessing in itself.
Additional Features: Love the metal hook for securing the charger, The USB cover also protects against spills and water splashes. The casing is rigid and protects the device from shock. You can find a detailed breakdown on the back of the output of all ports for convenience.
My version is the HI-S012/US version of the TRANMIX 24000mah Solar Charger.
Buy It Now:
You can purchase yours below as seen.
Do I recommend this Product:
I without a doubt highly recommend the Tranmix Solar Power Bank with Wireless Charger. Its a bit on the dense side in terms of weight but that's to be expected from the high capacity of the battery.
The only other complaint i would have is that the button should be in Orange to be easier to see at the side. Otherwise you are getting a Fast charger, Solar charger, Wireless Charger and high capacity battery all in one package.
How may other products can promise so many items in one convenient package. Let me know what you think.