Don't you simply love a great piece of Technology that brings together features you did not even know you wanted? The Novostella 13W 1300LM Smart LED Light Bulb does that and more.
I love that this a simple product at first glance but when you really get into it you will come to realize it packed full of goodness.
Why Wait Get yours right Now by clicking here.
Features of the Novostella Smart LED Light Bulb:
This product have a bunch of features which includes
Uses 13 Watts of Power with A+ Energy Rating.
Produces 1300LM brightness at max.
The brightest Smart WiFi Light Bulb on Amazon.
Offers a Wide range of changeable colors:RGBCW = RGB + Warm White + Daylight White from 2700K-6500K.
There are 16 million dimmable colors and 8 lighting scenes to choose from.
Work with Amazon Alexa (Echo/Dot/Tap) and Google Assistant. With Support for Android and IOS (iPhone).
No Hub needed all you need is the smart Bulb, Smartphone or Assistant from Amazon or Google such as Alexa.
Set schedules, Timers for on and off and much more.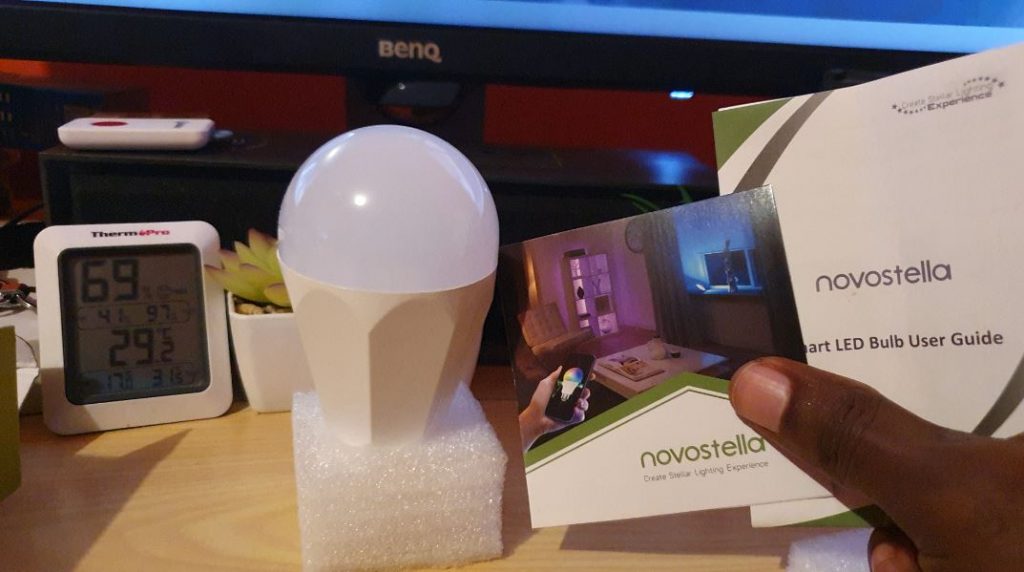 Detailed Video Unboxing and Review
A video shows so much more and with that being said the video review below shows off the product where we leave no stone unturned.
Inside the Box we have for this product the Smart Bulb,Getting started Guide and Warranty Extension Card.
Product Design
I love that this Smart Bulb is not too bulky. It fits into a standard socket and features what seems to be a ceramic base for helping to prevent overheating.
The design is slender and with shark sides that makes it slender and a easy fit for all desk lamp and beside receptacles. I love that. The dome is hard plastic and the whole setup looks very durable.
The box breaks down all the product specifications and main things you would want to know about the product at a glance.
Product Setup
The setup process for the Novostella 13W 1300LM Smart LED Light Bulb is fairly easy. You only need to follow the included instructions.
One note though when plugged in and turned on for you to connect through the App be sure to turn the light on and off rapidly about 4-5 times to set the mode where it can be discovered Over WiFi. That's the key to connecting via the app.
That Aside the setup process was painless.
My Use of this Product:
While you can use the Novostella Smart LED Light Bulb as a regular bulb or inside a beside Lamp I found a much cooler use. As you know I do video on my channel on YouTube and as You can see from my video I use it along with my desk Lamp as a cool mood lighting.
It remains in the background and provides cool color changes that sure to Captivate and catch the eyes.
The App and Smart Home Integration
The best part after setup is controlling your Smart Bulb by the App. I love that you can adjust the brightness from 1 to 100 brightness. The light that's produced normally is a very nice white light.
The light itself is like pure clear daylight which is very nice for night use and reading or working at night. After all this produces between 2700K-6500K light at 1300LM which is very bright.
You can use this as a regular House light bulb or for a Lamp at your bedside or Desk the choice is yours. For me mine is set on my desk and used as a background light.
I love the changeable colors that you can set as part of scene mode.These modes are predefined and can be cycling colors all the way to strobe effects that themed based. You can even do a exact color choice from from color mode from the detailed color wheel.
Setting a schedule is also easy. The best part though is that you can use a Assistant such as Amazon Alexa to do anything you would do in the app by voice command. This is so cool as you can mess with intensity of the lights all the way to setting a specific color or scene.
To learn more about smart Home setup read this and check out these Smart Home products.
Buy It Now
Loving this product so far? Get yours below right now.
My Thought's on this Product
Personally I love the Novostella 13W 1300LM Smart LED Light Bulb. You will not find a better product in the Smart Bulb Category and here is why I say this.
The product does the normal Bulb operation perfectly with Intense brightness and you can change the color temperature to match your needs. Some bulbs only offer a set mode that you can do very little to.
The changing colors and modes is perfect for adding some complete and useful features to the outdated light bulb. Setup is fairly easy and it just works. If you have a smart digital assistant you will have a blast turn the bulbs on and off as you like without needing to move.
I recommend it as its fairly priced and gives features to match, works great and overall customers have had a consistent experience across the board. So don't hesitate to buy this one you cant go wrong. Also pick up a Amazon Alexa or Google assistant to fully use this if you don't already have one.