This is the Review of the COMICA CVM-MT-K1 Microphone Video Kit which is for the OSMO Pocket with Smartphone Monitor. I want to thank the Comica team for sending over this product for review.
Its to be noted that the Microphone Video Kit is meant to work along with the OSMO Pocket and can hold this device along with your smartphone. These items work best together and you should at least own the OSMO Pocket before considering buying this kit.
What on the inside of the package?
Inside the package you will find that you get all the accessories to assemble the stand which will accept the OSMO Pocket and your phone.
The items include: The stand, Microphone, user manual, warranty and its all stored in a a very glittery black foam cutout that safely houses all the disassembled accessories of the stand.
Everything is housed in a very nice box with white and black. I love the the packaging and presentation of everything.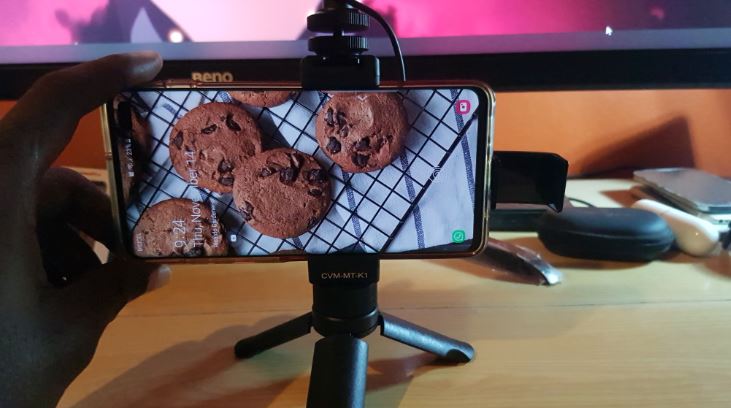 Features of this Product
The COMICA CVM-MT-K1 Microphone video Kit features:
1.XY Stereo Dual-Mic Design for ideal Audio.
2.180 degree Adjustable Audio Recording Direction.
3.Metal Housing Mic for Excellent Shielding.
4.Equipped with Smartphone Monitor Kit for more flexible use.
Video Unboxing and review
Check out this detailed unboxing and review of this product.
My thoughts on the COMICA CVM-MT-K1 Microphone Video Kit
Overall I must say that the COMICA CVM-MT-K1 Microphone Video Kit is well built as a stand, however its most useful for its intended use and does not make for a great standalone camera stand. But if you have the OSMO Pocket for which it was made its the perfect camera stand in this situation.
I love the Build quality of the stand as it features metal and plastic. Its adjustable and can easily support just about any smartphone weather Android or Apple devices. The attached Mic does not work directly with your phone but with the OSMO Pocket. So if you don't have one your use of this device will be very limited.
I love that the Mic can be attached or detached and can be pivoted back or forth depending on the use you can capture audio easily from any source.Also the Stand itself can be placed on a desk or turned into a hand held camera.
You can even remove the extra camera accessories and the Mic if they are not being used. Overall everything is well designed and developed. I love the stand and find that it really great, if you don't mind the limitations it can even be used as a standard regular stand. I wished though it had a pivot feature and height adjustment.
They were also even nice enough to include a windscreen.This is great for recording and can make for better audio while you record under unfavorable conditions where wind is interfering with recording.
Conclusion
I highly suggest that you go ahead and get the COMICA CVM-MT-K1 Microphone Video Kit if you own the OSMO Pocket is a must have accessory for this device.Its money well spent and you would do well with the crisp audio you will be able to record and solid build that will last from the stand itself.
Attach your phone and OSMO Pocket and you are good to go for recording at a desk or while on the go while you hold everything in hand with this stand.
Why Buy this Product?
1.A great accessory that works with the OSMO Pocket.
2.Solid build quality.
3.Great Mic for capturing audio.
4. Fit just about any smartphone on the Market.
5.Can switch between handheld mode and desk mode easily.
Where to Buy?
You can buy yours right now.
So that about it I suggest that you check out this product for yourself.