So I have had my Galaxy S10 Plus for months now and the experience has been wonderful. Updates rollout on time every month and that's always great to see.
I recently tried to update and saw the following message which was the first time I was seeing it. The message read:
Your Current software version isn't supported. Visit a service center.
Now this is really irritating error and this means I was not going to get any future updates to my phone until the error was sorted. Not having the time to go to a Service center I decided to deal with the issue myself.
What device can this Happen to?
This error can happen to any known Samsung device on Android. This includes devices such as the Samsung Galaxy S10, S10 Plus, S9,S8, Note 10 and much more.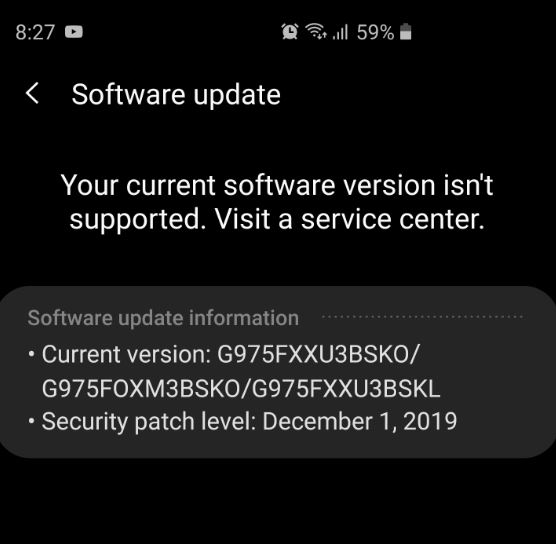 Video Tutorial:
Watch the video tutorial and see how to fix this problem for yourself on your phone.
How to Fix this Problem?
Solution 1:
The first solution and the simplest version requires that you try to update your phone using your computer. Download Smart Switch .
Connect your phone to your PC using the original cable that came with your phone.Do nothing else while this is being done and make sure your phone is fully charged.
When your smartphone is connected it should be detected and indicate that there is a update. Go ahead and update your phone. This should update your phone and fix the problem and you can update as normal from now on. Also there is a chance this method might fail.
Solution 2:
You will need to Flash your smartphone with Odin and your device Firmware. Only attempt if you are comfortable with such things and patience to learn how.
Before you Go
Please share this article and comment below, you can ask your questions and I will be sure to get back to you ASAP. Please also do me one last favor and check out our content here on the website.