Samsung has finally released the Galaxy S10 Plus and its been a long wait. Its the phone all other Smartphone will have to beat this year as it has set the standard going forward for smartphones.
This is the Galaxy S10 Plus Review. Before we begin some background information: I upgraded from a Galaxy S8 to the Galaxy S10 Plus. I can tell you right away the wait was worth it as Samsung has done it again.
Whats Inside the Box:
Inside the box was the usual set of expected accessories.This year the Galaxy S10 Plus SM-G975F/DS Dual Sim which is the International version which I usually purchase each year came with Some bonuses.
These bonuses included a 128 GB SD and Hard clear crystal case which was all included in the box. I purchased my device from eBay. Other devices may not come with these two extras as it seems to be the case with the seller or international version.
Along with those extras was also included the usual: User manuals, Charger, USB type C-cable, USB dongle and AKG headphones (Wired) .
The Galaxy S10 Plus
The Galaxy S10 Plus is really a stunning device the display that is a 6.4 inches QHD+ with a resolution of 1440 x 3040 pixels. Its also a 19:9 ratio (~552 ppi density) HDR10+ certified display. Samsung is truly the king of display as each year they seem to top last years display by leaps and bounds.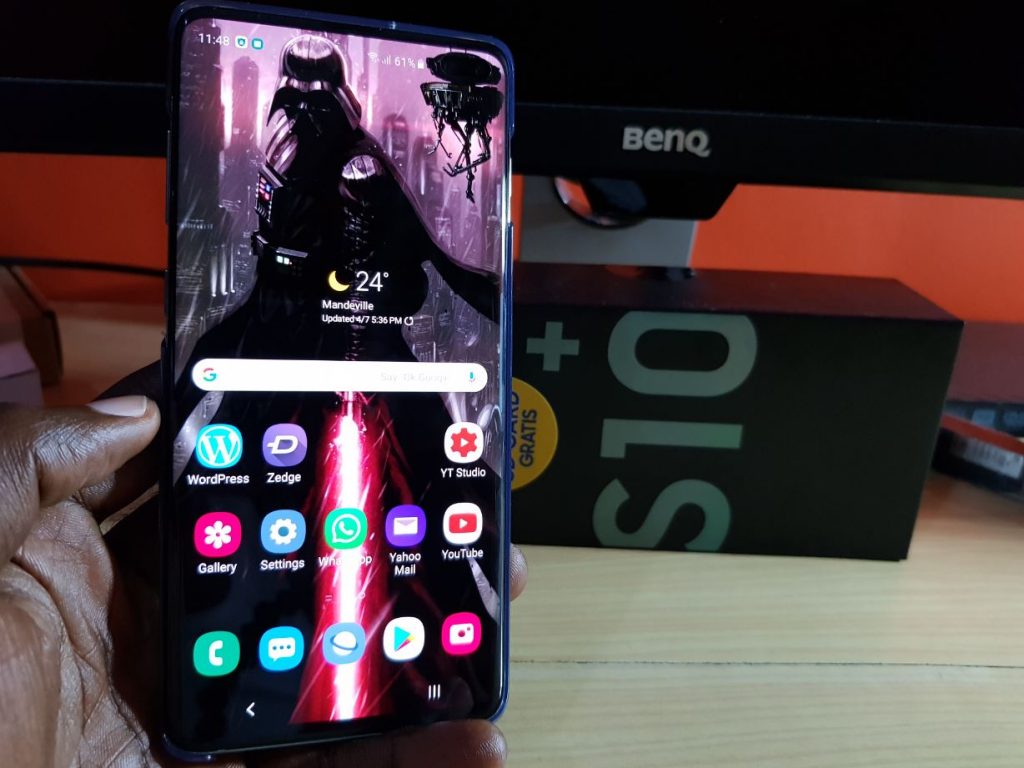 Pictures pop with vibrant colors, videos and other visual media such as your pictures will look so stunning you wont want to look at another display.
The inclusion of five (5) cameras this year was a surprise and now we have more options than ever before to take pictures. The colors are also nice, this year I went with the Prism Green version that really nice look and one of the rarer colors.
Build quality is also on point with the all metal and glass design back and front. This makes the Galaxy S10 look really premium.
Video Review:
Watch the video version of the review to see exactly what I mean.
Battery Life
I have been able to get a entire day of usage easily on on battery. That's with doing a bunch of tasks such as using the internet, apps, light Game play and social media.
At the end of the day the battery of the Galaxy S10 plus is one of the best batteries on any smartphone right now. With heavy usage I can get 5 plus hours of screen on time.
With moderate usage I can get a day plus. so there is no need for a power bank as the S10 plus is a beast when it comes to battery performance.
The Cameras
One of my favorite thing about the Galaxy S10 is the cameras. The front cameras of which there are two offers a normal lens along with a wide angle high definition lens.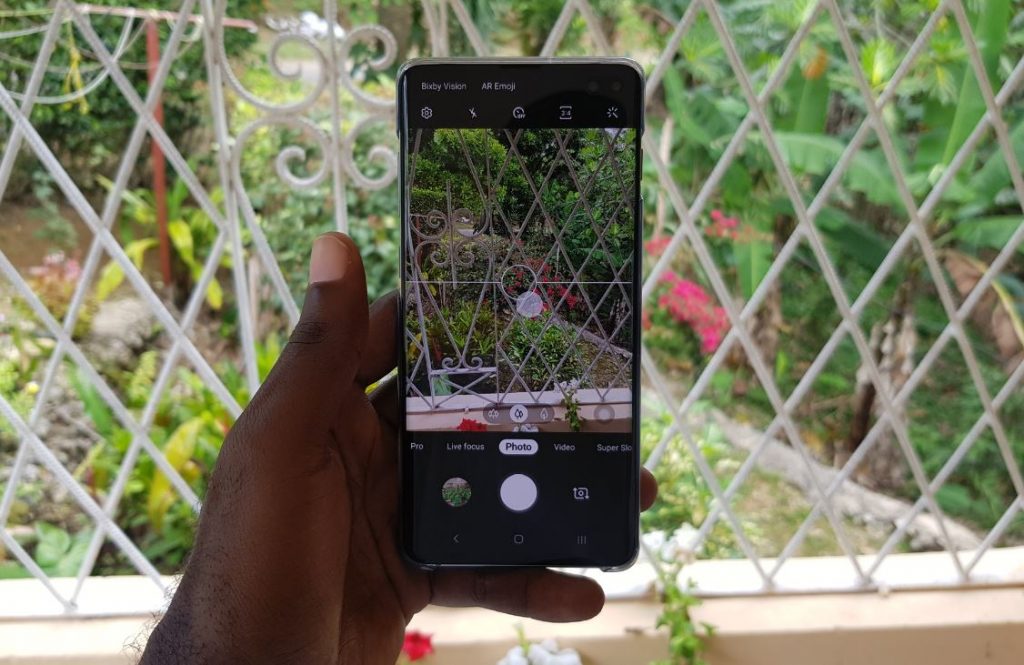 With the wide angle lens you can take pictures or selfies with all your friends in frame. I love that Samsung has placed so much emphasis on the front camera seeing its being used more and more.
I find that the front camera works really well especially in great lighting conditions. Throw in AR emoji which is not bad but it does need some more work so that they can be more fluid and capture more movements and facial expressions.
The main Camera is the real stars of the show though as they include a normal lens, Wide angle lens and telephoto lens for those close up shots. Depending on the situation the wide angle lens can lead to some really nice sweeping shots which a normal camera would not been able to achieve.
Ultrasonic Fingerprint scanner
The ultrasonic fingerprint scanner works really well and in my test it worked 90% or more of the time. Some users however have been having issues. This should be smoothed out with updates.
I find its best you scan your finger the way you usually hold your phone it tends to work very well. It works even if your fingers are wet or greasy. The other problem some users have is that the scanner is not in the entire display but a very specific area that highlighted by the One UI interface but otherwise it can be hard to find.
The Display
The S10 display is really beautiful and at 6.4 inch with very small bezels you will get lots of screen real estate. In fact looking on other or older phones with bezels makes them look really dated and old.
The bezels actually make the Galaxy S10 Plus look like something straight out of the future. It also makes the display very immersive and great for content and multimedia.
A cool past time of mine is also finding wallpapers that blend the camera notch or cutout into the imagery on screen. Not hiding it but embracing the notch itself. With the app Hidey Hole you can find a great collection of these wallpapers.
Performance:
The Games I have played so far include Asphalt 9 which the Galaxy S10 plus handled like a champ running it buttery smooth. I could not ask for a better gaming experience.
Also make sure you give Fortnite a try as well. You can also get the Exclusive iKonik Skin which a Samsung exclusive and rare skin which comes with a emote as well. I love that Samsung included this little bonus which I have already unlocked to add to my collection.
You cant go wrong with the S10 as it easily handles various apps and so far I have not had any issues.

Audio Quality
A break out hit that I did not expect with the Galaxy S10 is how loud the S10 is. Holding it in hand you can actually feel the thumping of the speakers through the phone housing. This is by far the loudest Samsung Galaxy on the market.
I really enjoy my music from the S10 as it is so loud I do not need to boost the Audio in any way. Plus you can also enable Dolby Atmos for a even greater boost to your sound.
Where to Buy:
You can purchase your Galaxy S10 plus below or check out the listing.
Conclusion
You may have expected one or two features that did not make an appearance in the Galaxy S10 Plus but trust me when I say they are not missed as the features that stayed are tweaked and work very well.
The Galaxy S10 is the results of years of Samsung engineering culminating in solid phone that checks all the right boxes. Samsung has outdone themselves and I and many others love the final product.
Seeing the current state of the smartphone market Samsung is the one truly innovating and pushing the envelope of whats possible in a smartphone that can fit in your palm. So if you want the best phone that currently exist you would do well in getting the Galaxy S10 Plus.
Why Buy the Galaxy S10 Plus?
1.Super beautiful display.
2.Great battery that lasts all day.
3. 5x Cameras that takes really beautiful pictures.
4. Accurate Ultrasonic Fingerprint scanner.
5.Beautiful display with lots of screen real estate
6.Really fast performance and great gaming.
Why skip this device:
1.The price is a big draw back, the prices of smartphones are really expensive this year. The features to price are worth every penny though.
What are you waiting for go ahead and purchase your Galaxy S10 Plus above or choose the smaller S10 or S10e.