So today we will be looking at the Google Play Store Waiting for Download Issue Fix. This can happen with any app that you try to download or update in the Google play store.
This guide will provide ten (10) Solutions that you can use to fix this problem. Hopefully one will work for you and get rid of the problem once and for all.
The Problem
Apps will not download in Google Play Store as it shows the error:
Waiting for Download
This message will not go away as it will remain on screen indefinitely without ever actually downloading or going away.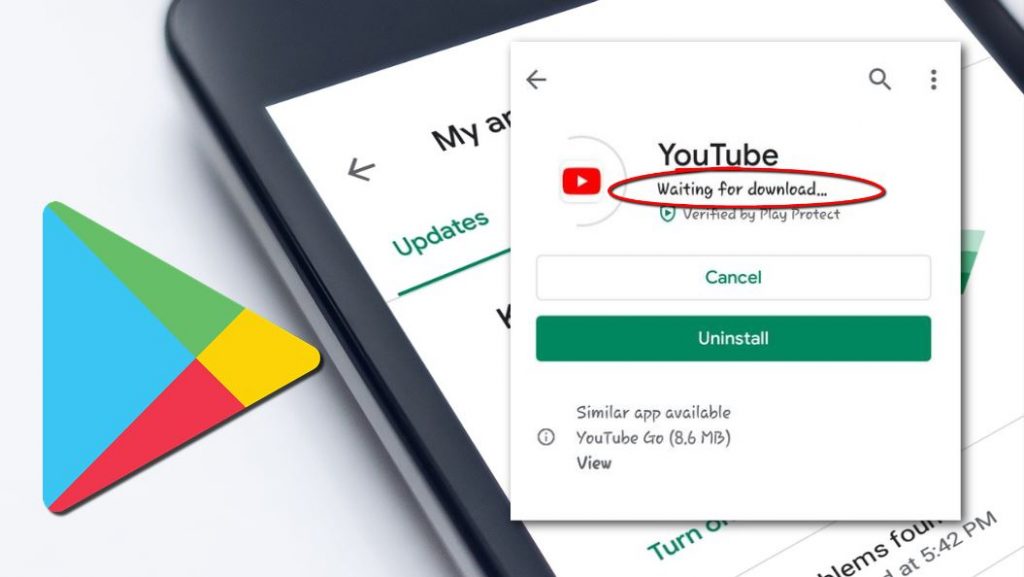 Video Tutorial:
My video tutorial looks at the problem in detail and shows you how to fix it easily with ten (10) different solutions.
How to Fix this Problem?
In order to fix the Problem try the following one at a time until one of the solution fixes the problem.
1.Go ahead and power off your phone or simply reboot and see if that fixes the issue.
2.Make sure your Internet is working properly. This includes WiFi or mobile data. Make sure its not disconnected or extremely slow for some reason.
3.Launch Google Play and go to settings withing the app. Now look for App download preference and set it to : Over any network.
4.Under Play Store settings go to Play Store Version and tap to make the app update to the latest version.
5.Under Play Store settings again click on Clear local search History.
6.From the Home screen go to settings, Apps and Search for Google Play services and then select storage. Now clear cache and clear data. Finally go back one step and go to Permission and make sure everything is enabled.
7. Under settings, Apps search for Google Play Store and go to storage and clear data and cache. Go back also one step and Turn on everything under App permissions.
8. Go to Settings, Apps and click the three dots upper right and reset App preferences.
9. Update Android by going to settings, Software update and check for updates and install.
10. If all else fails backup everything (Don't worry you will not loose anything this is just a precaution) and go to settings, about phone, scroll down and select: Reset and finally go ahead and reset settings and Reset network settings.
That's it a detailed list of things you can do in order to fix this problem. One should work and please do me a solid and share this with some friends.
The comments section is open to you and you can check out more of my content on this website here.