So today we will be looking at the IMPERIAL IMP70 Mouse 8GB SMT BT Android 4K Smart TV. Now this TV set is not a very popular brand and with that being said you might think to skip it, but you would be making a big mistake.
Well as it relates to features and improvement in Television technology this TV gives you everything you could ever want in a Television and at a fraction of the price of some big brand names.
If you could Ignore of a second the name you will find a fully stocked and feature rich TV set that would give most popular named TV sets a run for their money and end some.
I solely rate TV sets based on their merits and less on a flashy name. Even better if it can deliver the same or superior quality.
What Features do you get?
Out of the box you do get the following features with your IMPERIAL IMP70 Mouse 8GB SMT BT Android 4K Smart TV.
Android 7.0 out of the Box.
2x USB Ports.
3x HDMI Ports
1x VGA Port
1 x VGA Composite
AV Port
RGB Connector.
50 Hz Refresh Rate
4k ULTRA HD at 3840 x 2160
Bluetooth
2 Remotes special Included
Full SMart TV and Android App Support for Netflix,YouTube,Aptoid, Google Play and much more.
WiFI
DDR 1.25 GB
Flash Memory 8 GB
Brightness 200 cd/m²
Contrast Ratio 4000:1
16:9 Aspect ratio
Response Time 8ms
Viewing Angle 178° x 178°
My Thoughts on This SMART 4K TV Set
I love the IMPERIAL motto which is: Where Quality Meets Perfection. You do get that once you start using the TV set. In terms of thickness the TV is relatively thin. It does have some junk in the trunk which is seen at the lower back section but that's to house the components of the TV.
The upper portions much thinner. For what you pay it a decent TV that's not very thick,not that you will spend all the time looking at thickness especially when it mounted on the wall.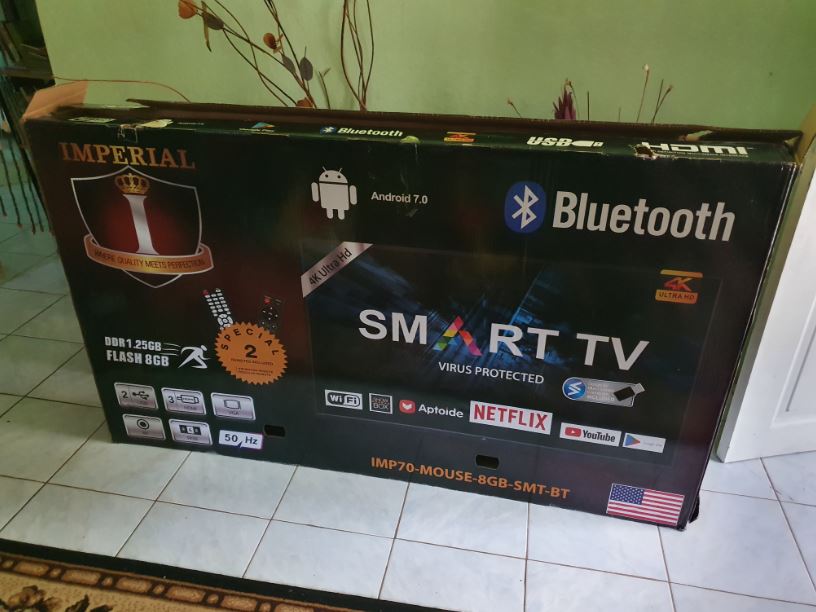 The bezels are also OK at about a inch or so in thickness but it does not take away from the screen like older TV sets that once had very thick bezels. The SMART TV interface is easy to understand and you will feel at home if you ever used Android before.
I love the full App support and this opens up the TV to the wider Android field of Apps which adds lots of capabilities and functionality that other TV with their own OS will not be able to match. There is practically a App for anything you would want to do.
I personally love the freedom of having Android at my fingertips. The Picture Quality is crisp and nice especially when you can find a matching signal to deliver HD content. Standard content looks really bad on a TV of this size which is all of 65 inches but with 4K you would be wasting the capabilities not having High Quality Video being played all the time.
Full Video Overview and Impressions:
You can check out this product yourself in the video below. It does not capture the full depth and overall size of the TV as nothing other than seeing it in person will, but it does a good job.
Things that stood out about this TV
One thing that will catch your eye about this TV is the huge size. 65 inches is a lot of TV and you will feel its presence in the room that this is placed.
You know you love Home entertainment when you get something this big. Another way to look at this also is that with whats being going on lately you definitely need to make sure your Home entertainment game is up in case you have to stay in for extended periods.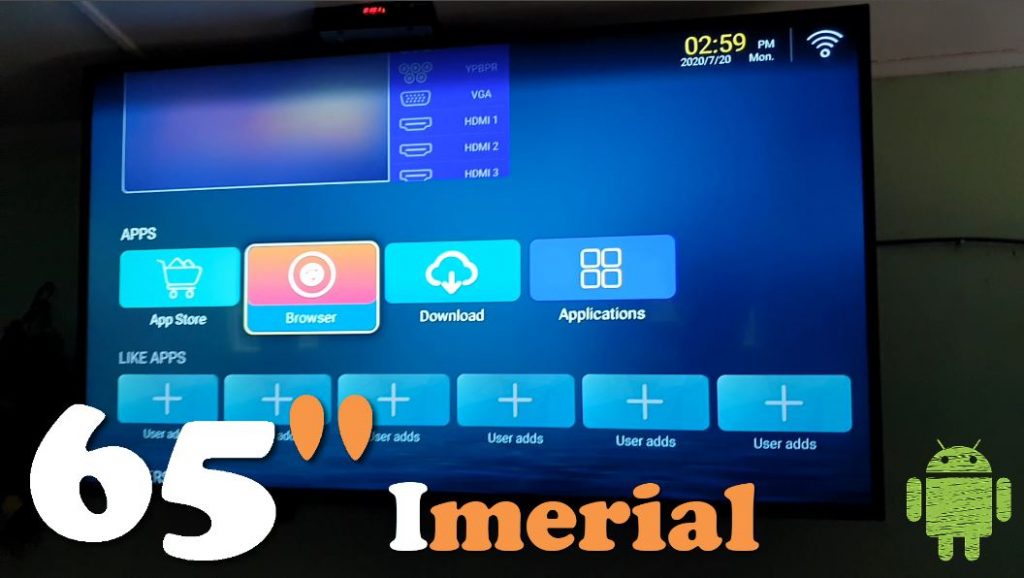 Another thing I like is the Android support. Android simply frees up a TV set and makes it very flexible to install various media players and Apps that can add to the functionality of your TV which within itself is priceless.
You also know this TV is LED with a bunch of Smart features other than Android that's added to the interface and makes switching between gadgets simple and easy.
Things I did not Like
This TV is by no means is thick but it does have some buff in the back towards the end which is where the components of the TV is stored as mentioned before. Would have love some more thinness in this department but it can be forgiven seeing the low price you pay.
Bezels are also OK but I love me some thin bezels, the thinner the better. why you may ask? well this helps with immersion into the content that you are viewing.
Not that we stare at bezels all day but it does make a TV look all that sleeker.
Conclusion
This IMPERIAL IMP70 Mouse 8GB SMT BT Android 4K Smart TV is not a big brand name but you do get quality for your money. You get a super large display at a fraction of the price which cannot be beat if you ask me.
If you have never considered a brand like this do not rule it out as the overall performance can really surprise you. The only feature I could think of that was missing is HDR which is being supported by more and more devices.
I would have wished it was a bit thinner but that's just me. Not to say that its super thick but a like sleek and very small TV sets. I also love fact that you have lost of ports to connect the ever growing sets of gadgets that found around the modern household.
On the recommended scale I vote you buy this if you are looking for a very large TV, Really affordable pricing and you are willing to look past big brand names and give this device a chance.
Why you should buy It?
1.Really great Price.
2.Very Large Screen at 65 inches.
3.Lots of connectivity.
4.Cool Extras such as Two remotes, Bluetooth support.
5.4K and Smart TV features.
6.Supports Android which adds so much more flexibility and functionality.
Why Skip This?
1.TV overall is not super thick but thick especially towards base.
2.Bezels are thin but not super thin.
3.No HDR support as far as I can find.
Your comments and feedback is welcomed below as it relates to this product.