The Ailun Digtal Camera Tripod Mount Stand is a great all around stand that works for the just about any smartphone on the Market.
This includes newer devices such as the iPhone 11, 11 Pro, Note 10 and Galaxy S10 among others. So join me as I review this great device right here in this article.
What is this device for?
In case you do not know the Ailun Digtal Camera Tripod Mount Stand is great for mounting your smartphone and you can use it for various uses.
Personally i use mine to record or make Video tutorials. Its great as I can shoot my own videos myself without help from a second or third party.
Its very convenient and you can shoot videos in Landscape mode or portrait as well as various angles. You could also use this for other purposes as well such as making videos and taking pictures without asking anyone to take a picture.
This includes pictures such as selfies and even group pictures. The possibilities are endless.
Supported Devices:
This Smartphone Tripod stand supports a variety of devices and can work on just about any phone as its adjustable. This includes devices such as : iPhone 11,11Pro,11Pro Max, iPhone X,Xs,XR,Xs Max, iPhone 8,8 plus,7 plus, 6s, iPhone 6s plus, iPhone 6 plus, iPhone 6, iPhone SE,5s,5,5c.
Galaxy s10,s10 plus, S8,S7,S6,Galaxy S7,S6 edge, Note 8,9,10,7,5,4,3 and other devices.
What is inside the Box?
Inside the Box you will find The Disassembled Tripod with the head section which is screwed off.
You will also find a welcome pamphlet with social media page and how to contact the company in case you have issues with your device. There is also a website support page and YouTube channel page which is nice.
Assembly is easy you only need to screw the two halves together and add your phone and adjust accordingly.
Features of this Product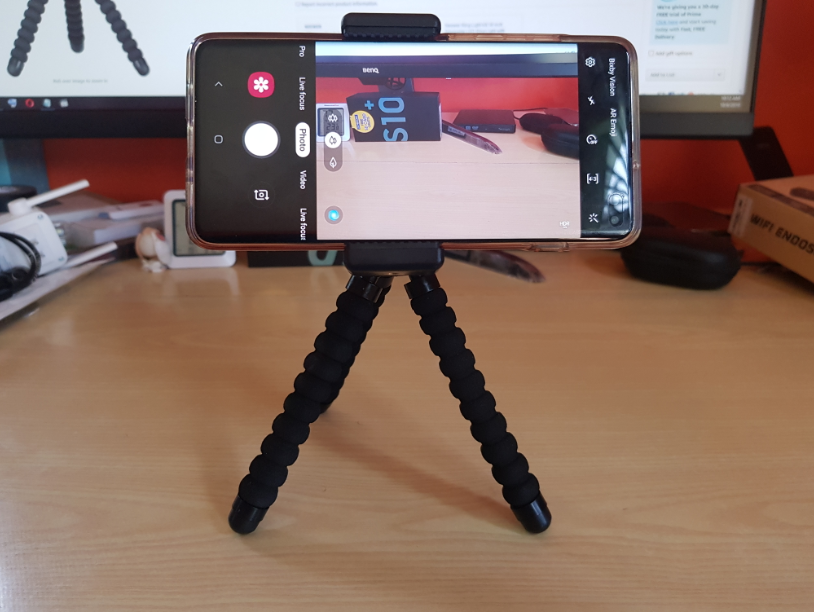 The Ailun Digtal Camera Tripod Mount Stand features
1.Adjustable Design: The Tripod can be adjusted to take pictures at various angles including portrait and landscape modes.
2.Durable: Made from solid materials to firmly hold and secure your phone which guarantee it will last.
3.Portable: Its lightweight and highly portable making it ideal to carry about in a pocket or in a bag or suitcase.
4.Flexible: Fits a variety of smartphones including a variety of old and new smartphones. It supports the iPhone 11, S10 and Note 10 among many others. It will also support future devices as well making it compatible and functional for years to come.
Video Tutorial
Watch the following video tutorial and see check out this product for yourself.
My Thoughts
After using and testing the Ailun Digtal Camera Tripod Mount Stand I found that it works flawlessly with my Galaxy S10 Plus which is a big phone.
Its also holds a older Galaxy S8 quite nicely. The adjustable head basically can hold any phone you throw at it. Its also very easy to understand the adjustments.
There is one knob for tightening the adjustable head that can move in any direction. You can then rotate the phone holder in a 360 degree range for landscape or portrait and any position between those.
The phone is firmly held in place and you can shoot video or take pictures with relative ease. The stand itself is very sturdy with the exception of the spongy material son the legs of the tripod which may break off in the future.
That's not a issue though as there is solid metal beneath each leg. The clip that holds the smartphone is very firm and has a solid grip on the phone. everything is also balanced which prevents the phone from toppling over.
Purchase yours Now
Buy your smartphone Tripod stand right now.
Conclusion
I love the Ailun Digtal Camera Tripod Mount Stand its very well made and at a price below $10 its worth it. I love that's its flexible and will be compatible with old and new smartphones for now and the future.
If you want a reliable Tripod stand that simply works , is durable and will last for a long time this is the one for you.
Continue Reading we have even more Tips for you: