So this is my Review of the Novostella 2 pack 20w smart LED flood lights. Thanks the guys over at Novostella for sending this one in for review. If history is any indicator Novostella makes great light products such as their Smart Bulbs which we tested in the past.
This particular product is so unique as its not only a Flood light but its a Smart Flood light which adds to the appeal. Below I take a full look at the product and weather or not its worth it.
Whats in the Box?
Inside the Box there is Two (2) Novostella Smart LED Flood lights, 2 Antenna detached, Quick Start guide and a Contact and welcome pamphlet
The box has all the details of the product carefully outlined for the buyer.
Video Unboxing and Review:
Here is my Video Unboxing and review of the product. See all the product has to offer and what its like.
Product Build Quality
One of the thing I noticed about this light is the build Quality. The entire housing is made of Hard metal and Glass at the front. Its all well sealed as the Flood Lights are IP66 Waterproof and should also be dust proof which is ideal for outdoor mounting.
The SMART Floodlights are also small being only 20 Watts which makes them very energy efficient. I find that one of the lights is just small bit larger than my iPhone 11. The housing does get hot when the light is on and I assume from what I have seen that the external housing also acts as a heat sink for the LED lights.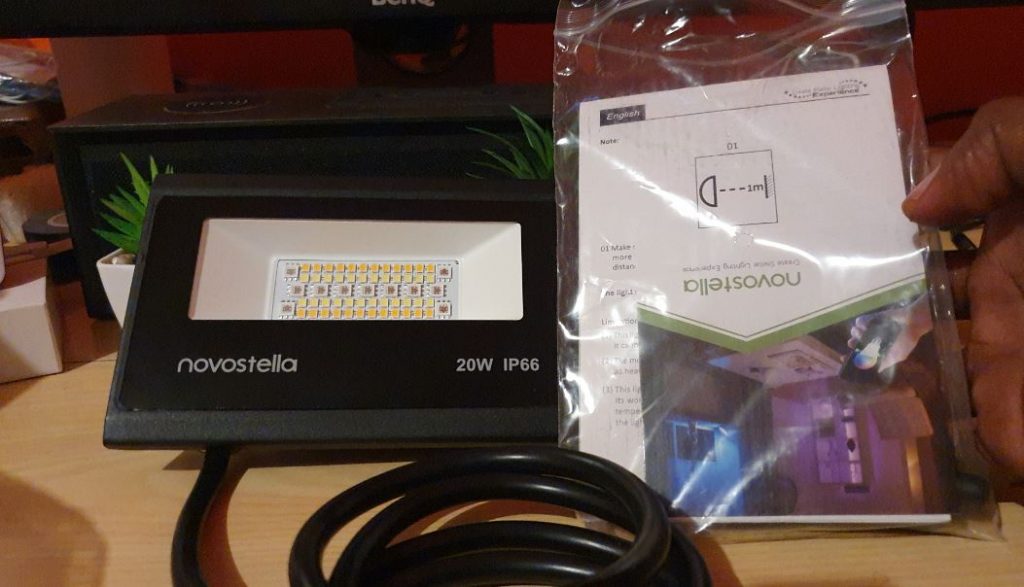 The power cable is not super long and the only thing that needs assembling out the box is to screw the WiFi Antenna in place. The lights can be propped up on the ground but mounting will need some power tools to set it in place for mounting. If you plug the lights in they will come on in normal mode and simply produce a nice clear white light that's 2000LM bright and the beam is projected in one direction with a 2700K-6500K light.
The App
The lights can be added to and controlled by the Smart Life app along with other Smart devices. Setup is easy on the Novostella 2 pack 20w smart LED flood lights. Follow the guide that's included and you are good to go.
If you have the Google or Amazon Alexa you can control everything with voice commands. The app offers the ability to switch between various lighting modes, change color to whatever you want, set mood lighting and mess with the overall brightness and intensity.
You can even add a timer and schedule as you like. These feature are what makes these flood lights truly Smart at the end of the day. I love that you can also install these in the yard or along the drive way and use them as regular lights and on special occasions add some color to the environment.
These lights also has the ability to wash the walls of your house or even the yard in the color that you choose. This adds a decorative effect that can be customized as you like.
Overall Views
I personally love the Novostella 2 pack 20w smart LED flood lights. Its a ideal addition to the lights I have around the house. It adds another layer to the lights on the outside and compared to my other lights these are really smart and I can control them to do whatever I want in terms of Color and scheduling.
Overall they are well thought out and at just 20 Watts they consume little power. They are durable and can resist the elements. Also on a cost basis they are reasonably priced and you do get two of them in the pack.
You get basically not only lights but a cool decorative set that's can add flair to your yard with one click or voice command. I personally recommend that you buy these now and step away from those Flood lights that's not so Smart.
Buy Yours Now
You can purchase yours in the link below.
Why Buy this Product?
1.Great Value and Price.
2.Has cool Smart features for a LED Flood light.
3.Weather resistant with sturdy construction.
4. Energy efficient.
5.Lots of features and customizable.
6.Can be used to decorate and light up walls and wash them in color.
7.Can be controlled by Smart Assistant.
8.Full App support and you can set times.
Why you may Skip this?
1.They are small in Size, do note that this does not affect the light produced which projects well.
If you have any Question about this product you can ask them below.
Continue Reading we have even more Tips for you: