This will be a review of the Etekcity Smart Light Bulb. I want to thank the guys over at ETEKCITY foremost for sending this product our way for testing.
I will do my best to offer a balanced and unbiased review of this product as always. Please take your time to get to know this product as we have.
What Inside the Box?
The box of the Etekcity Smart Light Bulb looks allot like any other Bulb Box you may come across. Inside you do however find :
1.Quick smart Guide and offers pamphlet.
2. The Smart LED Soft White Dimmable Light Bulb.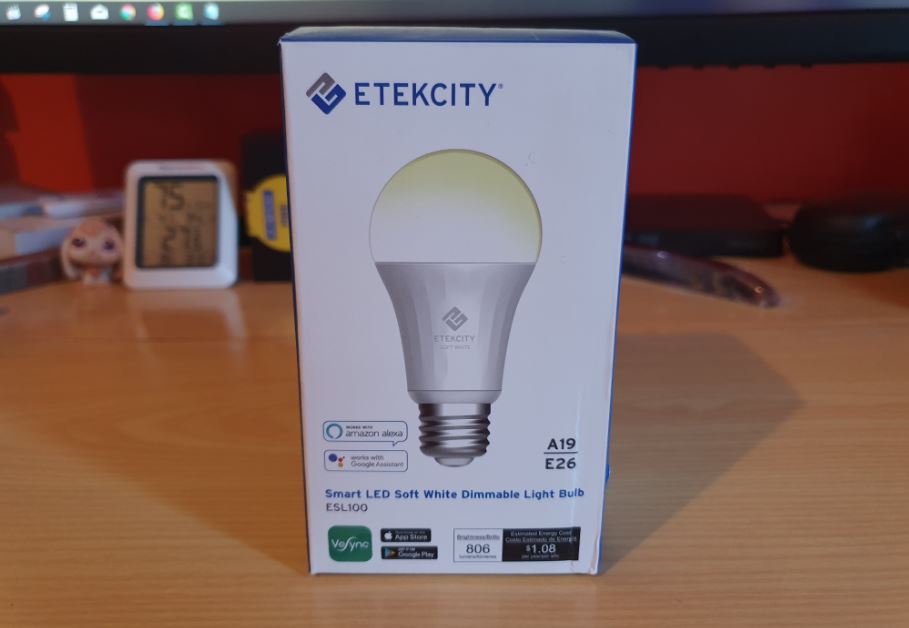 Whats the Product like?
On removing the Etekcity Smart Light Bulb from its packaging you will notice it has some weight to it. Its heavier than the traditional LED light bulb and its base is made out of Ceramic.
This Ceramic is most likely to dissipate heat. This is most likely the main reason for the weight as well. The main part of the housing is made out of Plastic.
Its designed to Fit in a A19 or E26 socket. It also supports both Amazon Alexa or Google Assistant. It has its own App and can be controlled by either method.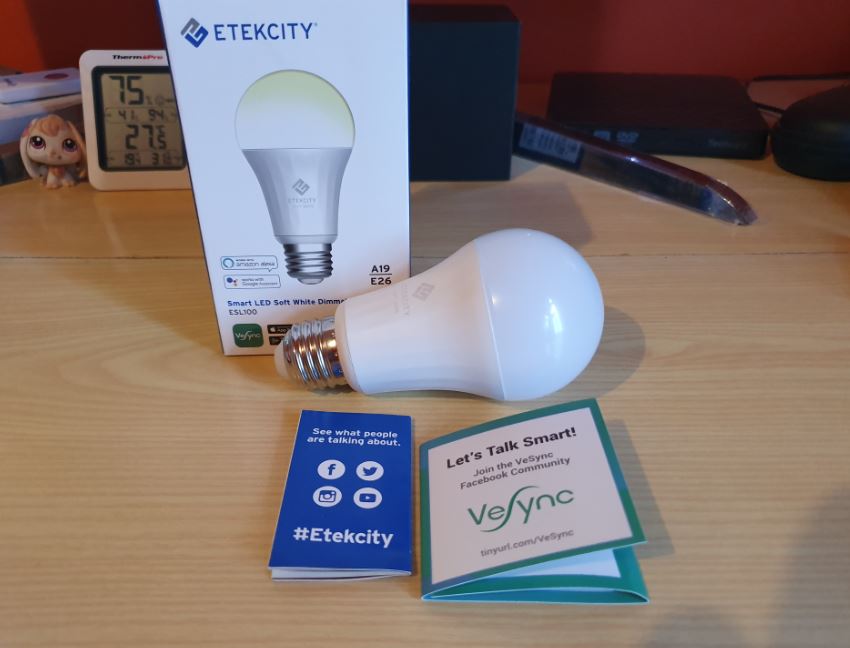 The Bulb Itself produces a very nice 806 Lumens which gets really bright and only consumes 9 watts of power. Its estimated that if you only use this bulb for 3 hours each day it should last about 13.7 years which is very impressive.
Video Review:
Watch our unboxing and video review of this product right now.
Setting up the Smart Bulb?
The process of setting up the ETEKCITY Smart LED Soft white dimmable Light Bulb is relatively easy if you can follow the directions in the package which makes it simple. Your experience may vary a bit depending on your aptitude with technology.
Also the app makes linking it to your preferred digital smart Home Assistant even easier. Simply wait until a weekend or so when you have some time on your hands to attempt setup.
Smart Home Integration
I personally use my Etekcity Smart Light Bulb with Amazon Alexa. I find that I can easily relay commands to turn the Bulb for turning on and off.
By far my favorite feature is to tell Alexa to dim the lights. This can be to set the mood, save power or adjust to what I am doing at the time.
I simply love that the smart Home integration works flawlessly. Every commands goes through smoothly and the only time a command is not carried out is when I mess up.
That's why i recommend this as a great addition to your smart Home setup.
The App
The Vesync App that can be found on both Android and Apple devices is well made. Its the perfect central point from which to control everything. Best part is that this also works when you are not home.
I love also that you will be able to set on off times, control brightness and what time of night or day the light come on. You can even set a specific time in count down to go off or on.
The app makes things dead simple and you can fine tune brightness or simply turn the Bulb on or off easily.
The Lights
The Lights are really nice especially at 100% brightness. The only issue I have with them though is that they are not pure white lights. They are Soft white, not a deal breaker but for some this might be an issue.
I love how bright they get and they can fill a large room with light but if you have other pure white lights they might clash or become more noticeable. At max though the difference can be forgiven. I just wished there was a pure white option.
Otherwise from that this is a very solid product. I also love that in case you don't have the App or your phone in a emergency simply flipping the switch on a off a few times simply powers the Bulb. That's a really good feature for emergencies.
Conclusion
I am very Glad that I got the chance to test this marvelous Etekcity Smart Light Bulb out as they don't disappoint. Is there room for improvement? yes but only in small area such as I wish there was a pure white light version.
Otherwise though you will have a modern bulb that filled with smart features you can count on. Secure your home and make it seem as if you are there when you are away.
Use voice commands and tell the lights what to do. This is like something straight out of science fiction that now possible and it works flawlessly.
I suggest that you get this product right now as its well worth it.
Where to Buy?
You can purchase yours below.
Why Purchase this Product?
1.Really great Price for the features you get.
2.They are dimmable so you can save power and adjust to to various situations.
3.Supports its own App and Smart Assistant such as Alexa for Smart Home integration.
4.They get very bright at 806 Lumen and are long lasting.
5.Fits your standard or existing socket A19 or E26.
6.Fully control with voice.
7.Control from anywhere in the world.
8.Set schedules to automatically power on and off.
Why you may skip this one?
1.It produces a Soft white light, this may be a issue if you like Full white Light or LED bulbs that give a pure light like daylight.
Be sure to share your thoughts below in the comments right now on this product.