So I finally decided to take the plunge and go into the world of Smart Home Technology. To get started I decided on the Amazon Echo Dot 3rd Gen with Alexa as my digital assistant of choice.
While the Echo Dot is is a smaller version of Amazon Echo speakers I found that it was more than enough for my needs.
This is my full Amazon Echo Dot 3rd Gen Review documenting my experience. I have also included videos so you can follow along and better understand what to to expect from this device before purchasing.
Whats you get with this device?
Amazon just happened to be offering a deal at the time when I got my Echo Dot and that gave me an even greater incentive to get it.
When the packaged arrived I removed it from the very nice Blue box, inside was : The Amazon Echo Dot (3rd Gen), Power Adapter, Quick start Guide and a handy things to try command card.
The command card was a very nice touch.
Setting up my Echo Dot
You may find that on setting up the Echo Dot third generation you may mess up on the first try sometimes. But not an issue as the setup was relatively easy and I was up on running with basic functionality out the box.
If you have services such as Pandora, Apple Music, Spotify, Amazon Music and so on you can begin listening to music right out the box. There are even free services to try as well.
How well does the Echo Dot 3rd Gen Perform?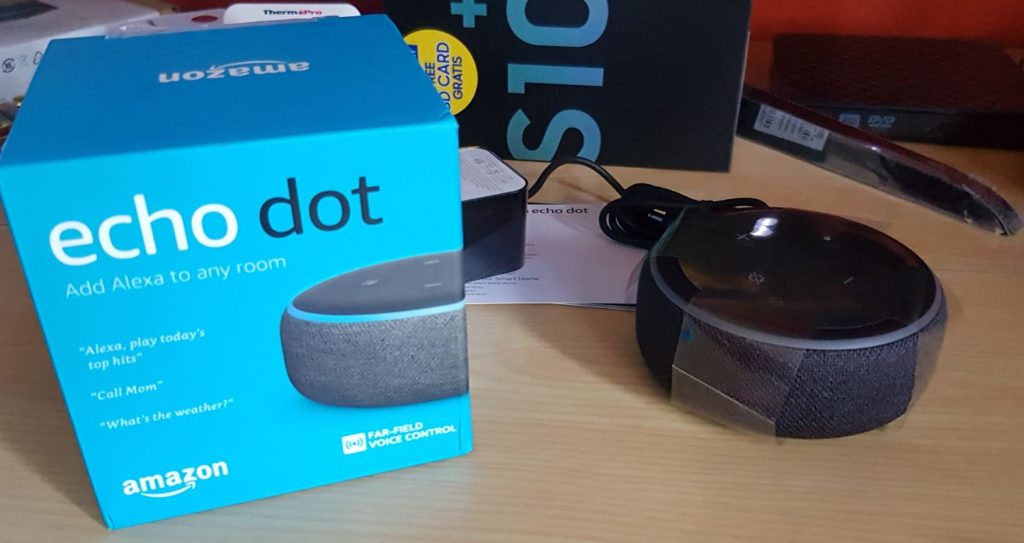 I must say that I am very impressed with the Amazon Echo Dot 3rd Gen Far-field Voice control. I was in a descent sized room while testing and even a mild pitch voice without shouting could be easily picked up and understood.
The ability to hear and for the most part give answers to questions is spot on. You do find the odd question every now and again it cant answer but rephrasing or trying again can solve those easily.
I love the light ring around the speaker as it adds a really nice halo effect. The speakers have a descent weight to them as well. Not what you would expect from a palm sized device.
You can add your own speakers but I find that the Amazon Echo Dot 3rd Gen has very loud speakers that deliver a high enough room filling sound. If you have a very large room then by all means add the speakers.
Video Review:
Watch the video review of this product to learn more.
My Accessories:
These are the additional accessories I got along with the Echo Dot third generation. These items are not a must but they do add greatly to the functionality of the Echo Dot and making your Home smarter.
Adding Accessories
After playing with the basic features and adding skills I decided to add a Smart Plug and Smart Bulbs to the mix. These where from different manufacturers.
For the Smart Plus I went with Gosund smart Plus. For the the Lights I went with the Etekcity Smart LED Light Bulbs. I found that I was easily able to ask Alexa to turn stuff on and off such as TV set, Cable Box and so on.
Later on after adding the Bulbs I was able to turn the lights on and off. I could also dim the lights and a variety of functions. This was all done with voice commands.
One of the coolest discoveries too is that my existing Home Security System could also be activated and controlled by the Echo Dot. This device never ceases to amaze me.
There are even appliances that you can buy that has support for the Echo dot believe it or not. You may even have some of these already at home.
Adding Skills
I was able to add a bunch of skills one of the better ones is adding a news feed to getting the latest headlines and stories play from the Echo Dot. You can also find many other skills and new ones are always being created.
You can also setup Commands that can activate several predefined actions in cases such as you are going to bed and more. The Alexa assistant can easily understand speech and generate results very quickly so you never have to wait very long.
What are my thoughts on this device?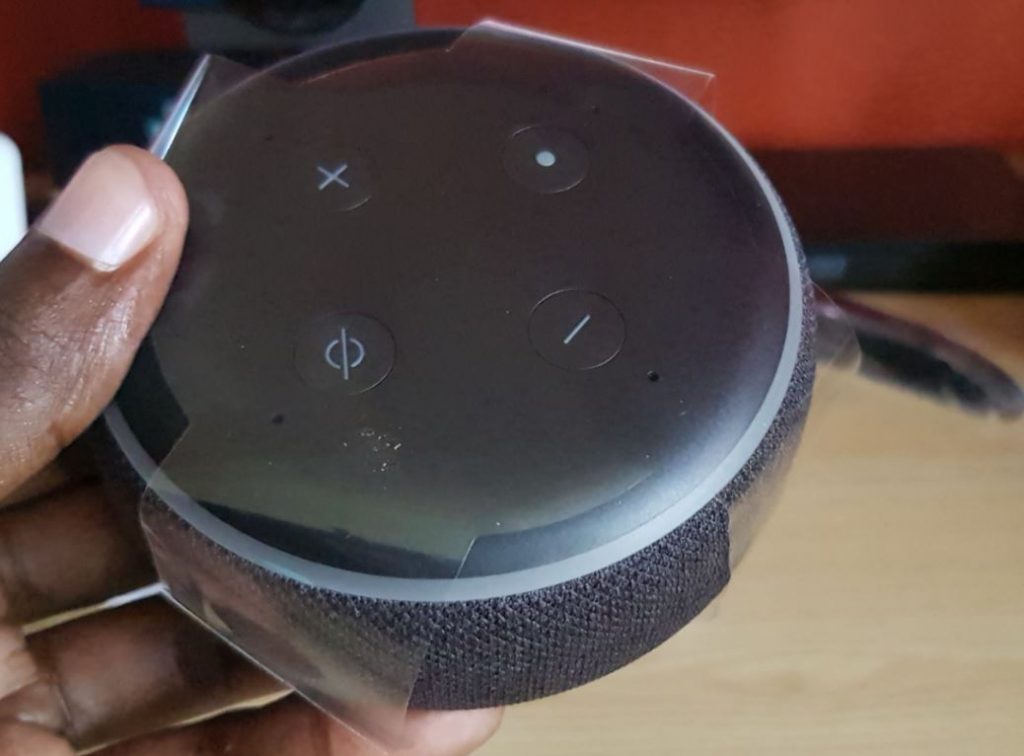 The Amazon Echo Dot 3rd Gen is the culmination of all Amazon has learned over the years about smart Home automation rolled into one compact and highly effective package.
The skills, accessories and features list of this device is increasing daily. You can rest assured hands down that the Amazon Echo Dot is one of the best options available to place at the center of your Smart Home.
It offers so much innovative features and the power of the internet at your fingertips. I personally love the Echo Dot and cant wait to find new and exciting things to do with it in order to make my home that much smarter as I go along.
I can comfortably control most of my home now with a simple command and best of all I did not have to break the bank to do it. I do hope you enjoy this review and you can get your Amazon Echo Dot 3rd generation below.
Buy your Echo Dot now:
You can get your Echo Dot below now.

Price Disclaimer
Have a Question about this device?
If you have a question relating to our review of the Amazon Echo Dot 3rd Gen please ask below in the comments and I grantee I will answer it for you.
No question is too simple that we would ignore so go ahead and ask.