Don't you just wish you could have a full featured weather station that would tell you all you need about the conditions inside your house with a bunch of other useful features? well the SMARTRO SC91 Projection Alarm Clock with Weather Station does that and more for you.
I had the pleasure of reviewing this product and I am very satisfied with its feature set and overall product quality. Thank the guys at SMARTRO for sending this one over for review as it was a pleasure to test.
What you Get?
Out the box you do get a Adapter, The weather station, One (1) sensor, User manual, other pamphlets and promotions. Everything is boxed up nicely in a very appealing box. Wish they included a few starter batteries but that was OK and not a big deal breaker for me.
Setup and First Impressions:
Setup of the SMARTRO SC91 Projection Alarm Clock with Weather Station was very easy for the most part. A few minutes with the guide and you are well on your way to setting it up fully in 5-10 minutes tops.
Its hard to forget how after the first setup. You will need AA batteries for the sensor and you may want batteries or use AC power for the main weather station, the choice is yours.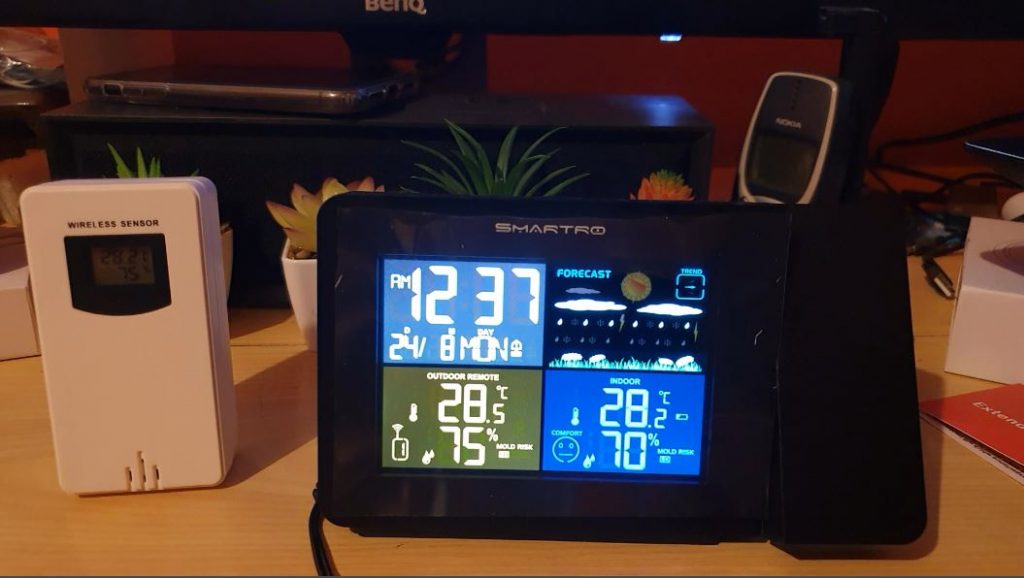 The main unit is well put together and looks really nice once powered and is a great center piece for a bedside table or other main point in the your house.
Video Review and Unboxing:
Watch my video review and unboxing now which runs you through the product so you can get to know it better.
Features and Impressions
My favorite feature by far of the SMARTRO Projection Alarm Clock with Weather Station is the projection of the time and temperature. You can choose to project this on the wall or roof. I personally love to project it unto the roof, for walls you will have to adjust or rotate the projector portion to have it project unto walls.
The projector looks so nice with the lights off. I love the effect it gives in red. The Dual Alarms is a nice touch and I love the outdoor sensor with its own display with the temperature and humidity displayed on the small screen.You can purchase additional sensor up to three (3) in total I think.
The display of the weather station gives Humidity, Mold warning, Weather forecast, Time and date and present everything in a nice and colorful way. The current weather forecast animation was also very nice touch for varying weather conditions.
Conclusion
Personally I love the SMARTRO SC91 Projection Alarm Clock with Weather Station. What won me over was the projector which can be easily turned off if you like. Its so cool and is something you don't see everyday. That alone would make it be worth buying for the cool decorative factor.
Otherwise you will be able to monitor home condition and make your home as comfortable as possible. No more mold build up or damp and stuffy conditions and you can keep a eye on things and take necessary action to adjust home conditions.
You can also wake up on time and have a healthier home and healthier you. So I highly recommend you get this one as its worth the price.
Buy Yours now
Below is a link to the product so you can purchase yours.
Why Buy This Product:
1.Lost of cool feature to monitor home conditions.
2.Very nice price to features you get.
3.Cool Projector for temp and time.
4.Dual Alarms.
5.Lots of customization to have things just the way you like.
6.Additional outdoor or room sensors with individual displays.
Why Skip this?
1.Wish they had included starter batteries out the box.
Have a Questions? no problem ask below and I will answer for you as I own and use these products which have been reviewed here.
Continue Reading we have even more Tips for you: