So this year keeps on rolling in with the surprises again as YouTube is down today November 11 for everyone Globally. In what can only be described as a rare occurrence YouTube.com, the YouTube App across all platforms and even search in some cases is down.
Using the service is returning 403,400 and other server errors. Good luck loading videos as you get constant errors on YouTube and if you are lucky you may see a loading icon and said loading icon may in rare cases after a very long time result in a video playing in some cases.
Kids listening to nursery rimes, Adults and kids watching videos are scratching there head wondering whats going on. The problem has been happening for more than 30 minutes plus now.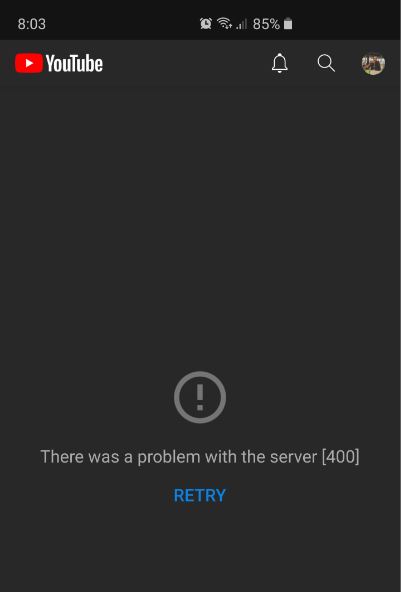 What can you do?
For the time being users cannot do a thing and can only wait until YouTube and Google solves the issue. You can rest assured that they will have the service back up in the shortest time possible.
You can brace yourself in the meanwhile for the meams on social media while everyone waits.
Update: YouTube is Up Again
So the issue has been fixed roughly in a Hour or so. The issue seems to have been a massive one seeing that the issue was global and it took a hour Plus to be solved. You can once again go back to watching videos and enjoying search.
My YouTube and Search Still not working:
If for some strange reason your YouTube and Search is not back up once more do the following.
1.Reboot your device.
2.Clear the cache of your Browser and clear data (Any website you are logged into you will be logged out).
3.Restart your Router or Modem.
4.Take a short break and come back, the problem may only be partially fixed and not every is 100% fixed just yet.
So what where you doing when YouTube and Google search went down?
So what were you doing when you noticed that YouTube was down today? let me know in the comments.