This is my Samsung Galaxy A51 Review which is a look at this great mid range Samsung smartphone which I consider the best of both worlds.
Its fast enough and capable enough to given you the sweet spot in performance and features. Seeing it can be placed smack between a full on Flagship device or a entry level model.
This is definitely the device you want. If you want a reliable and solid smartphone that will last for a good while and keep up with the latest Apps and features.
What features You get with the Galaxy A51?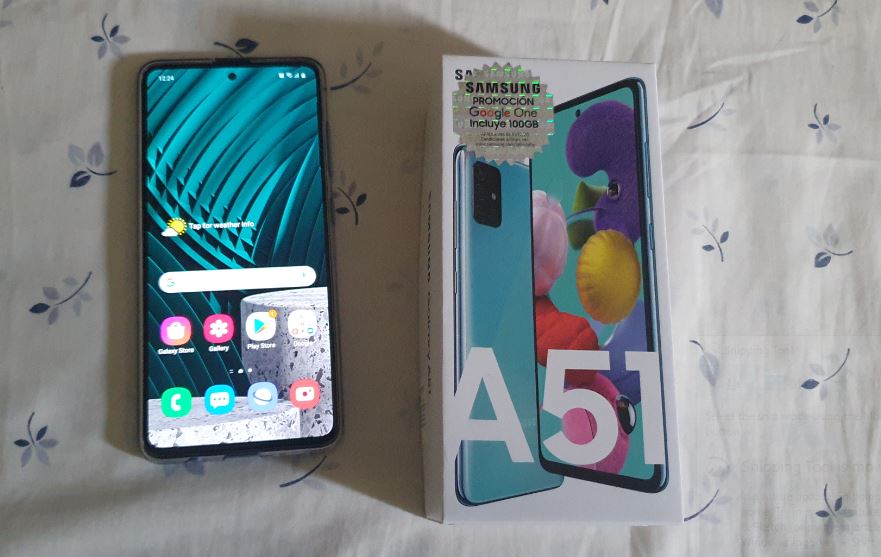 The Samsung Galaxy A51 comes with
A 6.5 inch display with a Infinity-O Display featuring a Super AMOLED screen.
128 Internal Storage.
A long-lasting 4000mAh battery.
Can support up to a incredible 512GB max as MicroSD card.
Quad Camera with 48MP Main Lens and a 32MP selfie camera.
Runs Android 10 out the Box.
Video Unboxing and Review:
This is my video review and unboxing video for the Samsung Galaxy A51. Have a better look at the product and what it has to offer.
The Performance
You will not get a better device that will give you more bang for your dollar than the Samsung Galaxy A51 which is reasonably priced and gives all the modern features you can want.
The first thing you will notice and appreciate is the reasonable amount of storage which stands at 128 GB which is enough for Apps, pictures and so on. No device today should come with less considering the storage needs of current Apps and media.
The phone also looks very nice as its thin and sleek looking. The unit we got our hands on for the review as seen above was the blue which looks really good and is in my opinion the best looking of the color options.The performance of the phone itself is also very responsive and the display is pretty good despite it not being a very high resolution as Flagship phones.
The picture quality is also very good from the cameras and the quality loss you will notice is only a bit under low light conditions. Performance excels in very light filled environments and it truly shows off the capabilities of the Camera.Pictures can become a bit over exposed though in well lit conditions which can be lived with.
This is a brand new device that was released this year and you also get latest Android software updates. New features and tweaks are added on the regular by Samsung as well over the life of the product.
Should You Buy This?
In my opinion the Samsung Galaxy A51 is a solid purchase and is worth the money you will pay for a smartphone with the latest software updates Android has to offer, a very nice screen, solid performance and lots of storage with the ability to extend that storage even more.
With that being said I highly recommend this as a affordable option that gives consumers the best bang for their dollar.
What you will love about this device:
1.Great Price to features given.
2.Very nice display.
3.Takes very good pictures especially with good lighting.
4.Generous internal Storage.
5.Great thin design with very nice colors. (I like the Blue as it looks so nice).
Where can you Buy the Galaxy A51?
You can purchase the Galaxy A51 at the link below
What are your thoughts on this Smartphone?
So what do you think of the Galaxy A51? will this be your next smartphone, let me know in the comments and remember to check out even more smartphone reviews we have.