I was in need of a Blue light blocking glasses for computer reading and general use especially at night. After careful consideration I found a great pair on Amazon in the form of the Livho 2 Pack Blue Light Blocking Glasses.
This is my review of this product as I test them out. I am currently wearing them now as I write this article and I can tell you they do work in removing the Blue light from the screen.I will do my best to identify the merits of this product and anything of note including deal breakers.
What you get?
The Glasses come in a well presented box as you can see from the pictures. You get two (2) pairs of Glasses in total based on your choice. Inside the box is also a cleaning cloth,Anti-Blue-Ray testing card,Blue led light for testing and adjustment or repair tool.
Overall a nice product that includes every accessory you could want inside the box.Great consideration by the manufacturer.
Video Tutorial:
See my video unboxing and review of this product right after getting it.
Livho Blue Light Blocking Glasses
I love the glasses, they are well made and comfortable to wear. Plus they look really stylish and nice. They work for men or women. You can enjoy these for Computer use, TV watching, Gaming or even using your Smartphone. Plus they are Anti Eyestrain and UV Glare for direct sunlight.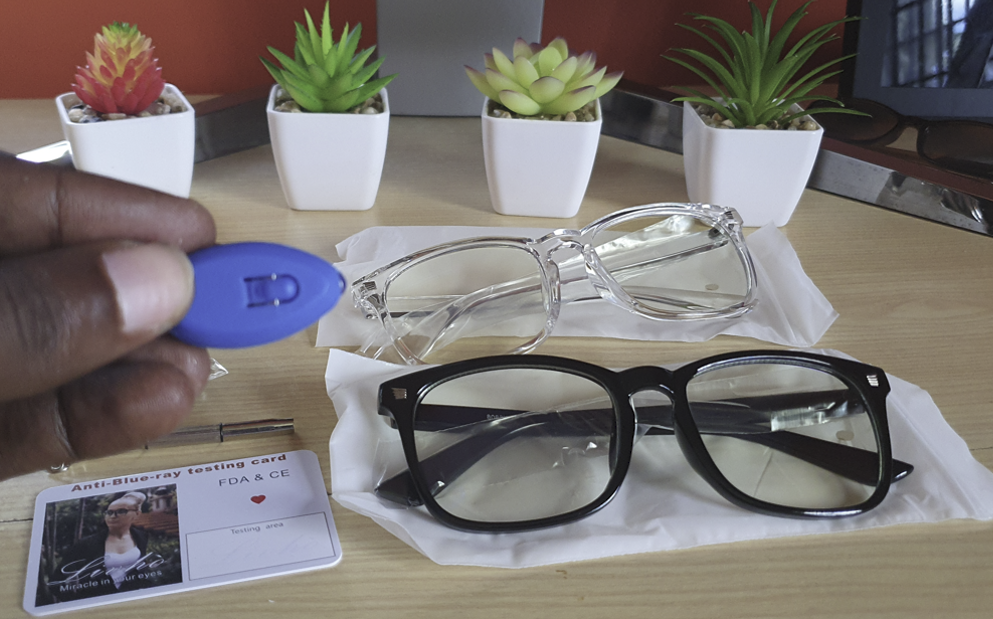 The frames are solid and the overall design looks durable. I got the Clear and Black version, you will find a total of nine (9) styles to choose from on the website.
The glasses are really light and so far I am loving them.
The livho Blue light Testing Card
The included testing card is a welcomed addition as you can test the glasses and prove they work even before putting them on. I find the card work best at night or even day.
Simply get the blue led and shine it unto the testing area and notice it reacts to blue light,pretty cool right? Now after the card cools off and returns to normal,place the glasses before the blue light and shine it unto the test surface with the beam passing through the lens of the glasses and notice the reduced or blue light blocking power.
Why Block Blue Light?
The blue light from your computer, Games, phone, TV and so on has shown to affect your sleep at night. Ever seem to stare at the phone and never seem sleepy at all? The light also strains the eyes especially after prolonged use of your gadgets.
Turning off the blue light on your screen or better yet getting a good pair of Blue light blocking glasses can greatly reduce eye strain and prevent your screen from affecting your sleep.
Conclusion
Personally I have just started using these Livho Blue Light Blocking Glasses and already I love them. They feel good while on and my display looks better while they are on than off. I thought I would only use these sparingly but I might use them more than I thought.
I love them and I don't wear glasses normally. The best thing I can do for my eyes is reduce the strain on them, especially now that we are all using our computers and other gadgets a lot more. I definitely recommend these and suggest you get a pair to protect your eyes long term and even so that your screens do not affect your sleep.
They can make for great gifts too but you decide. You can find the links throughout the article and get yours or for further information.
Continue Reading we have even more Tips for you: