This will be a review of the Onforu 2 Pack Solar Motion Sensor Light Outdoor unit. Thank the team at OnforU for sending a free sample for review. Its a pleasure testing out products of this type. Please note that I will give my honest review and opinions of this product and also update the article as I use the product.
Please feel free to leave a comment with your feedback and much more. Thank for checking out this review also.
Whats Inside the Box?
Inside the Onforu box is a pair of Motion Sensor Lights, Documentation and mounting brackets with screws. Please note that you will need a power drill to install these. The main thing to install though is the screws to mount to a wall or a panel of metal or wood depending on where you will be placing the lights.
Install is pretty easy and you need no electrical knowledge as there is nothing electrical to connect.
Video Review:
Watch my video tutorial that will include a unboxing and review of this solar lights.
Build Quality
The Onforu 2 Pack Solar Motion Sensor Light Outdoor unit is made of strong plastic. The first thing that catches the owners eyes is the elegant design. It comes in at a great price for two (2) units and the adjustable heads gives it great lighting range and flexibility.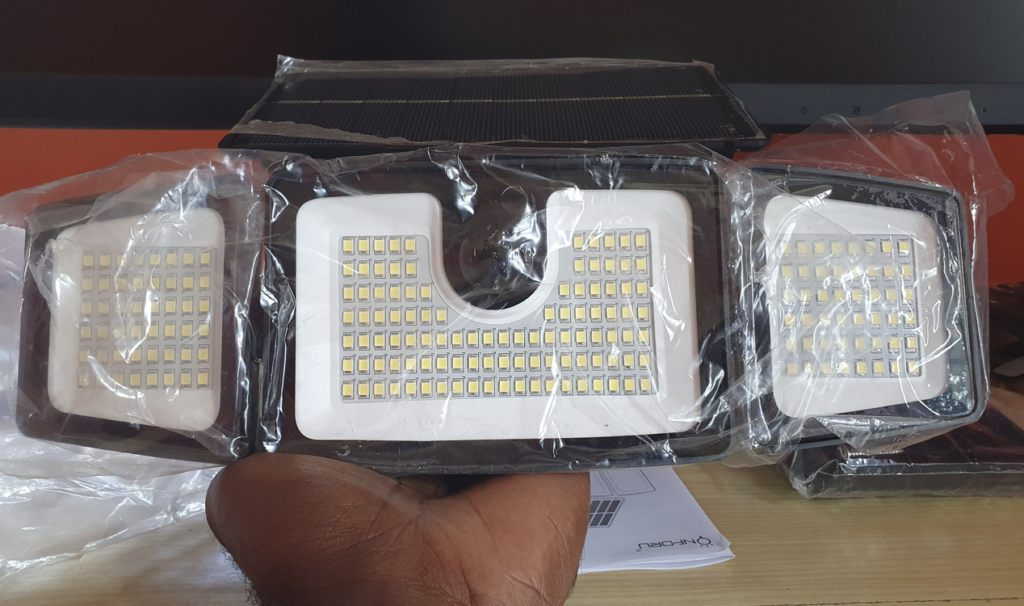 The solar panels seem very efficient and its simple to understand and even mount. The Lights has lots of LEDs and produces 2000 lumens of brightness. Its also dust and water proof which will be needed for outdoor mounting.
Performance
These lights produce great light and covers a wide area. I love that you can choose between three modes. You can have the lights remain off until motion is detected, have them on with dim light which gets brighter with motion or simply remain in a constant dim mode.
I personally love these variable modes as they allow the lights to be installed in a variety of areas especially with the adjustable heads you can install anywhere.
Why you should buy these?
1.They are very affordable.
2.They are Bright with lots of LED's.
3.Very flexible with adjustable heads.
4.They can be installed outdoors as they are waterproof.
5.They are solar and save on energy and have three operating modes.
Why You may Skip these?
I have yet to find a fault with these and so far if I did it would be nitpicking.
Buy Yours Now:
You can purchase yours in the link here and you too can have the joy of this great solar lights.
Conclusion
I suggest if you want a bang for your buck high quality solar outdoor light that not only flexible, bright and beats everything in its class you give the OnforU a try. Its one of the best Solar lights money can buy. I personally like it and my impressions so far are good.
I would definitely buy these with my personal money especially if they continue to perform consistently. Plus they save money and are environmentally friendly seeing they are solar.
Continue Reading we have even more Tips for you: