If you thought Black Friday only existed for deals on Physical products you are so wrong. Hostgator is having a HostGator Black Friday Sale where prices have been slashed drastically. So if you have always thought of starting your own website then now is the time as the prices have been greatly reduced. It's a win win for you trust me on this. Every year Hostgator during the holiday season or on special days such as Black Friday have proved great deals for new and existing customers.
Whats the deal?
Hostgator is offering you for Black Friday 65% off all hosting and a cheap 5.99 for domains. I don't know about you but that's crazy. There is even the occasional flash sales for 1 hour that's offered after the special day too.If you want to take advantage of these deals click here and be sure to buy a package. You can also read this guide on getting started with Hostgator.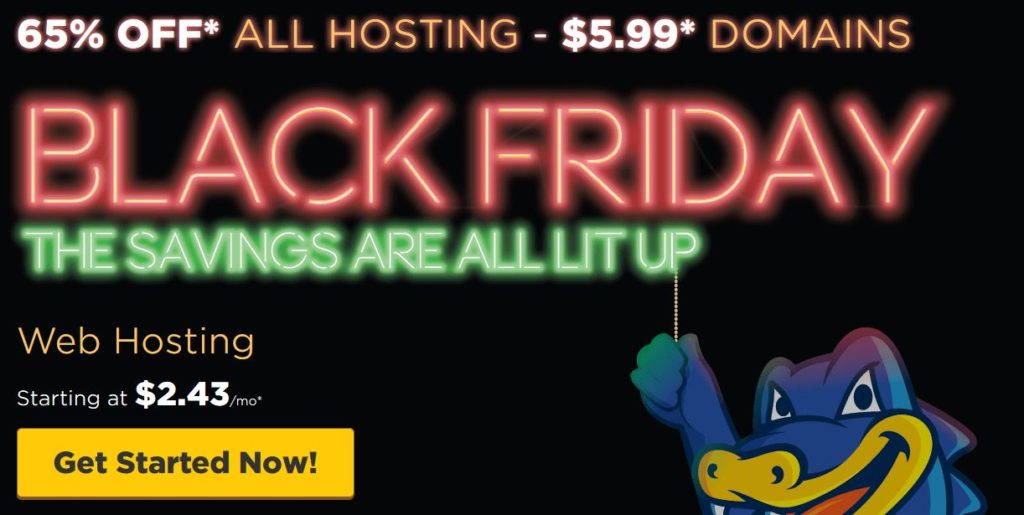 Why use HostGator?
I personally use Hostgator for my websites including this website here: BlogTechTips.com that you are currently on. Now I am not just recommending them because I use them but because they have a great up time which means your website will be online 90%+ of the time. That lower down times and fast turn around times when your site goes down.
The next great thing is that when things go wrong or you need help they have an award wining customer service department. You can call, email or live chat. So no matter your situation you can contact them easily. They are so nice and easy to speak with. I have never had a problem they could not deal with so far. They are the best at what they do no doubt about it.
Is it hard?
You might feel overwhelmed and scared by the amount of things you will need to learn but trust me don't be. You only need to make a start and you will realize that this is not so bad. In fact HostGator makes it very easy with the quick and easy setup as everything is basically click and install. You can have a website up in an hour or two. Faster if you know the ropes.
Great hosting waits on no man, so take advantage of these deals before they are no more.
Click here
to take advantage of the Black Friday Deals.
Stop Hesitating and take action now!
I was where you are now,on the fence and kept on delaying starting my own website. Now its a few years later and everyday I beat myself up on why oh why did I not do this thing sooner. Well hind sight is 20/20 after all. So let me save you the anguish and tell you to start your website now and take advantage of these deal you will not be sorry. These deals wont last forever and for Black Friday it's the perfect time to own that dream website, so start now.
Save
Continue Reading we have even more Tips for you: