I recently had a friend of mine come to me in tears, what was the issue you might ask? Well she had a years worth of pictures and video stored on her digital camera which included wedding pictures, family get together,parties and a bunch of other special and priceless moments deleted. She woke up the unfortunate morning and decided to cycle through her pictures as usual on the Camera but all the files had been mysteriously deleted. She came to me as I am the go to guy for tech related issues, don't ask me who appointed me to the position, well none the less I took the memory card and after she waited in anticipation I returned after some time and handed here a copy of her pictures. You can imagine how happy she was and she flooded me with words of appreciation and asked how did I do it?. What was my secret? Well unknown to her I am no better than the tools I use and the one that I used to recover her deleted pictures was Card Recovery Pro.
Card Recovery Pro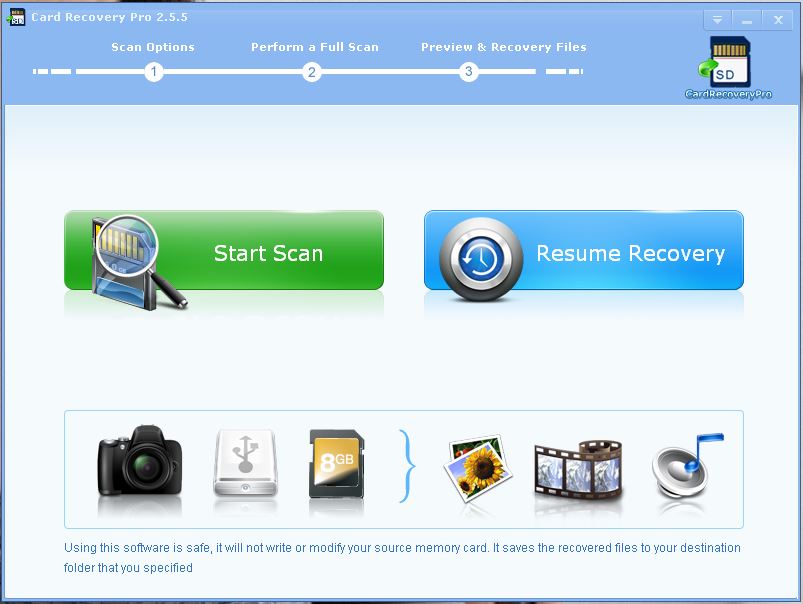 [wp-review]
Card recovery Pro is essentially a very easy to use card recovery software or program that allows you to recover your data or pictures,videos and even audio files from virtually any form of digital storage medium that works with your cameras such as: SD Card, MicroSD cards, SDHC, miniSD card,MMC card, Compact Flash card etc. and from all major manufacturers such as Nikon, Canon, Kodak, FujiFilm, Casio, Olympus, Sony, SamSung, Panasonic and much more.
How to use Card Recovery Pro to recover your deleted Data?
As we said earlier using this great software is so easy that even the less tech savvy individuals will be able to use it as the interface is very intuitive and user-friendly. First you will need to purchasing the software then:
1. From the main screen of the software after instillation click: Start Scan and you will be taken to this screen: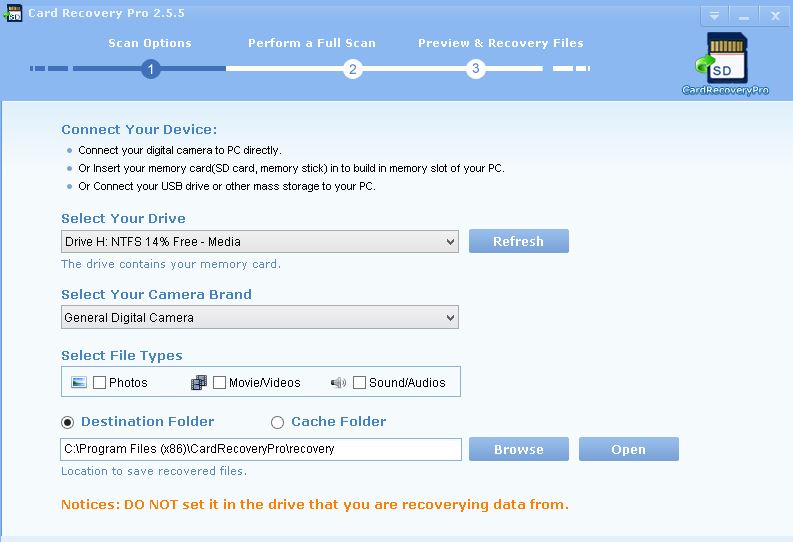 2. Once you are on the screen above, under: Select your drive choose the drive or Card with the deleted files that is attached to the computer.
3. Next from: Select your Camera brand select your exact camera or general Digital camera if it's not listed from the down menu.
4. Next Select the file type you want to recover by checking the box beside: Photos, Movies/Videos or Sound/Audio, if you want to recover multiple file then check all three boxes.
5. Last select destination folder, please note: never recover the files to the same drive from which they were deleted, instead save them to your computer. You can use the browse button to select the folder you want e.g. create a folder on the desktop and save the files there.
6. Now select next ,the program will scan and attempt to recover your files, when the process is complete your files will be in the location that you chose earlier and that's it congratulations.
Advantages of Professional
1. Low Price of the software compared to very expensive data recovery services.
2. Easy to understand interface.
3. Effective in recovering deleted files from memory cards.
4. The program is very small and easy to install.
Card Recovery Pro is a great program that sold at a very low price and I recommend it 100% for any one who uses a digital camera and other card based storage options and have had their files accidentally deleted, you can also recommend this to family and friend as they too may run into a situation were they will need to recover their deleted files.You can purchase and download the software below:

Cool Tips
1. Never recover your files to the same drive as they were deleted from as this will make future recovery attempts impossible as the files will be over written and unrecoverable.
2. Never add new files to a card that has had data accidentally deleted and you will need to recover the files.