So as a Liquid cooler I got my hands on the Corsair Hydro Series H55 Liquid CPU cooling system for my gaming build which is actually a quiet edition and matches well with my overall aim of making this Gaming build both efficient and very quiet. I must say that I totally love this cooler and coming from a custom water cooling loop it's actually great to have a maintenance free Liquid cooler to work with for once.
In today's review I would actually like to take a nun-traditional approach and focus mainly on the basic benefits of this liquid cooler and then focus and the major issues I had with getting it setup so as to help anyone that deciding to get this for their next build have a trouble-free installation.
Overall Design
I must once again praise Corsair on a solid-looking and functional piece of hardware, they always know how to build computer components such as cases and such with great eye-catching design and this cooler is no different. The radiator is a single rad with a quiet 120 mm fan attached and the hoses are black which leads to the CPU block that very nice with the corsair logo on the surface of it. I hope for the future they will include designs with transparent tubing which would be super cool.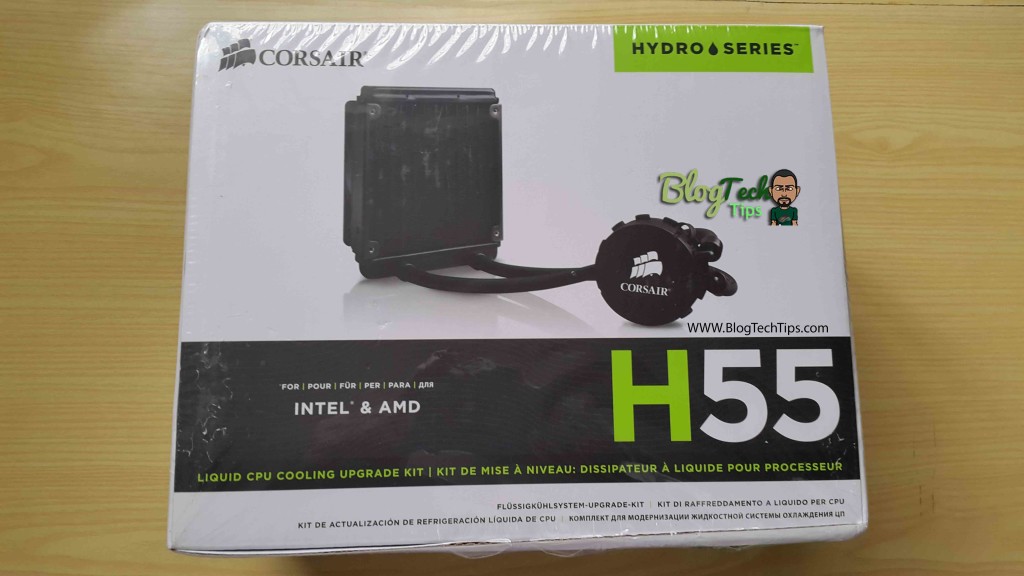 For my particular Gaming build that this is cooling I paired with I have a MSI Gaming Motherboard and I must say that the Corsair Hydro Series H55 Liquid CPU cooling system compliments the Motherboard and the other components quite nicely.
Features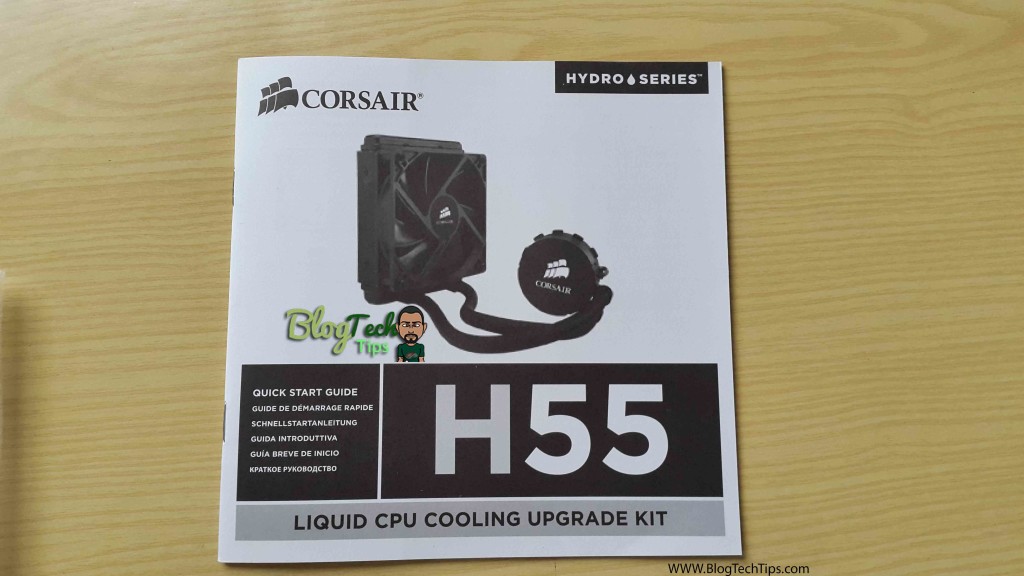 Tool-free mounting bracket
Low-noise, low-speed 120mm fan
Flexible rubber hose for installation in tight spaces
Low-profile pump for easy installation and better airflow
Micro fin copper cold plate for superior heat dissipation
Low-profile black aluminum heat exchanger
Intel Mounting hardware for LGA 115x, 1366, and 2011 and AMD Mounting hardware for AM2, AM3, and FM1
5 Years Warranty
Now those are some great features right out of the box and as you can see it supports all the latest mounting brackets for both AMD and Intel processors, also the design of the hoses works well and makes it convenient with where you may decide to mount the Fan and radiator.
Mounting and Air Flow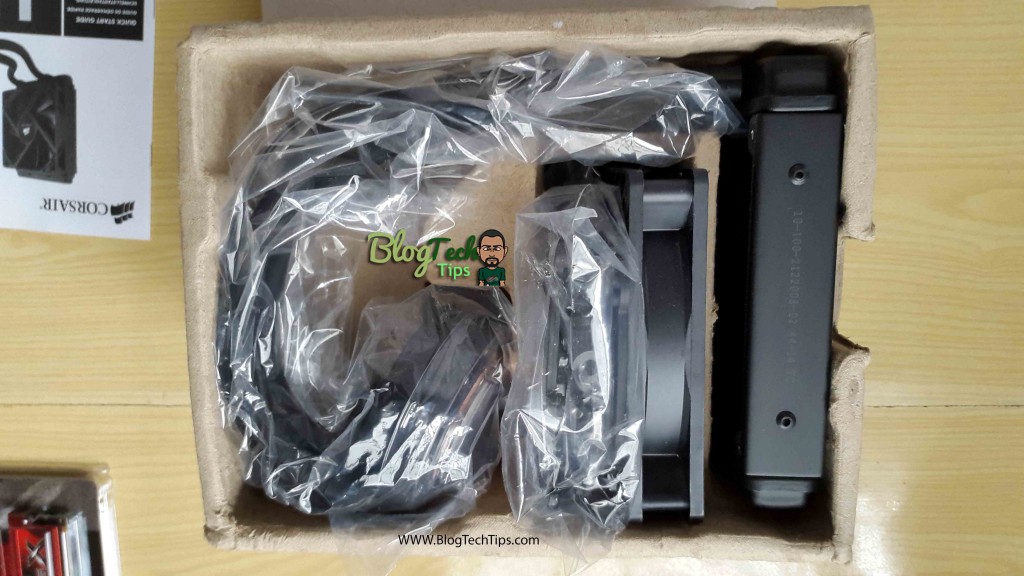 Due to my case design as I am using a Corsair Air 540 as my case I have placed my Corsair Hydro series H55 in the upper left of my case and I have set the fan to exhaust hot air outside the case as this works well with my cases design which has two fans pulling cold air from the front and one back fan exhausting air which has worked great for my setup.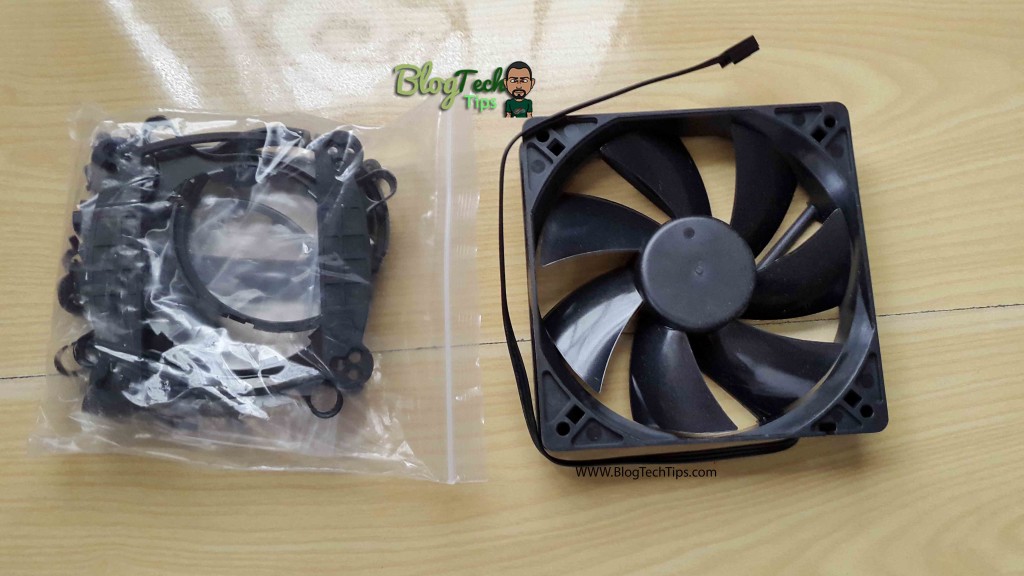 Benchmarks and Temps achieved.
After installation of this cooler with a Intel Core i5-4690K Processor 3.5 GHz with the default thermal compound that comes with the cooler I was able to get a resting temp of around 32 degrees celsius and under 100% load I got temps of about 45 degrees celsius max. Which is pretty good the room temperature of my house was about 24.2 degrees celsius for ambient and this was in the morning you can see the results below:
Does the Corsair H55 Support Socket LGA 1150?
You might be skeptical or trying to find out if this cooler supports the LGA 1150 socket for Intel processors as I was before purchasing and you need a clear answer and yes it does support the LGA 1150, in fact that's the type of socket that I have mine installed on.
Tips for a successful Corsair hydro series H55 installation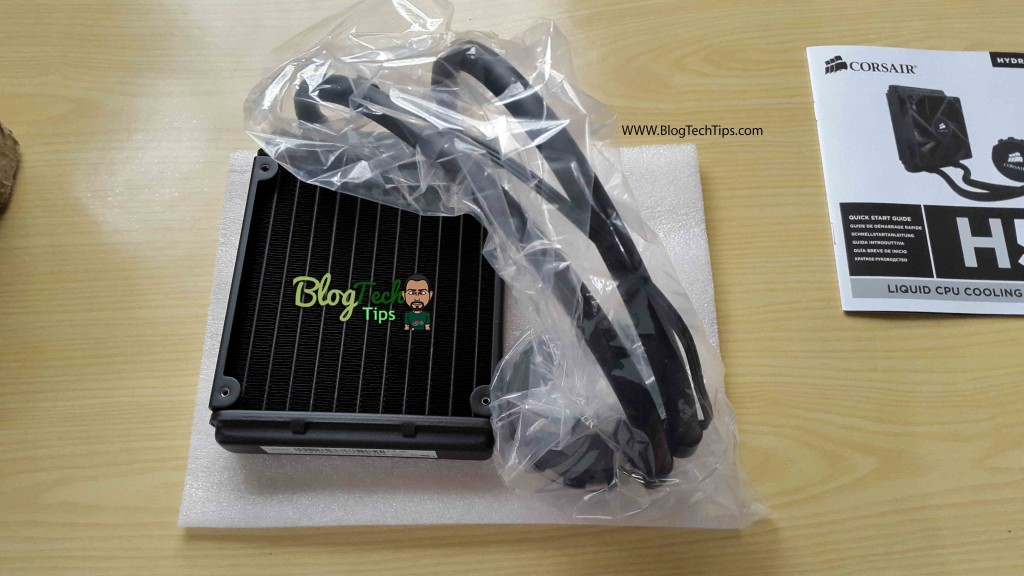 There are some hiccups that you might face when trying to install the corsair Hydro series H55 and the manual does not go into details to help you to fix them so let me point them out:
1. The cooler already has a great thermal compound installed that you can choose to use or install your own.
2. When installed on the Motherboard make sure that the Corsair logo of the cooler is oriented upright.
3. On setting up the back plates and installing the washer looking silver nuts or screw holes that should be placed in the labeled ports to match your socket type be sure to follow the markings on the backplate and put it against the board to see if they line up before you attempt to stick it on with the adhesive strips. I almost thought that it could not fit my Socket LGA 1150 because when I first place them in it did not line up but it does work simply follow the markings and make sure its orientated properly.
4. When installing the plastic clips on the four arms that the screws are going to fit through to affix the cooler to the Motherboard make sure that when they snap together you can see through the holes if not it's not set properly, I find that you can simply spin the top or bottom half and they will align.
5. The long screws that fix the liquid cooler to the board have two sets in the bags that are given one for Intel and the other for AMD, the longer of the two sets that are not labeled is Intel, simply measure both and you will be able to tell which is which.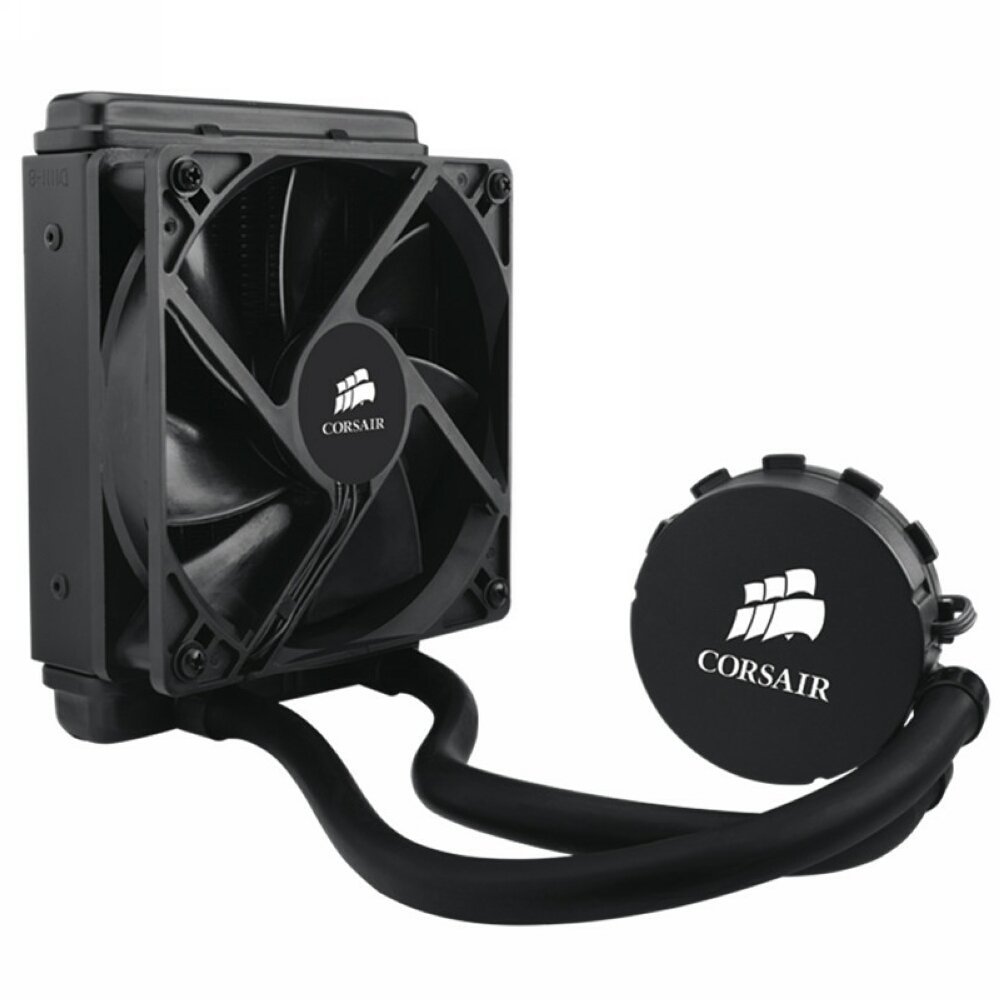 6. When you put the bracket over the Corsair cooler and the lower half on you may not realize it but both halves should snap together and stay affixed if they don't you cannot install the cooler on the board so make sure you snap both halves together properly before trying to fix to the Motherboard.
7. Before placing the corsair Hydro series H55 directly on the board when attempting to screw it in hover the cooler a bit and see if the holes align if they don't reorient and when satisfied lay it down, if you don't you will smear the thermal compound which can lead to heat issues later on. When you start tightening the screw, screw in each a bit then tighten as the manual indicates alternatively to ensure even distribution of pressure.
8. When Installing the cooler watch the screws as depending on how you attempt to put them in they may fall and hit the motherboard if they are not in all the way,so keep an eye on them.
I hope you guys enjoyed the review of the Corsair Hydro Series H55 Liquid CPU cooling system which is a very nice looking and cool liquid cooler, it may be a bit tricky to install at first but with the tips above should make it easy and once it is installed you cant help but love such an awesome cooler. Please ask any question you like below and as always stay safe and go play some games.