It's another day and another annoying Android error and today I would like to look at the damaged SD card Android warning error message that reads: "Damaged SD Card, SD card is damaged. Try Reformatting it."  The error usually appears in the notifications or drop down of your notification panel of Android devices especially on the Samsung Galaxy devices. If you tap the notification it will ask you to: Format SD card? All data on your card will be lost and for you to confirm the format which I am sure you don't want to do as most likely you have very important files on your SD card that you can't afford to lose. Follow me as I show you how to fix or get rid of this error and regain access to your files and your SD card.
Should I use the Format option?
Do not use the format option! if you do use it what tends to happen is that you will get a new error notification that says: Blank SD card and another option that indicates that the : SD card safe to remove. It may go as far as to notify you that : Blank SD card. SD card is Blank or has unsupported file system error when mounted.
What devices will this affect?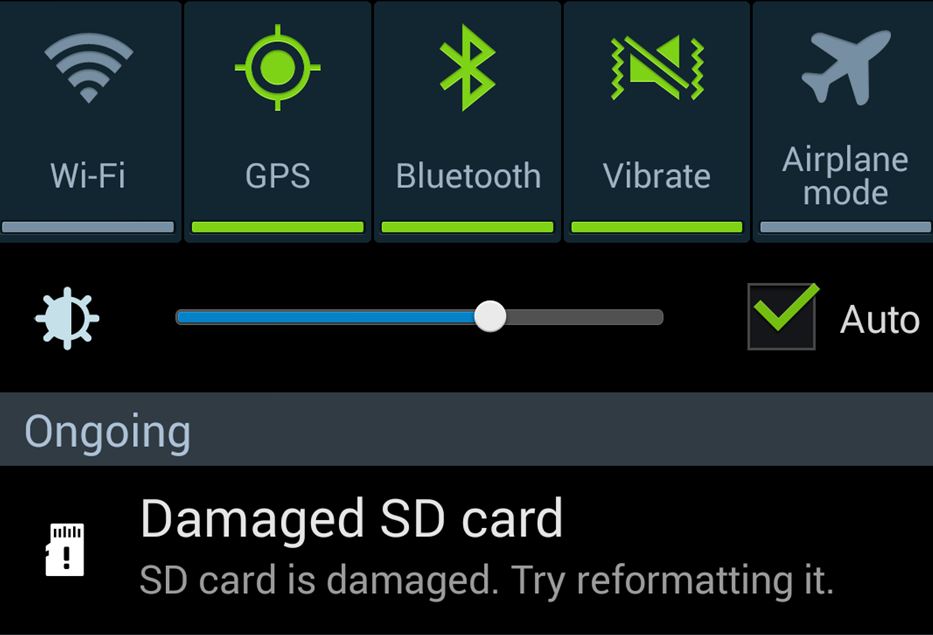 Possibly any device running Android especially Samsung Galaxy devices are prone to getting this sd card error every now and a gain. So do be careful when connecting or disconnecting your SD card to avoid such corruptions in data.
To go about fixing this we will need a PC and a means of connecting your SD card to your PC so that your computer can read it directly. When you connect your SD card one of two things will happen, either your PC will read the card fine and you can see and access your files or it will give an error and be unable to open on the PC.
For those that can Access their Files on the SD card on PC
If the card is reading fine. Go through and back up your important files and pictures to your PC and look out for weird files that you have never seen before on the SD card, these might be from another device or phone and when backup is complete go back to my computer and right-click and select properties and click on the Tools tab on the PC and select the first option to check the drive for errors, check option that says scan and attempt to recover bad sectors and allow the process to complete.
Next especially if no errors were detected, right-click the SD card in my computer and  select format your SD card with the file system being set to Fat32 which will be the default options in the format screen, confirm and allow to format. From here place the SD card back in the phone and the error should be gone, you can replace your important files now.
For those that Get an Error when they Try to open the SD card

If you are getting an error with your Drive letter and an error saying your file is not assessable. Try this:
1. Go search and type in: CMD , which will open a command prompt window.
2. Look at your SD card and see what drive letter it has been assigned by your computer,lets says its drive: G in my case.
3. Now Type into CMD window: chkdsk /X /F G: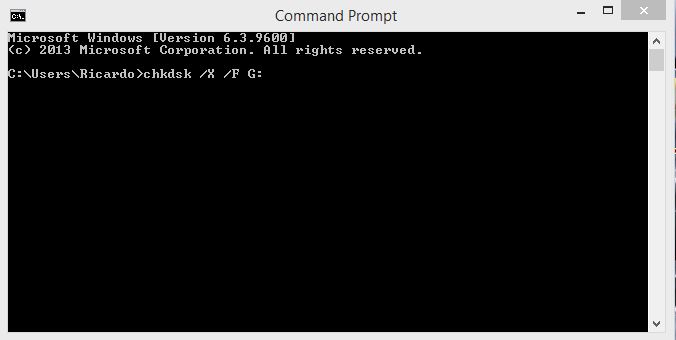 4. Please note that you should change the G at the end of the command to whatever drive letter that represents your SD card which can be seen in my computer. When you are ready hit enter and allow it to fully scan the drive. Now it should fix any errors that it has found to the file system and you can or should be able to access your SD card and the files on it. You can place it back into the phone and use your SD card now.
Please note this method will not work in every case and here are some things to try if this fails: you can try running the CMD as a administrator by right clicking on the icon and selecting that option, use a SD card reader for best results and in case all fails you can get a new SD card and look into recovering your data.
I sincerely hope the above method was helpful in helping you to fix and get rid of the  damaged SD card android error as always please use the comments to ask any question that you like or just say hi or thanks we loving hearing from our readers.