The Amazon fire phone is Amazons first bold step into the world of smartphones and this is one of the many offerings from Amazon which essentially covers everything from phones now to home automation devices all powered by Amazon and their products. The new phone runs Android but like its tablet cousins its been customized to Amazons liking and is called fire OS a strange name but once you get used to the naming schemes that Amazons uses then this one will fit right at home with the other devices on offer.
Amazon Fire Phone Specs
The phone comes with Amazon Fire OS v3.5 which is an Android based OS and is upgradable.
CPU: A Quad-Core 2.2 GHz Krait 400
Screen: 4.7 inches IPS LCD Capacitive touchscreen display (720 p)
GPU: Adreno 330
Camera:13 MP shooter that takes pictures with a max resolution of 4128 x 3096 pixels, optical image stabilization, autofocus, LED flash built in that takes pictures @1080p 30 fps and a secondary  2.1 MP camera.
Non-removable Li-Ion 2400 mAh battery
32/64 GB variants available
2 GB RAM with no SD card slot sadly for extendable storage.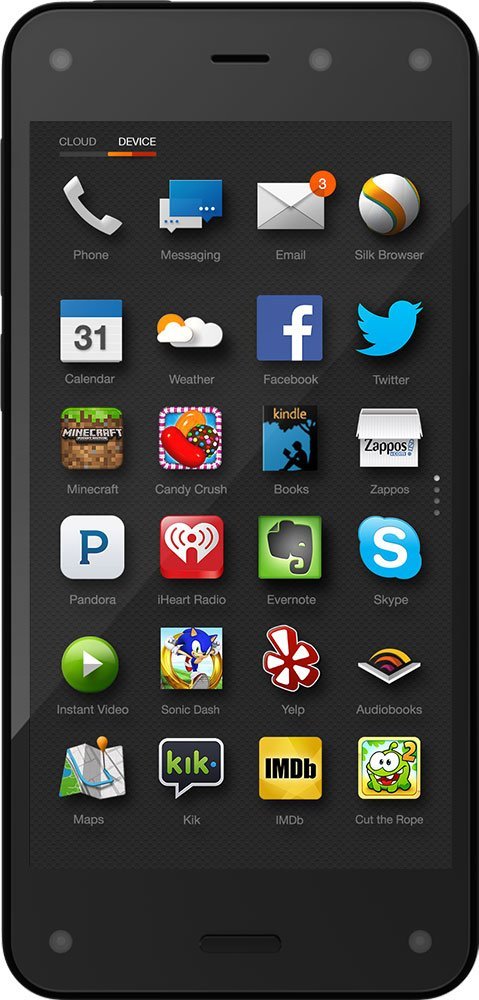 Whats in the Box
Inside the box you can find the amazon fire phone, Getting to know your phone Guide in English and Spanish, Micro USB charging cable, Earphones( Tangle Free) and Travel charger that s matted.
The phones back is glossy as it made from gorilla glass with the Amazon logo smack on the back for great scratch resistance, the same material is also on the front. The phone is a very glossy and on that point I recommend that you get a case to protect it and prevent you from wiping it every second due to fingerprints. The edges are rubberized for impact protection and is sandwiched between the gorilla glass on the back and front of the phone which is really creative design but you will still need the case despite this.
Dynamic Perspective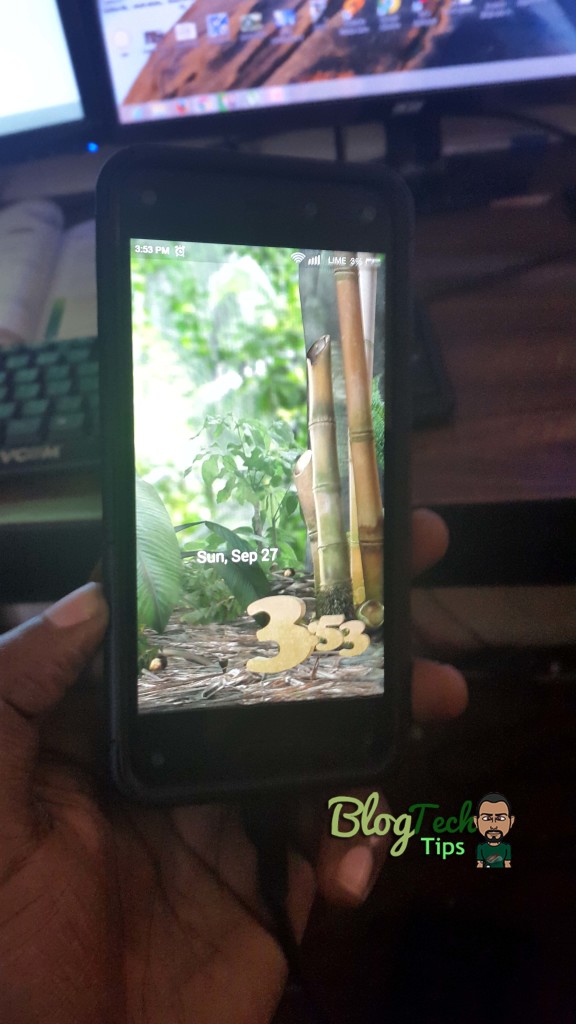 One of the first thing you will notice right out of the box is the feature that's called dynamic perspective that Amazons creative version of 3D that makes wallpapers and Icons on-screen look 3D I think this is a really cool feature and it does set the amazon fire phone apart from other smartphones in that regard. The feature works using the cameras on the front in the four corners and tracks your face with the use of infrared and uses this to create the 3D effect you see on-screen which is really captivating.The 3D wallpapers is also really great and shows off the capabilities of the phone as the screen sleeps and you wake the device up to a cool wallpaper that makes the screen seem as if you can place your hand inside and touch the objects in the pictures that you can change to various pictures such as a bamboo plant and much more.
FireFly
Firefly is also a very interesting feature that allows you to search for things using a picture or sound which is great for shopping or stocking up on items for your pantry which can be ordered right off Amazon. The icon is impossible to miss as it looks like a large firefly and can be activated by tapping on the icon. It can also help you in finding various media such as TV shows or video, music and regular stuff such as barcodes for products.
When an item is found it will take you over to Amazon with a single click which is really helpful and handy feature to have. Imagine seing a product and you dont know what it is or a song or TV series it can now be found super easy with this feature.
Buttons Placement
One of the cool features is the tutorial that comes after launching the phone for the first time that's very creative and you should check it out to become more acquainted with the device. The display is really bright and to get to the home screen you simply swipe up from the bottom, there is also a home button to the lower center and at all four corners you will find the cameras that the Amazon fire phone uses to track your face and allows for the 3D features.
On one side you can find the volume up and down and a camera button which is conveniently placed. There is also the power button on top of the device and a weirdly placed stereo speaker and then the headphone jack.The Sim tray holds a nano SIM and at the base of the phone you will find another stereo speaker, microphone and the charge port which is Micro USB 2.0.
If you long press the home button it activates the voice assistant that works just as on Android or the iPhone. It's quite capable but not as advanced as its counter parts which is not bad depending on personal prefrence.
The Camera
The back camera has a LED flash with the back camera being a very nice 13 Mega Pixels with optical image stabilization with video being recorded at 1080p.In gallery when you tilt the phone you will get the 3D effect on your pictures as well which looks nice.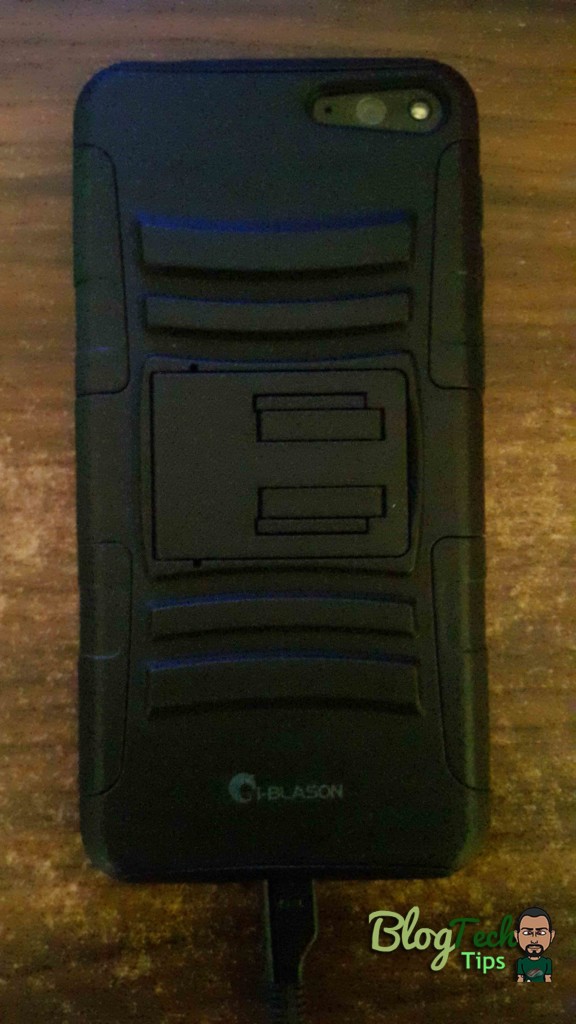 The camera App is great as you can snap on a subject to focus on it and you can do regular functions such as record and take still shots. You can also go between the front and back camera easily. The settings for customizing your shots are limited and gives you the ability to change very little which is a bit of a bummer. You do get nifty feature such as HDR or high dynamic range and so on. I really like the panorama mode for those wide-angle shots and the image stabilization really makes your videos turn out great and stable without any editing which saves time.
Menus.
Once your are in the interface you can swipe down to get to the notifications area which works just like on any regular Android. There is also quick settings icons at the top of the notifications menu that gives you access to the most common settings you might need.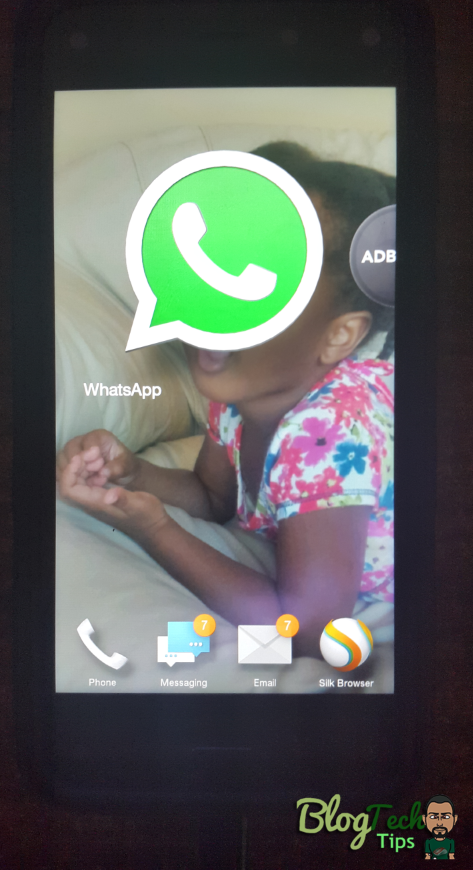 The home screen when you swipe up to unlock takes you to a rotating carousel that shows 3D icons that you can scroll through with all your recently accessed Apps. The effects given to the icons give them much dept and in case you are wondering you can go to the Apps page and see all your apps as you would on regular Android where you can scroll up and down with the icons looking more like regular ones.
At the base of the phone is your main phone Apps which includes the dialer, messages, email and the internet for a total of four (4) icons in total. You can customize the four main icons as you see fit by dragging and dropping apps unto the area.
If you swipe from the left side you will get the menu for Apps, Games, Music , video and so on which is gained through quick access. This is really convenient and makes your main phone features only one swipe away at every turn. Swiping from the right brings up information and is based on what on-screen and can show data such as weather and current events and so on. The same effect can be activated with a quick tilt from either side for the respective Menus. scrolling in browsers can also be achieved by tilting the phone back and forth.Volume control is also convenient as you may control overall volume or switch between different mode profiles with a single tap.
Contacts, Maps and Prime
Transferring your contacts from a Google account is also very cool and easy as you can easily load them unto your phone. The Maps feature is not Google's Maps and is not bad but it's not overly impressive but will get you bye with evething you could possibly need for directions.
Seeing its an Amazon product you can enjoy lots of video content such as TV shows if you subscribe to Amazon Prime right to your phone as the Fire phone is tied into the Amazon ecosystem. Plus you can stream your media from the phone to a compatible TV easily for enjoying your content.
In addition your music is easily accessible in one place on your phone such as those stored on the device, bought from Amazon or kept on their cloud storage platform and the loud speakers are quite loud for a great listening experience. You can even enjoy your favorite books right on your phone as part of the kindle program.
Battery Life
Battery life is not great especially considering how bright the screen is and when coupled with the 3D effects and other features can drain the battery fast. It does get the job done but without careful battery management or messing with your phone all the while the battery life can disappear quickly. It does get the job done but this is something that Amazon should work on for its next version of this device.
What Do I think of the Amazon fire phone?
Overall if you want something that different from the staples that are available and you are a big fan of Amazon and their many services, as us all then you may want to seriously consider this device, its Amazons first attempt at a smartphone and it's not a bad device at all. Minus a few shortcomings you are looking at a very capable device that will no doubtabley grow from strength to strength as time lapses. Moreover it's also reasonably priced and back by one of the worlds largest retailers that sellers almost everything under the sun.
Why you should get Amazons Fire Phone?
1. Back by the Amazon ecosystem.
2. Offers descent specs.
3. Great Price.
4. Cool 3D effects and innovative features.
5. Firefly for convenient shopping.
Why you may skip this:
1. Camera sensors on the front for face tracking can detract from the look of the device.
2. Maps and voice assistant are not bad but not as good as Google's version on regular Android.
3. Battery life is OK but not great.
Thats it I hope you guys enjoyed this review please share your comments below and do share this article with a friend and pass on the love.