Hey guys today I would like to share a fix for an issue where your PC shuts down without warning which can be a bother as you may be in the middle of something very important when these random shutdowns occur consistently, this fix worked for me and I am sure it will work as well for someone who has similar hardware as well as on different systems including other desktops and even laptops. This issue occurred with my new Gaming build which you can see here. I was very proud of the build but it had one issue and that is it would shout off after being on for a very long time at random points which is something that I could not have considering the importance of my Gaming/work horse PC.
Description of the Issue
Your computer especially if its new will turn off or shuts down unexpectedly, it may freezes for a short time and then suddenly reboots, if you have an activity light on your PC you will notice instead of blinking it stays on and then the PC restarts. This can happen after your computer is on for a good while or at any random moment.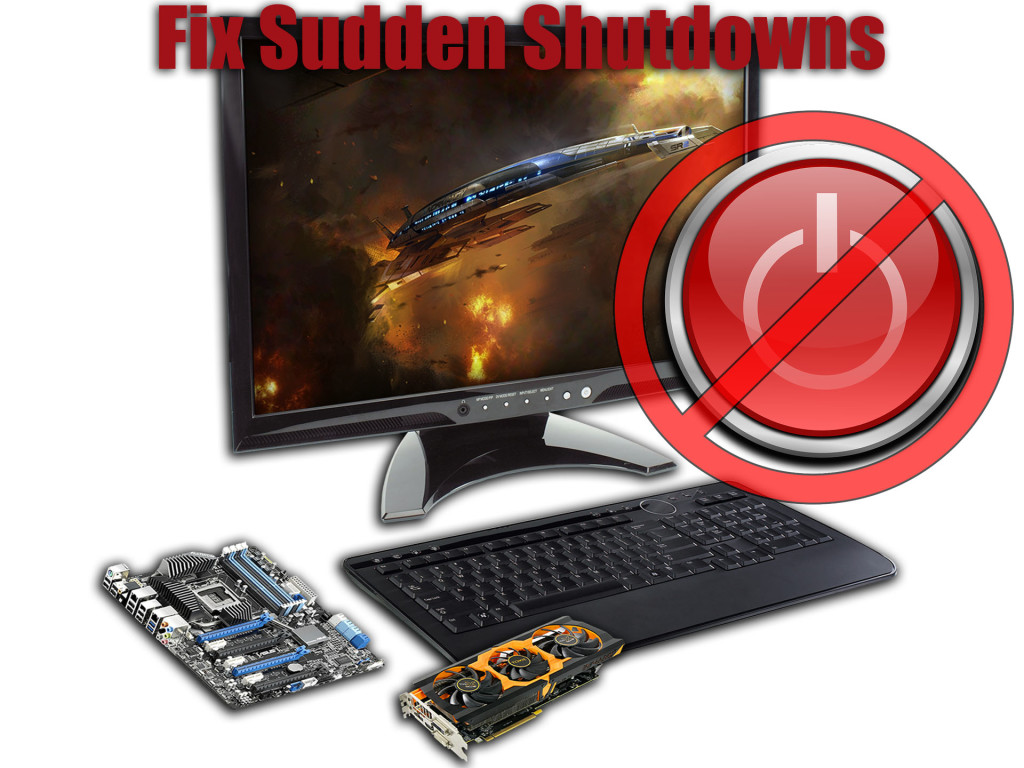 In my case I had built a brand new PC with the MSI z97-G45 Gaming motherboard and other MSI components, this can happen with any motherboard or PC including Laptops has I have found out where your computer shuts down unexpectedly for some reason.
Whats causing the unexpected Shutdowns?
From what I have seen if a PC shuts down without warning one of the main culprits can be a faulty Bios on your motherboard that needs updating, most people don't even consider updating their BIOS but you should as you can get way more stable performance and features from your computer and also fix issue such as your computer shuts down unexpectedly due to instability issues.
How to fix the sudden shutdown Issue by updating your BIOS?
To fix this issue we will need to update the BIOS or UEFI of your motherboard, for me that will be the MSI z97-G45 Gaming motherboard but for you it might be different and you will have to perform a similar procedure by going to your motherboard or Laptop Manufacturers website and finding your specific model and see if there is an update to the BIOS.
1. Go to your manufacturer's website and download the updated BIOS, if you have the MSI z97-G45 Gaming motherboard the link is here.
2. After downloading the BIOS flash file in the link extract the compressed file and format your flash drive or SD card and place the file on the root of the drive.
3. Next boot your PC and go to your BIOS (Hit delete key on Boot) and within the UEFI or BIOS go to: M-Flash.
4. Select the option that says: Select one file to update BIOS and ME and from the options select your flash drive that you placed the flash files on earlier.
5. The system will reboot and an updating Bios message will appear on-screen which will show progress with percentage when it reaches 100% the update will be finished, do not power down the PC or disrupt the process during the process.
When the process completes you will have the latest BIOS update and you can confirm this by going back in and checking the BIOS version along with any new features or fixes rolled out by the manufacturer. In my case this fixed my sudden shut downs without warning. Lets hope you were able to update your BIOS as I did mine and this fixed the issue for you and your PC is running great, if not read on.
Other Possible Reason your computer may shut down unexpectedly:
1. Unstable Overclock: If you are overclocking you may want to dial back things to normal and confirm if your unstable overclock may be causing the issue.
2. Unstable or incompatible RAM that has the wrong timings: If your RAM is incompatible with your motherboard it may have issues such as causing reboots, this can also happen with bad RAM or if the timings are set wrong by the motherboard in which case you can set them manually. Also check the voltage being supplied to them as if they are under powered they can become unstable.
3. A overheating CPU on a Laptop or desktop may also cause your PC to shutdown suddenly in order to protect your components which may be caused by a faulty or dead CPU fan or even the thermal compound beneath the heat sink being old or worn out which can be replaced or the fan fixed to correct the issue.
4. Rule nothing out as this situation can be caused by several things.
Please share your experience if you have another brand of Computer than the one above or request help and be as detailed as possible to help out anyone who may be having a similar situation, I created this guide so as to leave a beacon for those who may be in the situation as I was in. Lets hope its benefits someone and do share this article with a friend.
Continue Reading we have even more Tips for you: